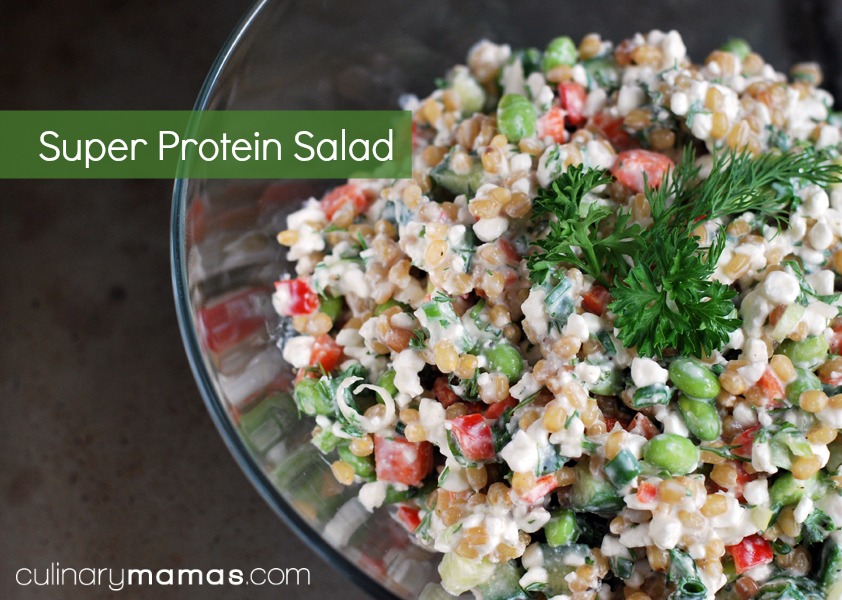 My husband likes to play this game. He finds a Whole Foods deli salad he likes and brings it home for me to taste and replicate – for a lot less. Last summer he brought me this Edemame Quinoa Salad. About two months ago he brought me literally two tablespoons of the Super Protein Salad. It was hard for him to save the last bites it was that good. Missing out on those last two bites has paid off. We've had this salad about every other week since. I make it for dinner one night and then he and I both enjoyed it for lunch a couple more times that week. Because it's packed with protein and vegetables you can enjoy it as a main dish or a side.
If you've never cooked with wheat berries, don't fear them. They are a hearty part of the grain world and you can find them in the bulk food aisle. They take a little bit of time to cook, so I often just throw them on after dinner in the evening and just refrigerate them till I'm ready to make them into this protein super salad or as a topping on a lettuce salad.  Wheat berries are actually the whole wheat kernel. Only the hull is removed so the kernel still contains many of its nutrients and is high in fiber, protein and iron. When you boil them they take on a chewy and nutty taste, which is a perfect base to this salad.
For this recipe chop the cucumbers and carrots to about the size of the edemame. The peppers can be about 1/2 that size. This salad will last about 3 days in the fridge.
1 cup uncooked wheat berries
3 cups of water
1 cup shelled frozen edemame
1-16 ounce container of low-fat cottage cheese
1 cup chopped cucumber
1 cup chopped carrots
1/2 cup diced red pepper
1/2 cup sliced green onion (white and green parts)
1/4 cup chopped parsley
1/4 cup chopped dill
Salt & Pepper
Add wheat berries, water and a pinch of salt to a sauce pan. Bring it to a boil, reduce heat to a simmer and cover. Cook wheat berries for about 30 minutes. At this point start testing to see if they're done. They should be chewy, but not hard. Continue cooking checking every 5 minutes. Depending on the variety and the age of the berries, it might take up to 30 minutes longer.  When the berries are done cooking add frozen edemame to the pot. Then drain edemame and wheat berries in a sieve or colander and rinse quickly with cool water.
In a large bowl mix all ingredients and season with salt and pepper to taste. Serve immediately

Super ProteinSalad
Ingredients
1 cup uncooked wheat berries
3 cups of water
1 cup shelled frozen edemame
1-16 ounce container of low-fat cottage cheese
1 cup chopped cucumber
1 cup chopped carrots
½ cup diced red pepper
½ cup sliced green onion (white and green parts)
¼ cup chopped parsley
¼ cup chopped dill
Salt & Pepper
Instructions
Add wheat berries, water and a pinch of salt to a sauce pan. Bring it to a boil, reduce heat to a simmer and cover. Cook wheat berries for about 30 minutes. At this point start testing to see if they're done. They should be chewy, but not hard. Continue cooking checking every 5 minutes. Depending on the variety and the age of the berries, it might take up to 30 minutes longer. When the berries are done cooking add frozen edemame to the pot. Then drain edemame and wheat berries in a sieve or colander and rinse quickly with cool water.
In a large bowl mix all ingredients and season with salt and pepper to taste. Serve immediately
Check out more of our SALAD RECIPES here:
Chicken Salad with Cilantro Lime Dressing
Arugula Pecorino and Red Wine Vinaigrette Salad
Pear, Gorgonozola & Pecan Salad – with amazing dressing
Related posts: