After Thanksgiving, I, like Camille, feel like I need some detoxifying. I like to take it easy so that when Christmas comes around I won't feel guilty when I eat the cinnamon rolls, neighbor treats, chocolate truffles, and deep dish Chicago-style pizza.
This salad tastes delicious, it is chock full of nutrients, and your gluten-free friends can eat it. All the colors make it so pretty and my kids like it.  We ate this a number of times in the fall, and I plan on using it in the winter since the vegetables this salad requires still taste good when they aren't at the peak of their season.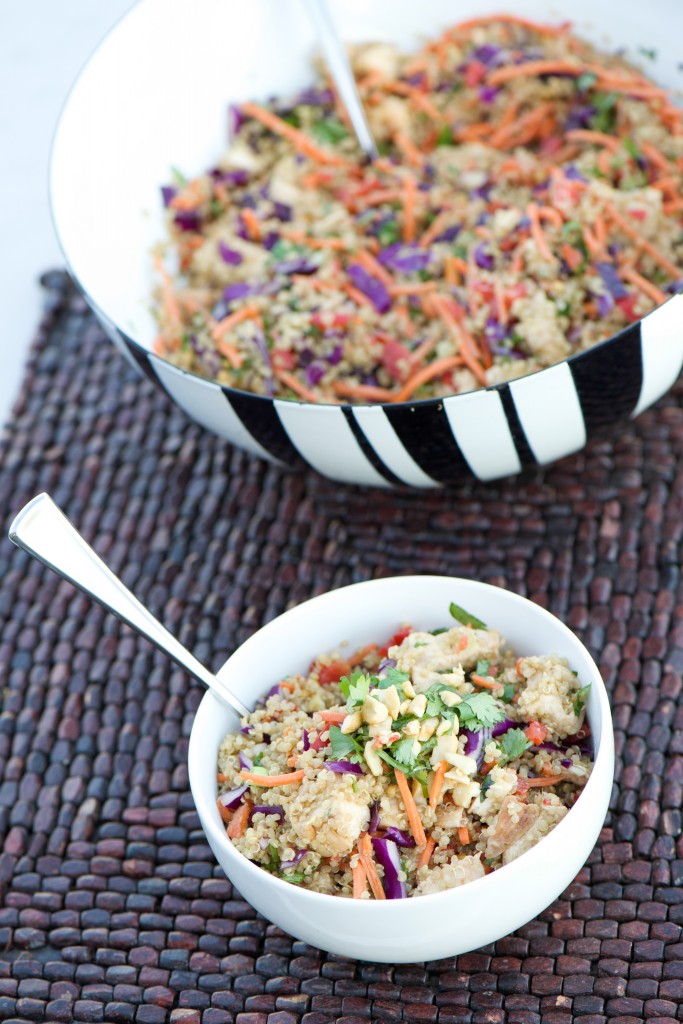 Asian Inspired Quinoa Salad
Colorful, simple, delicious salad with easy to find vegetables.
Author:
Kristen via Your Home Based Mom
Ingredients
1 C uncooked quinoa
2 chicken breasts, cooked and diced
1 C shredded red cabbage
½ red bell pepper, diced
½ red onion, diced
1 C shredded carrots
⅓ C chopped cilantro
¼ C green onions, diced
½ C cashews or peanuts
DRESSING
¼ C natural peanut butter
1 tsp fresh minced ginger
3 Tbsp soy sauce (Use gluten-free soy sauce, if you need this to be gluten-free.)
1 Tbsp honey
1 Tbsp red wine vinegar
1 tsp sesame oil
1 tsp olive oil
Instructions
Prepare the quinoa. Always rinse and drain the quinoa. I like to cook my quinoa in my rice cooker with one cup quinoa to two cups water or chicken broth. The quinoa is done when the tail of the seed is visible, it will be light and fluffy. Add additional water if the quinoa looks dry or undercooked.
Prepare the dressing. Put all of the ingredients in a blender and blend until smooth.
In a large bowl, mix the quinoa with the chicken, cabbage, pepper, onion and carrot. When you are ready to serve, toss with the dressing, then garnish with the green onion, nuts and cilantro.
Recipe
adapted from
Your Home Based Mom
.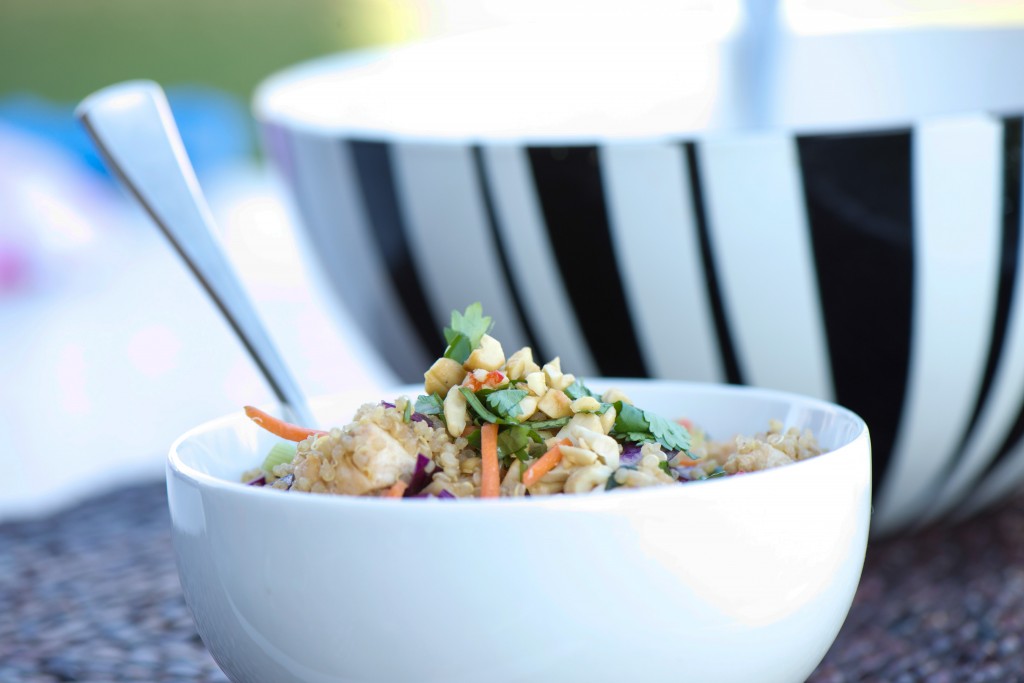 Related posts: