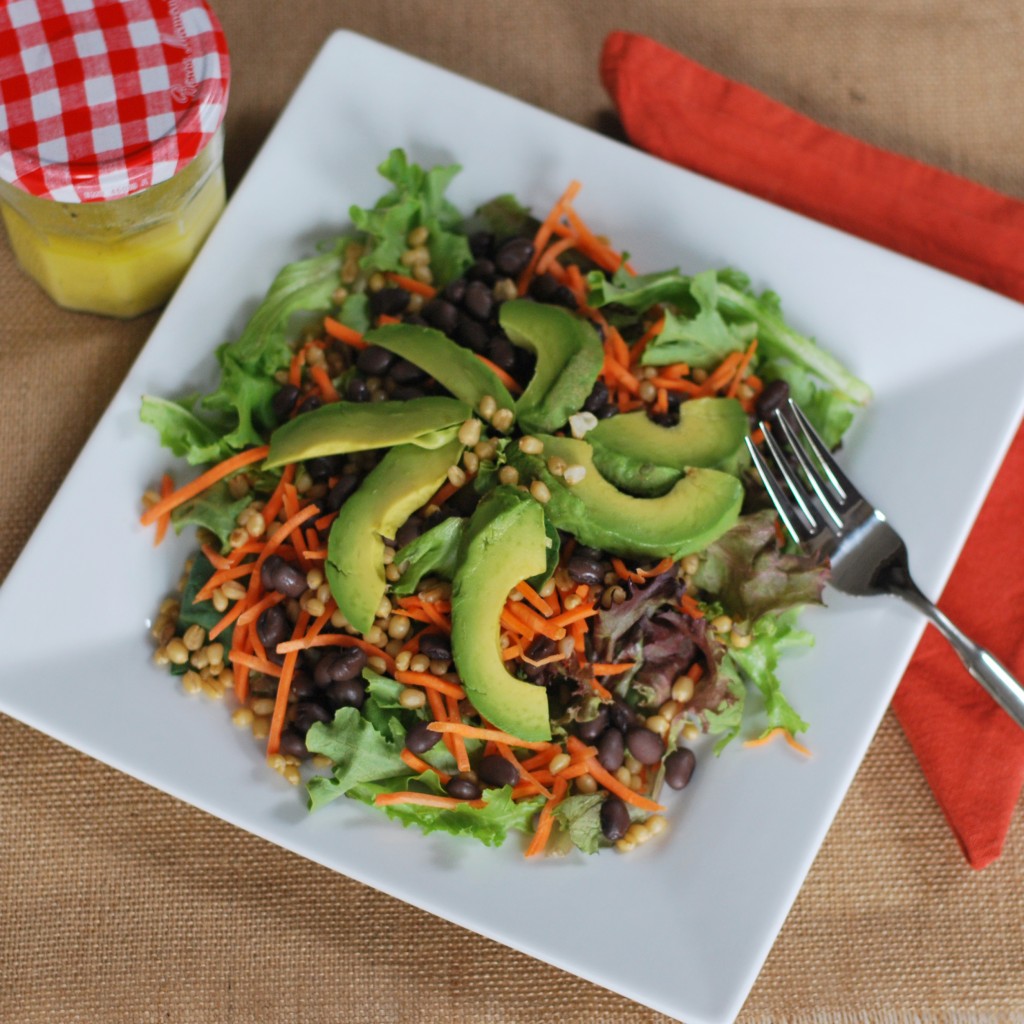 Last week my husband told me he's tired of his lunches. He never feels full from what he throws together, so I made him this wheat berry salad for lunch the next day. The combination of wheat berries, avocado, and beans results in a hearty and healthy salad. I threw in a jar of one of my favorite homemade salad dressings and it was a hit! He said he stayed full and loved it. I made it for him again last week and I also started eating it for my lunches.
Wheat berries are all the rage in health food. They are actually the whole wheat kernel. Only the hull is removed so the kernel still contains many of its nutrients and is high in fiber, protein and iron. When you boil them they take on a chewy and nutty taste. While you can find many salad recipes that have wheat berries as the main ingredient, I think they're a great addition to a lettuce salad. It adds a great texture and chewiness that the veggies in your salad don't. Never bought them before? You can easily get them from Amazon or most bulk food aisles
.
I believe in making salad dressings from scratch with the best ingredients you can find when its feasible. They're easier than you'd think and taste better than store bought. My favorite vinegar to use is Trader Joe's white balsamic vinegar because it's light and sweet. If you don't have a TJ's near you, just use white wine vinegar. Don't use just plain white vinegar because it is too bitter.  My mustard of choice for this dressing is a dill dijon mustard that I found in a little German town in Washington called Leavenworth. If you thought using a Trader Joe's vinegar was picky, my mustard selection must sound picky for sure. All you have to use is Grey Poupon and some fresh dill. Don't have fresh dill – just make the dressing without it. It'll still taste awesome. My family likes more vinegar taste to our dressings. If that's too strong for you just add another tablespoon or two of oil to this recipe.
It's a great take-to-work salad. It only takes prep on one night or over the weekend and you can whip this salad together while you're brushing your teeth before you leave. There should be enough dressing, wheat berries and beans for 2-3 of these or any other salad.
Wheat Berries:
1 cup hard wheat berries
Place berries in pot with enough cold water to cover them plus a couple inches. Bring them to a boil and simmer for about an hour until berries are tender. Drain and let cool.
Salad dressing:
1/4 cup white balsamic or white wine vinegar
2 teaspoons dijon mustard
1 teaspoon finely chopped dill
1/4 teaspoon salt
fresh ground pepper to taste
1/4 cup olive oil
In a jar with a tight lid, combine vinegar, mustard, dill, salt and pepper. Put lid on and shake vigorously. Add oil and shake again.
Single serving salad:
1/3 cup wheat berries
1/3 cup shredded carrots
1/3 cup black beans
1/2 of an avacado, sliced
3 cups of mixed salad greens
about 1/4 cup dill dijon dressing
Layer wheat berries, carrots, beans and avocado on top of a bed of salad greens and drizzle preferred amount of dressing on.
Bob's Red Mill Org Hard White Wheat Berries
Related posts: