OK, I know that yesterday's picture was not the most inspiring, but look at these tacos? See, much better.  It's almost gourmet looking and the combination of pork, sweet potatoes and salsa is impressive. It'll delight your senses.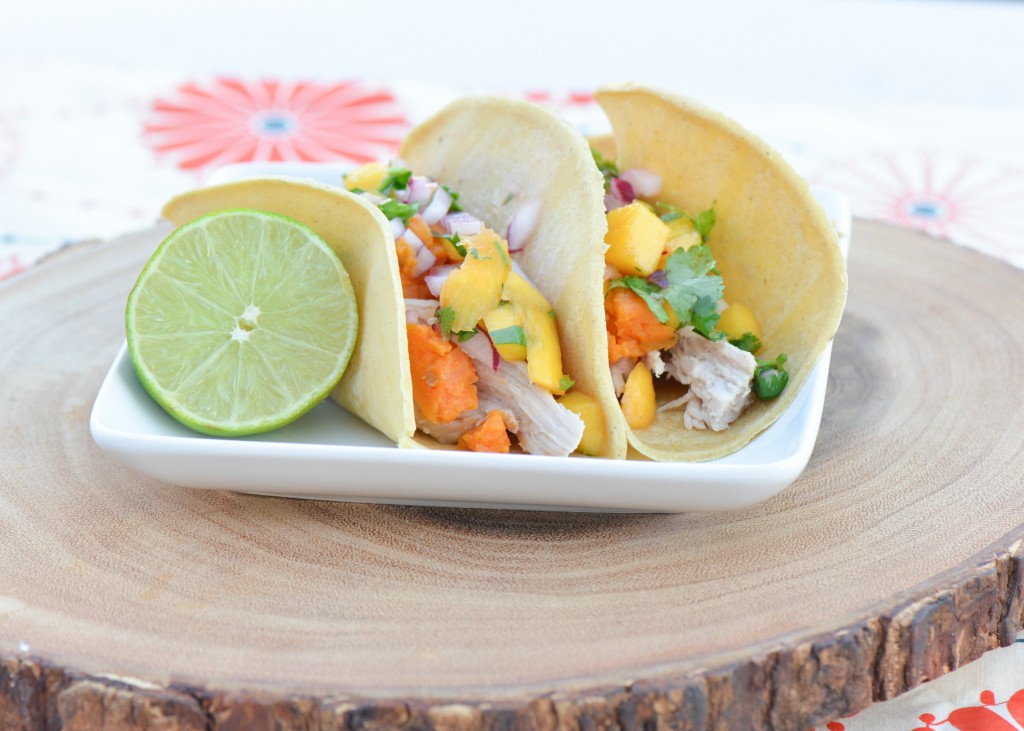 After cooking the pork on day one, all you need to do is heat up your corn tortillas, heat up your pork and sweet potatoes and make your mango salsa. I try and follow my pico de gallo rule when making other roughly chopped salsas. I use equal parts of fruit, cilantro and onion. In this recipe I used about one cup of each.
To assemble, I cut the sweet potatoes into small cubes, then layer the shredded pork, sweet potatoes and mango salsa on the tortilla. You can serve with sour cream, but I opted to cut the sour cream and eat a chocolate chip cookie for my dinner.

Pork, Sweet Potatoes and Mango Tacos
Use the pork and sweet potatoes from the crock pot recipe.
Author:
Kristen of Culinary Mamas
Ingredients
Pork and sweet potatoes from crock-pot recipe
8 Corn tortillas
1 cup mango chopped into small cubes
1 cup red onion chopped fine
1 cup cilantro chopped fine
Lime juice from 1 lime
salt
Instructions
In a medium sized bowl combine the salsa ingredients. Salt to taste, start with one teaspoon and work from there. Set aside.
Heat your corn tortillas in a frying pan according to package directions. I heat my frying pan to medium then fry the tortilla in a dry pan for about 20 seconds per side. Keep the tortillas warm under a clean dishtowel or tin-foil.
Heat up your pork and sweet potatoes from last night. Cut the sweet potatoes in small cubes. Assemble the tacos with the pork, a few cubes of sweet potatoes and a couple tablespoons of salsa.
Related posts: