I love to cook, but sometimes cooking for a family can get in the way of enjoying the family. That is why I love this meal. It is a two for one. You throw a pork roast, sweet potatoes and a few other ingredients in a crock pot and have a delicious no-fuss, comfort food meal on day one. Then on day two, you can whip together a quick mango salsa and you will create a healthy, delicious, gorgeous taco to impress the family on leftover night.
I'd admit that my kids have a hard time with sweet potatoes, but they are getting better about eating them. I think the reason why is that I keep putting those orange buggers on their plates and force them to eat a few bites. Eventually when you eat enough bites of something you start to like it. When I told the kids we were eating sweet potatoes last week for dinner, they all groaned, moaned and complained. After dinner, my oldest admitted to me that the sweet potatoes were "less disgusting when eaten with the pork mixed together." His less disgusting must have been pretty manageable because he ate all the sweet potatoes on his plate. I think the pork all mushed up with the sweet potatoes is comfort food at it's best. Today I'm going to post the recipe for the simple crock pot sweet potatoes and pork, tomorrow we will make some gorgeous tacos that will have your family swooning. It's the reward for eating the sweet potatoes on day one.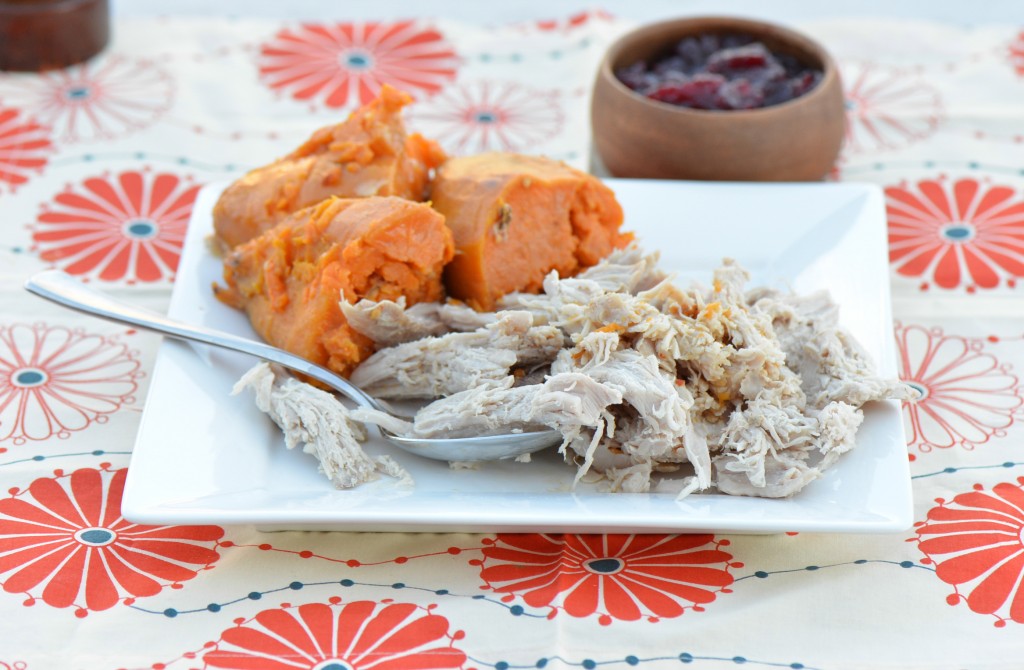 Save your leftovers for day two, including the sweet potatoes. They are the secret ingredient for your tacos.

Two For One Weeknight Dinner
Day one is crock pot pork and sweet potatoes. Day two use the pork and sweet potatoes to make delicious tacos.
Author:
Culinary Mamas via Angela R.
Ingredients
1 pork roast, about 4 pounds, I used pork loin this time.
4 medium sweet potatoes, peeled
½ cup brown sugar
½ teaspoon red pepper
2 tsp salt
¼ tsp pepper
2 cloves garlic, chopped
Instructions
Spray your crock-pot with non-stick cooking spray. In a small bowl combine the brown sugar, red pepper flakes, salt, pepper and garlic. Set aside. Layer the sweet potatoes at the bottom of your crock pot. Add the roast. Pour the sauce ingredients over the roast. Cover with a lid. My crock pot works best with a combination of high and low heat. I cooked my roast on high for two hours then low for three hours more. Meat is done at 190-205 degrees on a instant read thermometer, or you call it is done because it shreds easily. Shred the pork and serve with the sweet potatoes on the side.
Save your leftovers for day two, including the sweet potatoes. They are the secret ingredient for your tacos.
Related posts: