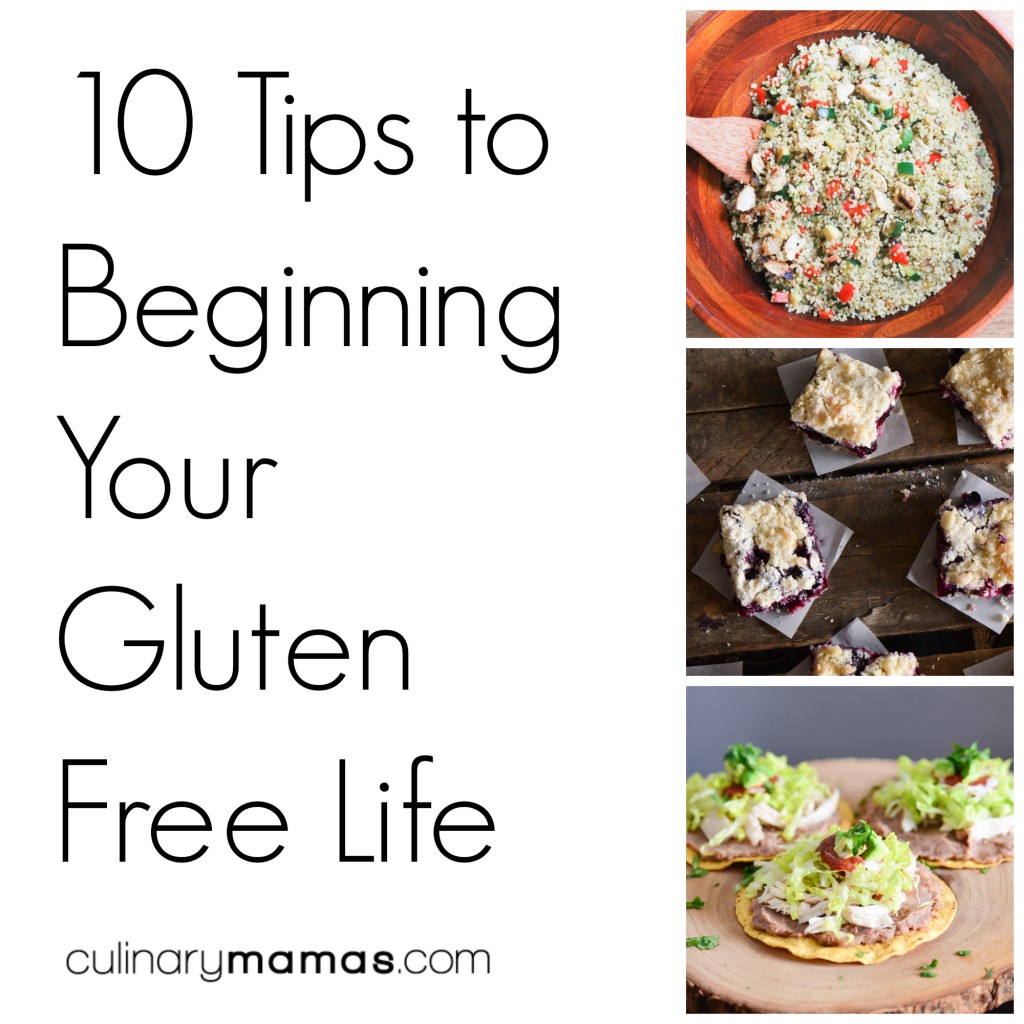 I recently had a friend find out that her son needs to convert to gluten-free living for his health. I'm always sympathetic when I hear this news. As the list of off-limit foods gets longer and longer, living gluten-free can be a bit depressing, especially for a teenager.
I created this guide as a help to transition into a new life of gluten-free (GF) eating. There are many more comprehensive sites that list the do's and don'ts of gluten-free eating. This is just where I would tell Tina or any other good friend to start when thinking about cooking gluten free, because you have to eat this week and perhaps want to go out for dinner this Friday night. My objective is to help you realize how many fantastic options you still have. There are some affiliate links so that you can see what these different products look like and buy through Amazon if that is more convenient. I will try and point you to the cheapest places that I have found for buying these different products, but please comment if you have found something better.
The truth is that once I married my GF eating husband I had to change the way I cooked and thought about food and this tossing aside of the chicken soup opened up a cooking world that I absolutely have come to love. Gluten-free means that there are many processed foods that you can no longer rely on so you are forced to make things from scratch – consider it a blessing. Your cooking is the better for it, but it's hard to have to be so careful. Hopefully this page will be a resource as you start to navigate cooking even before you know that you should be using a different toaster and that yes, soy sauce has wheat.
#1 You're going to need a gluten-free flour mix. There are so many really great options on the market right now. One of my favorites is Bob's Red Mill
(I get this in a large bag at Costco, but you can find it at your local grocery store.) I think it behaves closest to all-purpose flour.  It's going to be different than what you are used to, but it's better than a lot of products. My other favorite as far as taste is concerned is Mama's Almond Blend All Purpose Gluten-Free Flour
. This tastes the best in baked goods that aren't supposed to be good for you like cookies, brownies, cupcakes and muffins. I keep the flour in the freezer to keep it from getting bitter.
Pictured below are some sweet recipes that are delicious with gluten-free flour substitutes.
Lemon bars are the treat that we look forward to every winter.
Blueberry bars are the favorite summer treat.
Brownies are made at our house about every other weekend.
The brownies are the easiest to bake and will knock your socks off. If you just found out someone you love has to eat GF, make these for them as a pick-me-up! When looking for basic GF baking recipes, I start with the King Arthur Flour website.

#2 You need to buy xanthan gum. A little bit of xanthan gum helps with the texture of GF baked goods. But, be careful, you don't want to overdo the xanthan gum or the texture can be heavy or gummy.  You can find xanthan gum at health food stores or at Amazon
.
When adapting recipes, add 1/2 teaspoon xanthan gum per cup of flour to cookies, cakes, and quick breads. (I don't find xanthan gum is needed in brownies and bars.)  Add 1 teaspoon of xanthan gum per cup of GF flour for pizza dough and breads.
#3 Cooking GF is much easier if you can start thinking outside of the American food box. Asian food, Indian food and Mexican food are all great places to start. There are so many foods that are naturally gluten-free and they will taste better than adapting other recipes to make them GF. Here are some of our favorite naturally gluten free recipes.
Tostadas are a fantastic way to feed a crowd. The refried bean recipe listed will make any Taco Tuesday into a celebration. Most tostada shells are GF, but check the package to make sure.
Sushi Bowl is my children's current favorite dish. You will need GF soy sauce.
Chicken Tikka Masala is what my son asked for dinner for his 12th birthday.
Lettuce Wraps are my current favorite obsession. This recipe is fantastic, or just use a GF teriyaki sauce for a simpler version.
Shrimp Tacos are one of our most popular recipes on the blog and for good reason. They are easy to make if you buy the shrimp with the shell removed and taste delicious. Most corn tortillas are GF, but you will want to check the package.

#4 Fiber can be a worry without whole grain wheat in your diet. My kids have loved quinoa as a rice substitute with meals. You can buy a huge bag at Costco for a great price. We love making Camille's Chicken Pesto Quinoa for a weeknight meal. This Asian inspired salad is loaded with veggies.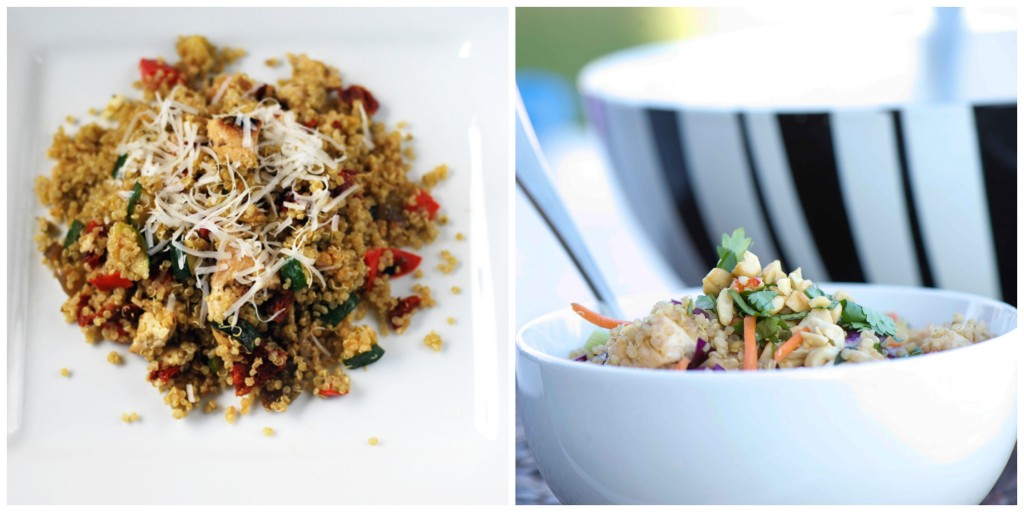 It's easy to hide some of the better for you brown rice flours in sweet breads like pumpkin or banana bread. I like tossing in flax seed when I am baking sweet breads or muffins.
#5 There are lots of GF pasta options out there. My husband's favorite are the ones that mix corn with white rice. Pasta is an easy food to make for the GF people in your family and the non-GF people. Just start two pots of water boiling and split the sauce between the two types of pasta. And yes, you do need to worry about cross-contamination, so use separate spoons for stirring and use a separate colander for draining the water.
Here are some of our favorite pasta recipes:
Tomato, Kalamata Olives, Capers and Green Bean Pasta uses all the best veggies in your garden.
Red Sauce takes hours to simmer, but the reward is worth the work.
Sage and Brown Butter Pasta This is my husband's favorite, though it's got loads of butter.
#6 Don't bite off more than you can chew as you start out. Sometimes store-bought is better, especially when you are just starting out with the different flours. Cooking everything from scratch can be daunting. Start with sweet breads like zucchini bread or banana bread before you try making white sandwich bread. Udi's makes a fantastic large loaf of white bread that you can find in the freezer section of Costco. When are are going out of town we sometimes splurge on the Udi's muffins – sometimes upwards of $7 for 4 muffins. I like the Pamela's Chocolate Cake
mix better than my homemade versions.
#7 Watch out for Soy Sauce. It has gluten — wheat is usually the second ingredient to soy, but the GF options are fantastic. It's really easy to make stir fry, lettuce wraps, teriyaki sauce all with the GF version of the soy sauce and really, with this substitution, no one will know the difference. We like the San-J Tamari Gluten Free Soy Sauce
. But did you know that even Kikkoman now offers a GF version?
#8 Concentrate on the positives. There really are so many foods that are gluten free.  Vegetables, meat, potatoes, ice cream, cream, rice, corn, butter, cheese, fruit, fresh herbs, are all gluten free. It's going to get better and easier as you become more educated and as you practice cooking GF.  When we go for long camping trips I make homemade granola using gluten free oats
. You can find GF oats at Trader Joes.
#9 Do your research. The University of Chicago has a very useful website. My husband sent a personal note to one of the most respected doctors in this field and he wrote him right back. They will send you a care package full of GF goodies that can help ease you into GF living. There are a ton of great blogs that focus mainly on GF eating. I love Gluten Free on a Shoestring. She has beautiful recipes and when you are ready, excellent advice on making your own flour blends. We try to highlight how easy it is to cook GF here on Culinary Mamas and there are hundreds of other sites and group Pinterest boards that can help inspire you with fantastic recipes.
#10 Watch out at when you dine out. Eating out is a challenge and depending on the state and country you are in, it can be easy or difficult. We found Paris to be a very difficult place for breakfast and lunch, but easy at dinner time. London was fantastic. We've had great experiences in San Francisco, Seattle and Boston. Utah is coming along. If you are a Salt Lake local, Tsunami and Bombay House both have fantastic GF menus. In-N-Out is the best fast food chain when it comes to gluten-free eating. There are no contaminants in the cooking oil of the french fries, so you get to eat french fries which unfortunately are generally no-no's since they're cooked in the same oil where breaded items are fried. In-N-Out employees will change their gloves and prepare your lettuce-wrapped burger on a GF surface.
This diet is going to be hard at times, but it will get easier and you might even like cooking more once you start experimenting with different ingredients. Good luck and please comment with your best practices!
Related posts: