Ever since reading the The Frankies Spuntino Kitchen Companion & Cooking Manual
 I've wanted an Italian grandmother to come into my life. I love my grandmas and my great grandmas and their roast chicken and roast beef Sunday recipes and I wouldn't trade them. But, when I heard about the "Italian Grandmother" making meatballs and roast vegetables, picking up sausage from the butcher and slowly simmering red sauce to get ready for Sunday dinner, I knew that I wanted one — an Italian grandma. There would be a loud and boisterous feast and then when Sunday dinner was over, the Italian Grandma would dish out leftovers to the family, so that the families could make lasagnas and pasta with the leftovers during the week.
My wish almost came true about a year ago when my older brother became our "Italian grandmother," and slaved away in the kitchen all day, created an Italian feast, then smiled when his work was finished and acted like it hadn't been too much work at all. My brother gave me this cookbook
 for Christmas a couple of years ago and ever since we have loved cooking, eating and reading from it.
This "Italian Grandma" is my Christmas wish, so I thought I'd share my favorites from the book for Christmas this week so you can be an Italian Grandma for your own family. We are going to make red sauce with meatballs and an arugula salad and roasted cauliflower on the side.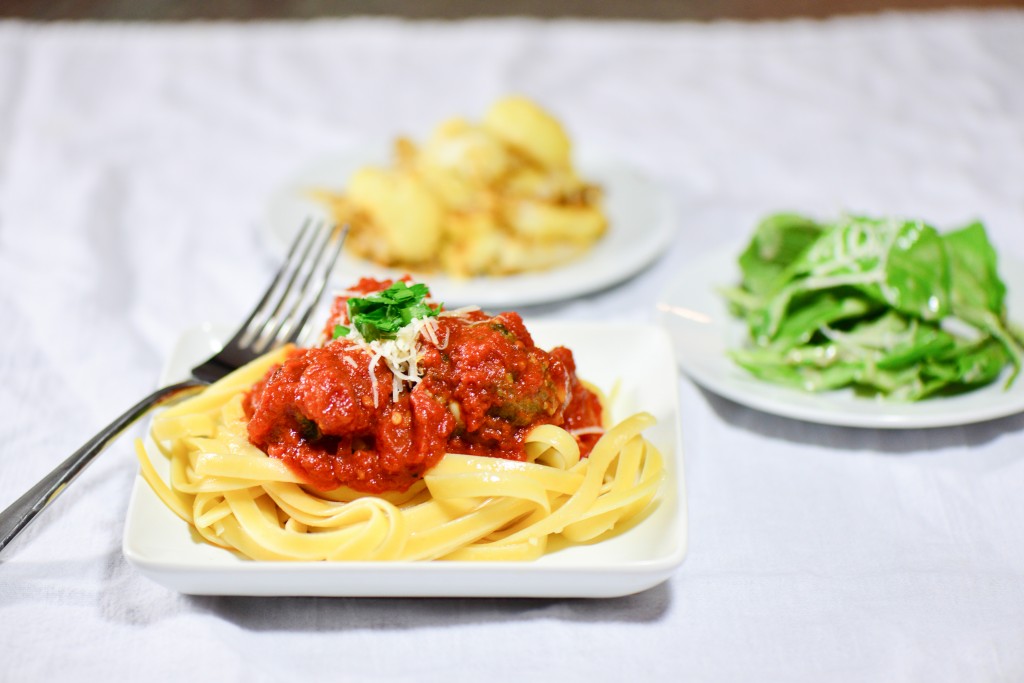 I think an Italian Grandma would make even more sides and meats, but when I do this meal for my family of four littles it is perfect and I can't help but simplify around Christmas. The book is worth getting for any foodie in your life. The way the authors talk and write about living in an Italian household and the memories from cooking and eating inspire you to want to create the same warm and cozy eating memories for your own friends and family.
The first recipe in the book is their recipe for red sauce. That is what I will start with here. The ingredients are simple and the technique is too. The sauce freezes well, so I like doubling the recipe so I have leftovers for the freezer for the future. The single recipe makes about three quarts.
Here is the list of ingredients:
3/4 cup olive oil
13 cloves of garlic, skins removed
1 96 ounce can Italian tomatoes (or four 28 ounce cans)
Large pinch of red pepper flakes
2 teaspoons fine sea salt
This sauce is simple, so that means getting the best ingredients are important. Get the Italian tomatoes and make sure they are whole tomatoes. You can find Italian tomatoes in the fancier section of your supermarket or at a Italian specialty store. Make sure you have a high quality olive oil. In Utah, it means that I hit Tony Caputo's Market in downtown Salt Lake City.
The first thing you need to do is get the garlic nice and golden brown. Combine the olive oil and garlic in a large, deep saucepan and cook over medium-low heat for about ten minutes. You need to stir occasionally until the garlic is deeply colored and there are "striations of deep brown running through golden cloves." This step is important because you are flavoring the oil which is going to flavor the tomatoes. It should take about ten minutes. If the garlic is browning faster than that, take the pan off of the stove and reduce the heat. The recipe calls for 1 cup of oil, but I reduced that a little bit so that it isn't as greasy.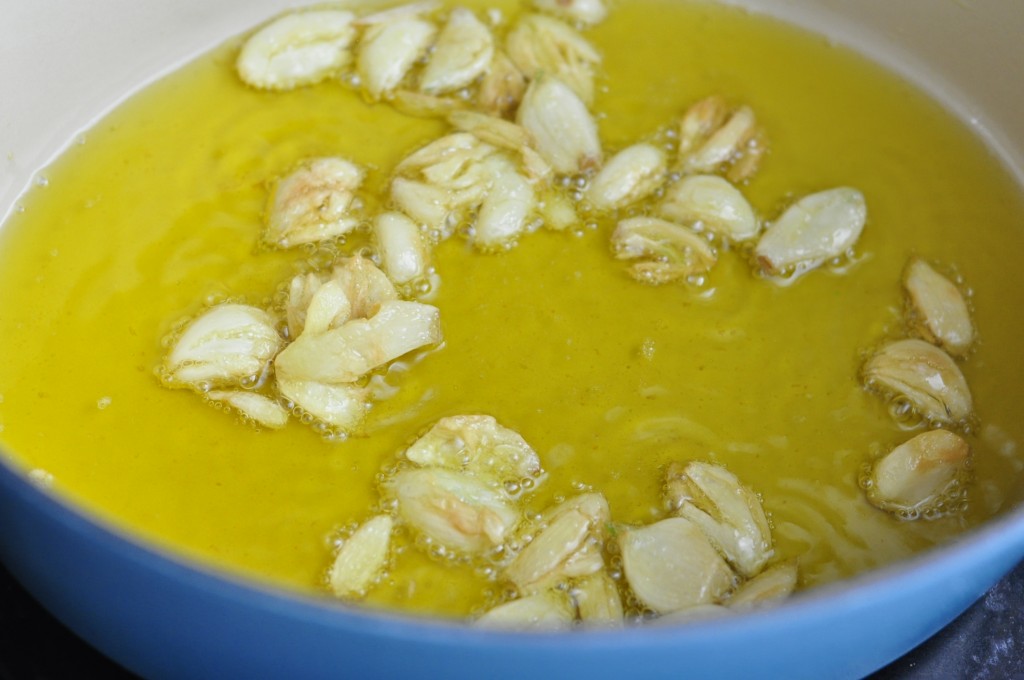 In between swirling and stirring the garlic, you can deal with the tomatoes. You need to pour them into a bowl and crush the tomatoes with your hands. You want to pull the firmer stem end off of each tomato and discard them along with the basil leaves that are packed at the bottom of the pan.
When the garlic is nice and golden brown, add the red pepper flakes to the oil and cook them for 30 seconds to a minute. Dump in the tomatoes and the salt and stir well. Turn the heat up to medium to get the sauce simmering. Once it starts simmering, lower the heat so that the sauce is simmering gently, but not aggressively, on my stove I have the heat on very low.  Simmer for four hours, stirring every once in a while and checking on how the sauce is simmering. Those four hours of simmering ensures you're getting an Italian grandma's patiently patented flavors…not Ragu flavors.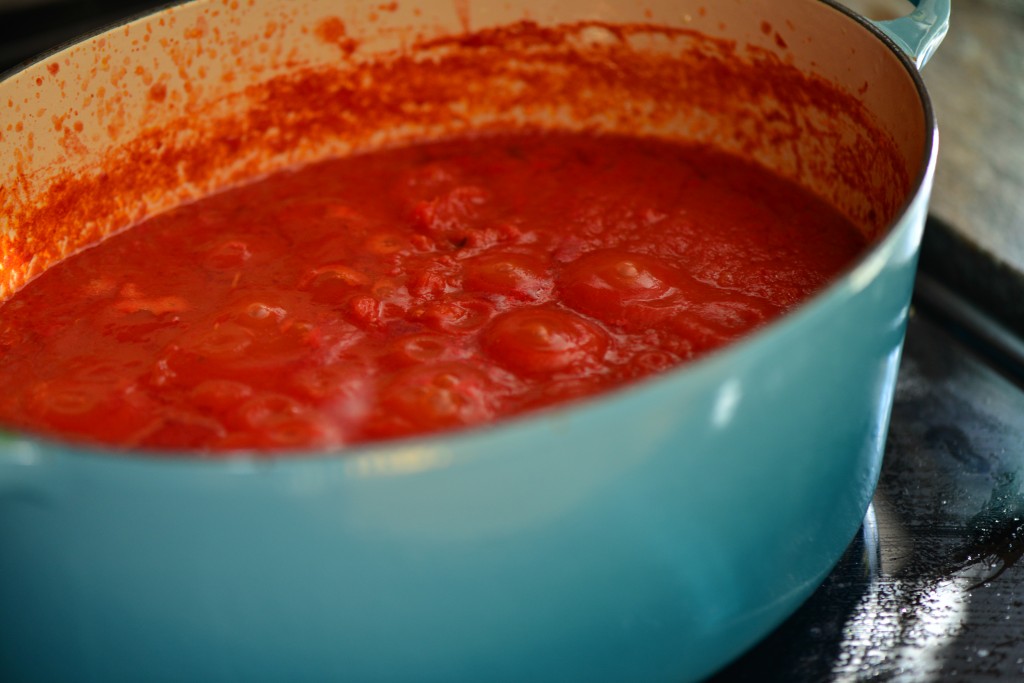 Check the sauce for salt at the end.
At this point you can simmer the sauce with meatballs or other meat to make the flavor even better. You can put it in the fridge for up to four days or keep it frozen up to a few months.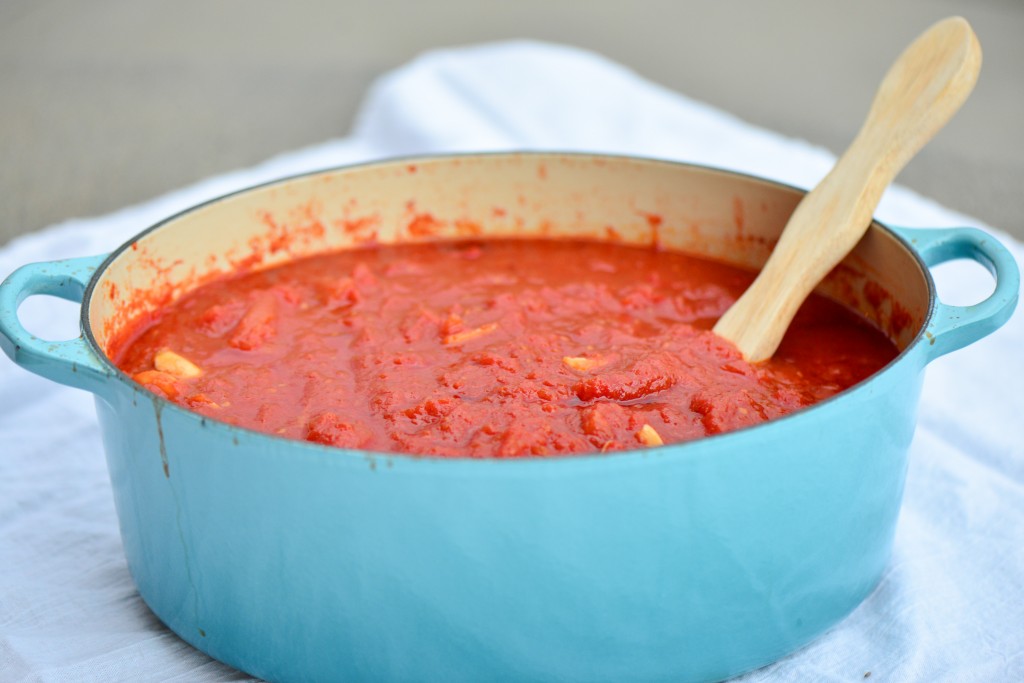 Frankies Spuntino Kitchen Companion cook book is absolutely a must have for anyone interested in creating an Italian grandma experience for their own families. The copy we were given from my brother Brigham came by way of his old high school friend Pete Meehan who co-wrote the book. Pete is a renown New York food critic and author. Brigham's present to us was also customized by Pete who drew this impressive picture on the inside cover for us.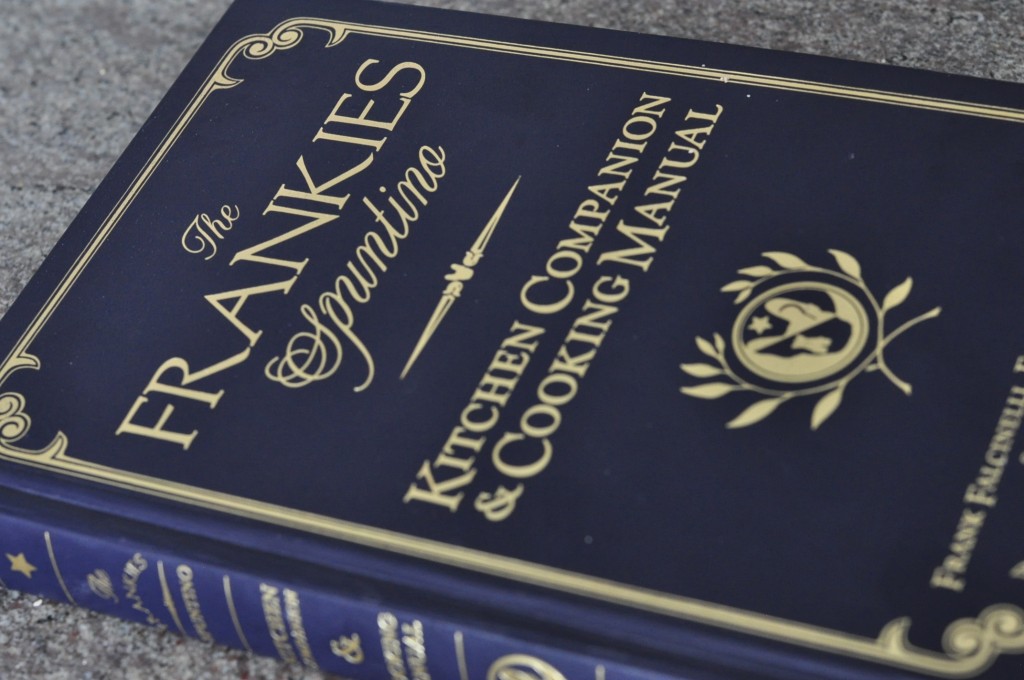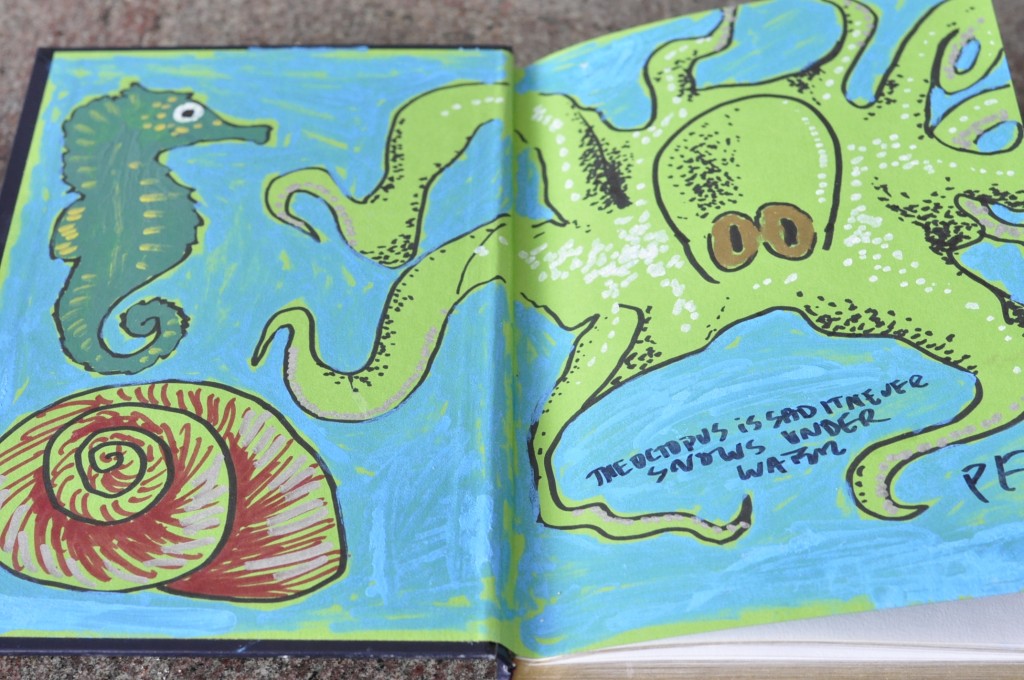 Related posts: