The quest for the best quinoa recipe continues in our house. This is a veggie crammed recipe– the whole farmers market in a bowl.  As I think all moms encounter, feeding veggies to children can be challenging. However, in this recipe I found that by dicing the vegetables pretty small no one seemed to care.  In fact, the colors of this rainbow quinoa were more intriguing.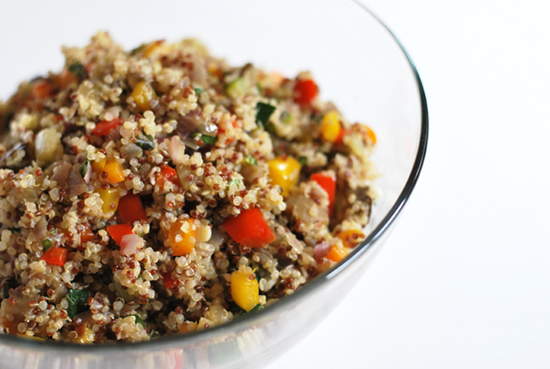 What's the difference between dicing and chopping you ask? Well, size for one. Diced is smaller, but also uniformed in a square shape.  For this recipe and my children, about 1 centimeter square worked well.  Even though all the vegetables are pretty uniformed in size, you can't just drop them into the pan at once and cook. They all cook at different rates. So, prepare all your ingredients before you start heating the pan and then stagger the start times (see below).  In addition, salting each time you add a vegetable to the pan adds layers to the cooking and helps to break down the vegetables. It doesn't have to be much – just a pinch will help.
This is also a great recipe to serve two sides as one – vegetables and grain. In our house we just added a piece of grilled meat and voila – a healthy meal!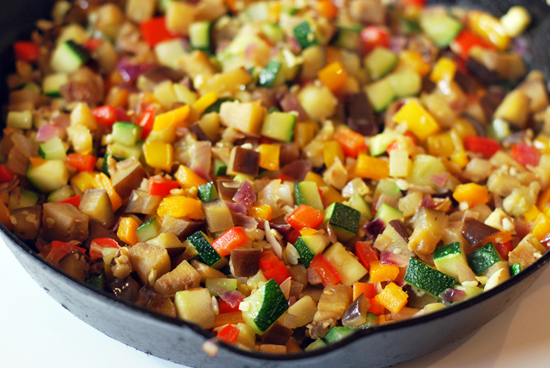 1 ½ cup dry quinoa, any color
2 ½ cups water
1 Tablespoon Extra Virgin Olive Oil
1 cup red or yellow onion, diced
2 cups bell peppers, diced
2 cups eggplant, diced
2 cups zucchini or squash, diced
½ teaspoon salt
3 cloves garlic, minced
¼ cup basil, chopped
pepper
Wash quinoa in cold water. To cook it in a rice cooker add only 2 1/2 cups of water. To cook it on the stove top add 3 cups water to the quinoa. Bring it to a boil and then reduce to a simmer for about 15 minutes. It will be done when the tail of the seed is visible; it will be light and fluffy.
Heat oil in a pan on medium high. Add onion and a pinch of salt. Cook onion about 1 minute and then add peppers. Saute them both for another minute before adding the eggplants. Saute the mixture for 3 minutes before adding the zucchini and another pinch of salt. Cook everything for about 3 minutes until vegetables are soft and starting to brown or crisp. Finish by adding garlic and sauteing for about 30 seconds.  Remove the pan from heat and mix it into the quinoa with basil. Season with salt and pepper to taste.
Related posts: