Super bowl Sunday is full of yummy cozy high calorie food. It's an excuse to break out the brick of cheese that you pushed to the back of the fridge after the holidays ended and before the gym membership started. So on Superbowl Sunday why not use your get out of jail free card and snack in the heat of the tenses moments. One of my favorite cheese indulgence is Spinach Artichoke Dip. This recipe, from Cooking Light's Way to cook Vegetarian, uses lower fat contents without a noticeable taste difference, thus deserving of the name Light Spinach and Artichoke Dip.  I increased the spinach amount in order to help the veggie quota for the day as well. I'm not claiming it's as healthy for you as an apple or carrots, but at least you can feel better about eating half the bowl.
If you enjoy this recipe, kindly repay us by following us using the 'Follow Us' section to the right or leaving us a comment below.  Thanks!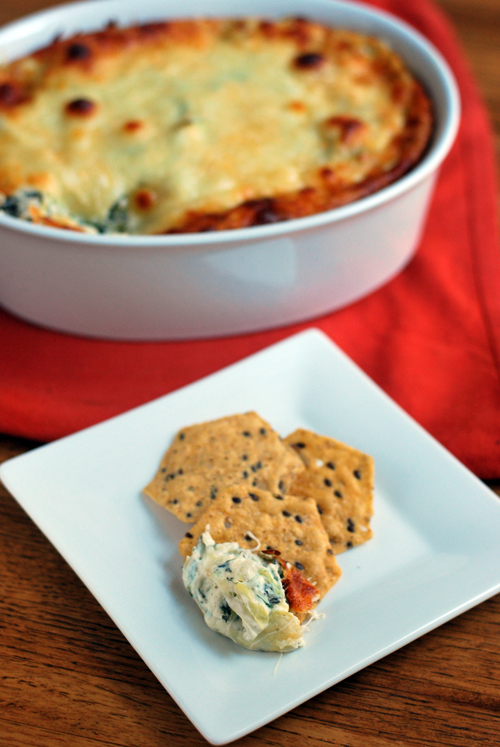 2 cups (8 ounces) shredded part-skim mozzarella cheese, divided
1/4 cup 91 ounce) granted fresh Parmesan cheese
1/2 cup fat-free sour cream
1/4 teaspoon black pepper
3 garlic gloves, crushed
1 (14-ounce) can artichoke hearts, drained and chopped
1 (8-ounce) block 1/3-less-fat cream cheese, softened
1 (8-ounce) block fat-fat cream cheese, softened
1 (10-ounce) package frozen chopped spinach, thawed, drained and squeezed dry in a few paper towels
1. Preheat oven to 350 degrees.
2. Combine 1/2 cups mozzarella, 2 tablespoons Parmesan and the next 7 ingredients in a large bowl; stir until well blended. Spoon mixture into a 1 1/2 quart baking dish. Sprinkle with remaining 1/2 cup mozzarella and remaining 2 tablespoons Parmesan. Bake for 30 minutes or until bubbly and golden brown. Serve with tortilla chips.

Light Spinach and Artichoke Dip
Author:
from Cooking Light's "Way to Cook Vegetarian"
Ingredients
2 cups (8 ounces) shredded part-skim mozzarella cheese, divided
¼ cup 91 ounce) granted fresh Parmesan cheese
½ cup fat-free sour cream
¼ teaspoon black pepper
3 garlic gloves, crushed
1 (14-ounce) can artichoke hearts, drained and chopped
1 (8-ounce) block ⅓-less-fat cream cheese, softened
1 (8-ounce) block fat-fat cream cheese, softened
1 (10-ounce) package frozen chopped spinach, thawed, drained and squeezed dry in a few paper towels
Instructions
Preheat oven to 350 degrees.
Combine ½ cups mozzarella, 2 tablespoons Parmesan and the next 7 ingredients in a large bowl; stir until well blended. Spoon mixture into a 1½ quart baking dish. Sprinkle with remaining ½ cup mozzarella and remaining 2 tablespoons Parmesan. Bake for 30 minutes or until bubbly and golden brown. Serve with tortilla chips
Related posts: