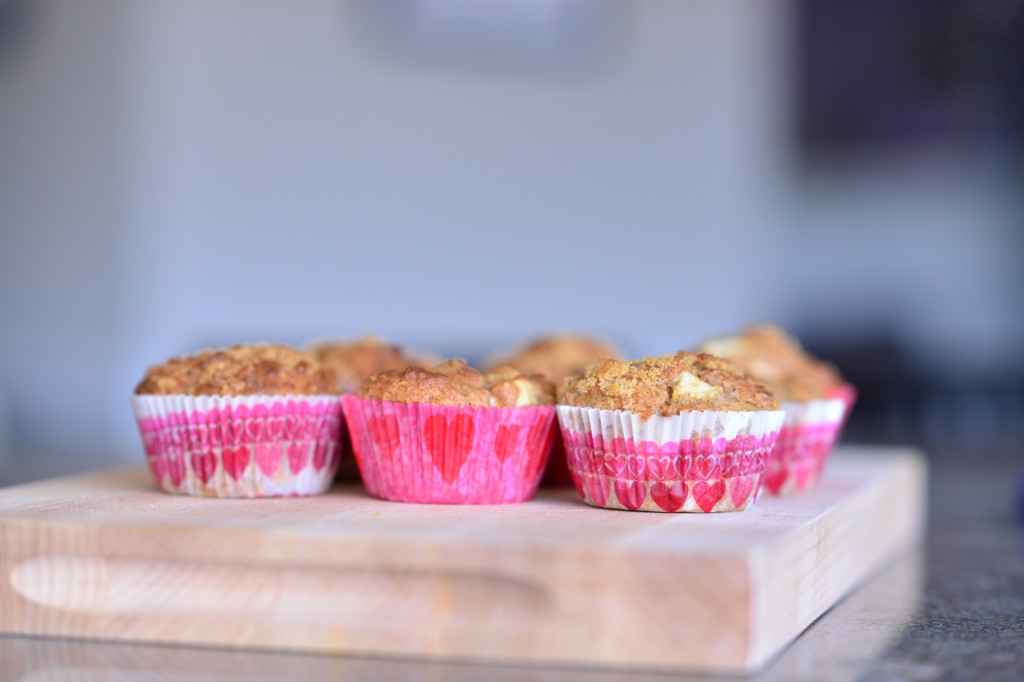 Sometimes I wish I was that mom who had warm cookies and cold milk ready for my kids when they dashed through the front door. Other days I wish I was that mom who had a veggie tray with homemade humus to get some nutrition into my kids before dinner. This day I surprised myself and became the mom with homemade whole wheat apple muffins to offer my kids after a long day at school. My kids enjoyed these and while not quite as nutritious as the offerings from veggie platter mom, the muffins are more healthy than chocolate chip cookies. These are moist and the sugar topping disguises the whole wheat so even picky kids like mine enjoy them.
Whole Wheat Apple Muffins from King Arthur Flour
1 cup whole wheat flour
1 cup all purpose flour
1 teaspoon baking powder
1 teaspoon baking soda
1/4 teaspoon salt
1 tablespoon cinnamon
1/2 cup unsalted butter at room temperature
1/2 cup granulated sugar
3/4 cup dark brown sugar, divided
1 egg, lightly beaten
1 cup buttermilk
2 large apples, peeled, cored and coarsely chopped
Preheat the oven to 375 degrees. Grease and flour a 12-cup muffin tin or line the muffin tin with papers.
Mix together the flours, baking soda, baking powder, cinnamon and salt. In a separate bowl cream together the butter, granulated sugar and 1/4 cup of the dark brown sugar. Beat until fluffy. Add the egg and mix until the egg is incorporated. Scrap down the bowl and gently add in the buttermilk. Be careful to not over-mix the buttermilk or it will curdle.
Divide batter amongst the 12 muffin cups. Sprinkle the remaining 1/2 cup sugar on the top of the muffins. Bake for 25-30 minutes or until a toothpick inserted into the muffin comes out clean. Let cool for five minutes and then turn onto a rack to finish cooling completely.
Related posts: