There are days when at 5:00 I realize I have no idea what I am going to make for dinner. I am overdue for a trip to the grocery store but don't have the time or energy to fight my two year old about the double car cart at the local store. So, I stand in front of my fridge one hour before dinner and I alternate opening my fridge door and freezer door, staring at the food, hoping for some kind of inspiration. I look at the vegetables in the bin, the frozen meat options, the cheese, I wonder if it should just be another omelete or french toast night or if we should just resort to cold cereal. Last week I had given up on the conjuring anything creative and decided to quickly make omeletes. Then, I realized that we were out of eggs.
I opened the fridge door again hoping to spot something I had missed on the previous round. Angels must have noted my angst because on this round of refrigerator inspection I noticed I had only used half of the pesto bottle from Costco and in the freezer there was some grilled chicken breast from a recent barbeque. I thought I could use these to make some kind of pasta dish last minute and it worked.   It was the kind of twenty minute meal that I should have more of, full of flavor, easy, simple and healthy by my lax standards.
I love when my kids eat vegetables as part of the main dish. I think it introduces them to the flavors and textures and keeps the food fun and kid friendly.
I chopped up one onion, one red pepper and one eggplant really fine so my kids wouldn't be repulsed by it. I poured about one tablespoon of olive oil in a fry pan and then cooked the onion for a couple of minutes over medium high heat. I added the eggplant and red pepper and continued to cook for about two more minutes so the vegetables were soft but still flavorful. I then tossed in a couple of cloves of minced garlic and stirred for thirty seconds until the garlic was fragrant.  I then added the grilled chicken and 1/4 cup of pesto. We served the pasta in bowls  garnished with parsley and Parmesan and sprinkled with sea salt and freshly ground pepper.
I served bowties for those of us who eat gluten and corn spiral pasta for the gluten-free husband.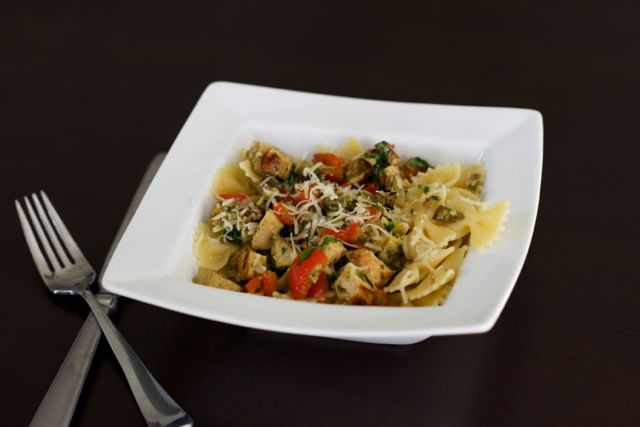 Veggie and Pesto Pasta
Easy twenty minute or less dinner.
Ingredients
1 red pepper chopped
1 medium eggplant chopped fine
½ large or 1 medium onion, chopped fine
2 cloves of garlic minced
¼ cup pesto
2 chicken breasts, grilled
fresh parsley and Parmesan cheese to garnish
salt and pepper to taste
Instructions
Start boiling water and cook pasta according to package directions. While the pasta cooks, start on the vegetables.
Saute onion over medium high heat for a couple of minutes, add the eggplant and red pepper and saute until the vegetables are cooked through but still colorful, about two minutes. Add the garlic and stir until fragrant, about thirty seconds. Lower heat to medium-low, add the chicken breast and ¼ cup pesto and heat through, about two minutes.
When the pasta is finished cooking add about two tablespoons of olive oil so the pasta doesn't stick. Put noodles in individual bowls and then place pesto mixture on top. Garnish with chopped parsley and freshly grated Parmesan.
Related posts: