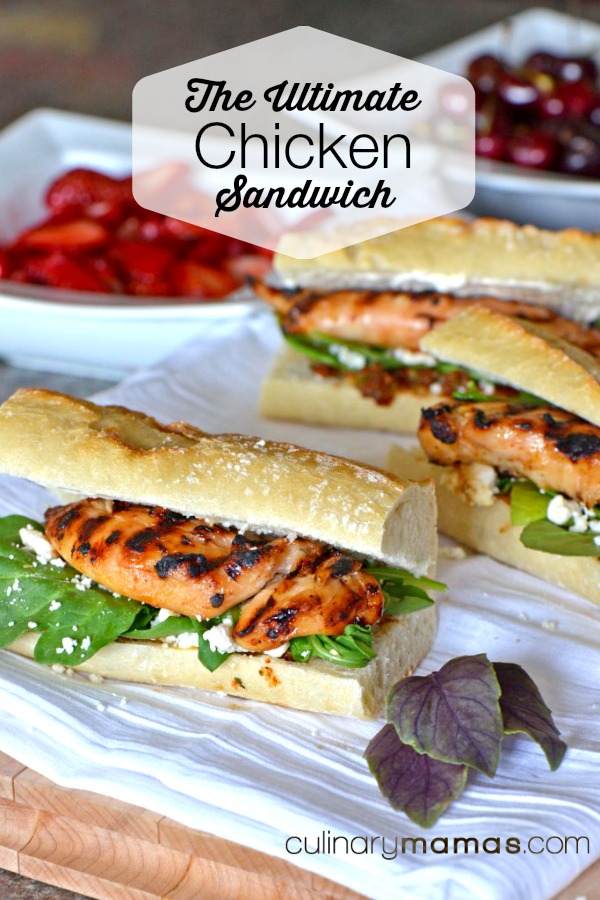 This chicken sandwich and a bowl of fruit is the ultimate ladies' lunch or the perfect addition to your 4th of July picnic. It's quick, it impresses, it is simple, but it makes you look like you know what you are doing in the kitchen. Most of the preparation can be done ahead of time so you don't have to look flustered when your friends are walking in the door.  This recipe is from the most reliable cookbook I own, Weber's Big Book of Grilling. I know, it seems a bit disappointing that my favorite cookbook is not Sur La Table or Alice Waters or The Joy of Cooking. It isn't one of the Momofuku cook books that I own, nor Frankie's Spuntino Kitchen Companion (though that could be a close second). The fact that it is a simple grill recipe book might cause you to immediately discredit me and this blog. But, seriously, Camille can cook, so stay with us.
My delight in this book might be because grilling naturally lends itself to seasonal, fresh flavors, and using a grill means using less dishes. Every recipe I've tried from this cookbook, save one, a chicken salad that was horrible, has made it into my family's eating schedule for a period of time. Some of the recipes have stayed with us summer after summer.
Try making this chicken sandwich this week for your family, my kids gobble the sandwich right up, and then keep it on file when you are trying to impress your friends. I am not grown up enough to like goat cheese, so I used feta, but if you like goat cheese, I think the flavor would work well with the arugula. I just substituted Cory's favorite bread to make this gluten-free for him. ( I used chicken tenders and put the whole tender on the sandwich. The original recipe calls for whole chicken breast that you slice into strips.)
Pesto:
1 clove of garlic, crushed
1 cup of loosely packed fresh basil leaves
3 tablespoons coarsely chopped sun-dried tomatoes
3 tablespoons extra virgin olive oil
1 tablespoon pine nuts
1/4 teaspoon freshly ground black pepper
1/4 cup freshly grated Parmigiano-Reggiano cheese
Rub:
2 tablespoons light brown sugar
1 teaspoon kosher salt
1/8 teaspoon cayenne
2 boneless skinless chicken breast
Extra Virgin Olive Oil
To assemble:
1 French Baguette
2-3 ounces Goat Cheese or Feta if goat cheese is not your thing
Mayonnaise
2 cups lightly packed arugula (I like the less spicy baby arugula)
1/3 red onion, thinly sliced
To make the pesto:  In a food processor with the blade running, drop the clove of garlic and let it get diced into a bunch of little pieces. Add the basil, the olive oil, sun-dried tomatoes and pine nuts and blend until a thick paste is made. Transfer the mixture to a bowl and stir in the cheese.  Cover and put it the refrigerator until ready to use. This can be kept for twenty-four hours.
To make the rub:  Combine the light brown sugar, kosher salt, and cayenne in a bowl. Rub into both sides of the chicken breast and cover the chicken with plastic wrap. Marinate the chicken for 4-6 hours.
To grill: Wipe off most of the rub with paper towels so the sugar won't burn on the grill. Lightly brush or spray the chicken with a bit of olive oil so it won't stick when you grill. Grill  for six minutes over medium heat on the first side and then flip onto the second side. Continue to cook until the chicken registers 165 degrees on meat thermometer inserted in the thickest part of the meat.  This is when the meat is firm and juices run clear, about 8-12 minutes total cooking time.
Remove from the grill and slice the chicken on the bias into 1/2 inch strips.
To asssemble: Cut the baguette lengthwise down the middle. Spread one half the baguette with pesto and the other half with goat cheese. If you don't want to do goat cheese, spread the second half with a thin layer of mayonnaise and then place some feta on the bread.  Layer the chicken, red onion, and arugula. Slice the baguette into four equal sections and serve at room temperature.
Related posts: