This is it! The last of my orange inspired sides for Thanksgiving. I made these sweet potatoes for the first time a few years ago. They have been my one and only recipe for Thanksgiving ever since. This recipe just adds a hint of flavor and sweetness to the sweet potato so that the sweet potato itself is the star of the dish. The recipe is simple and stress free and will be a star at your Thanksgiving table. I like to bake the potatoes the day before Thanksgiving, mash them, add the spices, cream and orange juice. Then on Thanksgiving day all I have to do is heat it all up in the oven.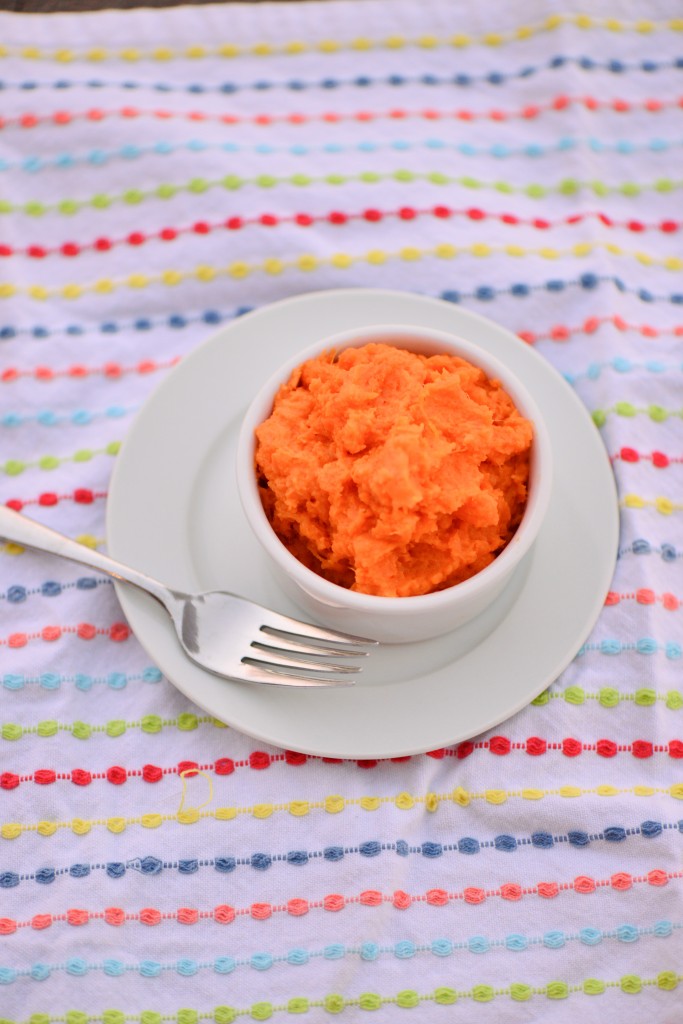 Thanksgiving Sweet Potatoes with a hint of orange
Sweet, but not overly sugary with a hint of orange. These potatoes will be a star at your Thanksgiving table.
Author:
Culinary Mamas via Paula Dean
Ingredients
4 pounds sweet potatoes (about 6 large)
½ cup orange juice
½ cup heavy cream
4 tablespoons (1/2 stick) unsalted butter, melted
¼ cup light brown sugar
1 teaspoon ground nutmeg
½ teaspoon ground cinnamon
2 teaspoons kosher salt
1 teaspoon freshly ground black pepper
Instructions
Wash the potatoes and prick them several times with a knife or fork. Bake at 375 degrees for 1 hour or until very soft when pierced with a knife.
Remove the potatoes from the oven and let them cool. When the potatoes are cool enough to handle, scoop the insides of the potato out from the skin and place the sweet potato meat into the bowl of an electric mixer fitted with a paddle attachment.
Add the orange juice, cream, butter, brown sugar, nutmeg, cinnamon, salt, and pepper. Mix together until combined but not smooth and transfer to a baking dish. (At this point I leave my pan of potatoes in the fridge so I can cook them the next day.)
Bake at 350 for 20-30 minutes or until the potatoes are heated through.
Recipe
from Paula Dean of the food network.
Related posts: