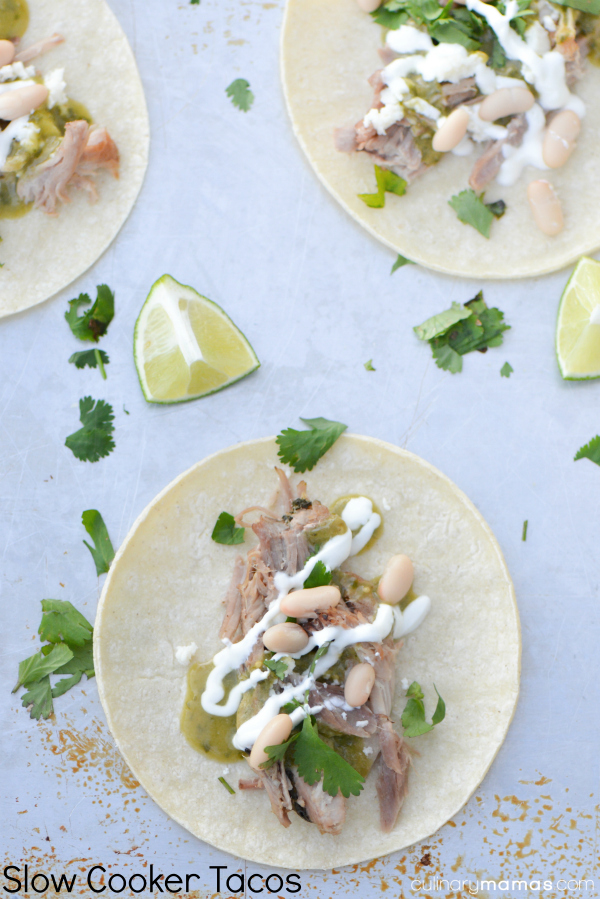 Camille recently started back at work, so this post is dedicated to her and the rest of your working-mama super-heroes. I adapted a Rick Bayless recipe and made it just a little easier for those days when you want the home cooked meal, but all you have is fifteen minutes before work to throw something in the slow-cooker, hoping for pure dinner bliss when you come home. This recipe makes a lot of food, so it will be dinner on day one, leftovers on day two and frozen for future busy nights after that.
What is cool about this recipe is that the pork and the salsa cook together, so that at dinner time, all you have to do is blend the salsa together in a blender, warm up your tortillas and add some sour cream and queso añejo cheese. Just like that, you've got dinner on the table and it's been doing all the work getting delicious for you and your family while you've been at your desk job. My kids loved this and they aren't as into Mexican food as I wish that they were.
1 1/2 pounds tomatillos, husked,
3 canned picked jalapeños, stemmed, and seeds scraped out
1/2 cup roughly chopped cilantro
salt
5 pound pork shoulder roast
1 tablespoon Worcestershire sauce
1 15-ounce can large Great Northern beans (if desired)
1 handful of spinach (not necessary, but it makes for a prettier sauce and it's a bit healthier for you)
sour cream
queso añejo cheese
Before work: Tomatillos have a waxy skin, so first take a few minutes to rinse them off under hot water and rub the tomatillo as you do so to get the wax removed. Cut the tomatillo into one inch pieces and set them in the bottom of a greased slow cooker. Scatter on the garlic, jalapeño and 1/4 cup of the cilantro. (Keep the additional cilantro in the fridge for dinner time.) Sprinkle with 1 1/2 teaspoons of salt. Remove any large fat pieces form the pork shoulder and place it on top of the tomatillos. Pour the Worcestershire sauce over the meat and sprinkle with 1/2 teaspoon of salt. Cook on high for 4-6 hours or on low for 8-10 hours.
After work: Remove the pork from the slow cooker. Use a slotted spoon and remove as much of the tomatillos, garlic and jalapeño from the bottom of the slow cooker as you can. Add enough of the liquid to make four cups and blend this together with one handful of spinach in a blender. Add the beans to the salsa. Shred the meat. Heat a skillet to medium and warm the corn tortillas for 15 seconds per side, keep them warm under a dish-towel. Serve the tacos with the salsa, queso añejo cheese, remaining 1/4 cup of cilantro and sour cream.
Recipe adapted from Rick Bayless, Mexican Everyday
. (If you have a Mexican food lover in your life, that book would be an excellent affiliate link to take advantage of.)
Related posts: