These beans! I love them! I make them at least every month. I have shared them before, but I wanted them to have their own post here in the blogosphere because they deserve it. They can make a meal out of any leftover steak or chicken. They can be a dip all on their own. I find myself eating half a pot as "I taste for salt" chip by chip.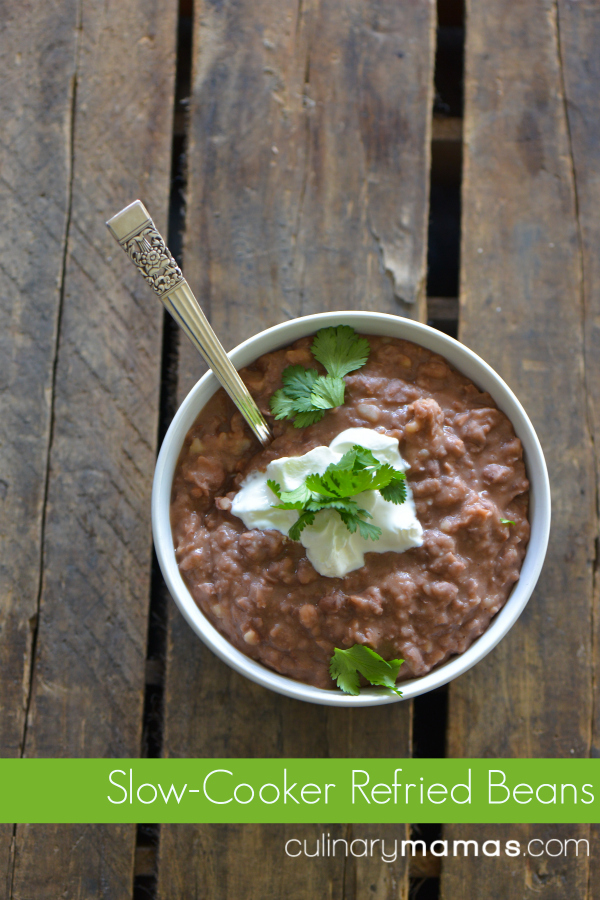 It's Cinco de Mayo next week and if you are going to celebrate, you just have to make these. I think this is the most important recipe when it comes to upping your Mexican food game. You can use pinto beans or black beans. I stick with pinto but black would be delicious. The great thing about this recipe is that the crock-pot isn't just a time saving device, it's the best way to make the beans. They cook slow enough to obtain ultimate creamy perfection.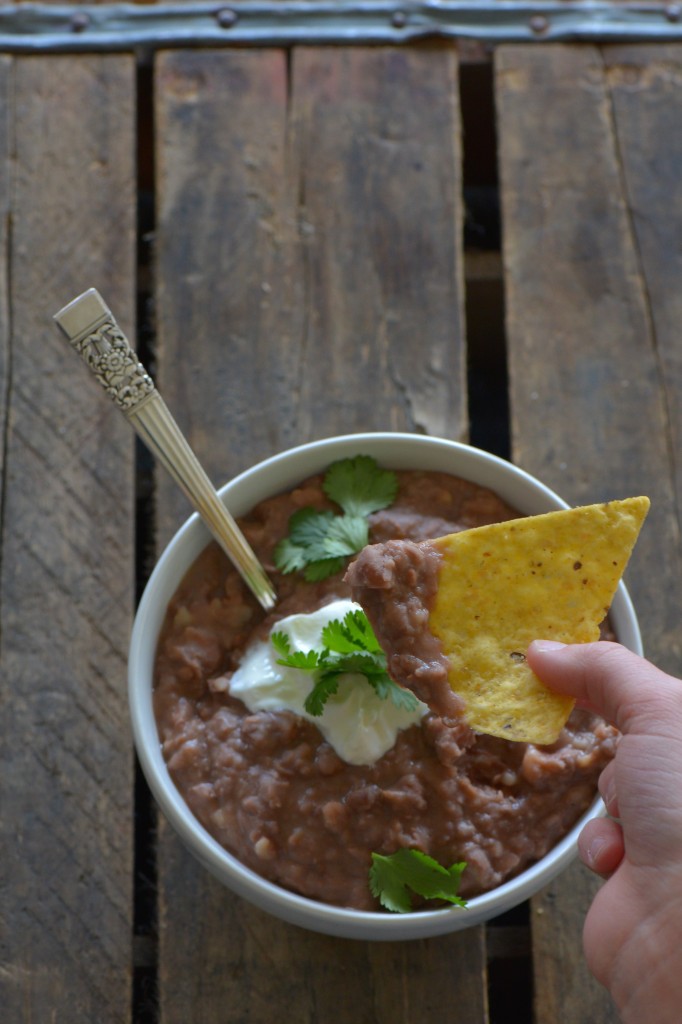 You don't really need step by step instructions, but I have included them hoping to inspire everyone to break out the crock-pot and cook beans for Monday.
First, you need to lay the 16 ounces of pinto beans on a large baking sheet to check for stones and rocks. I've never found any, but I always check.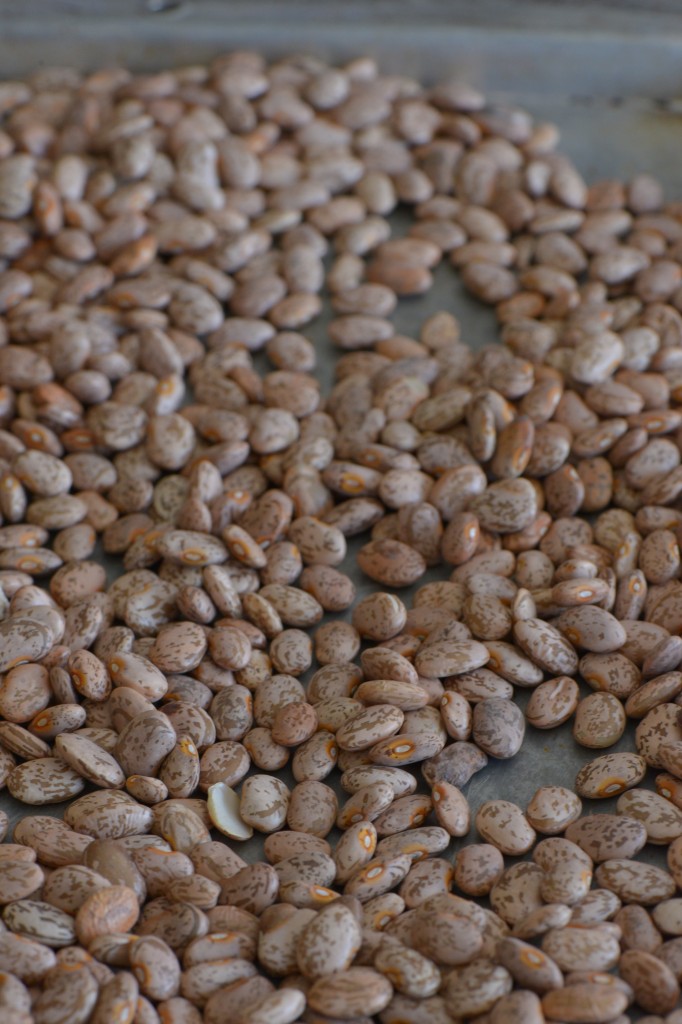 Next, you need to rinse off the beans in a colander.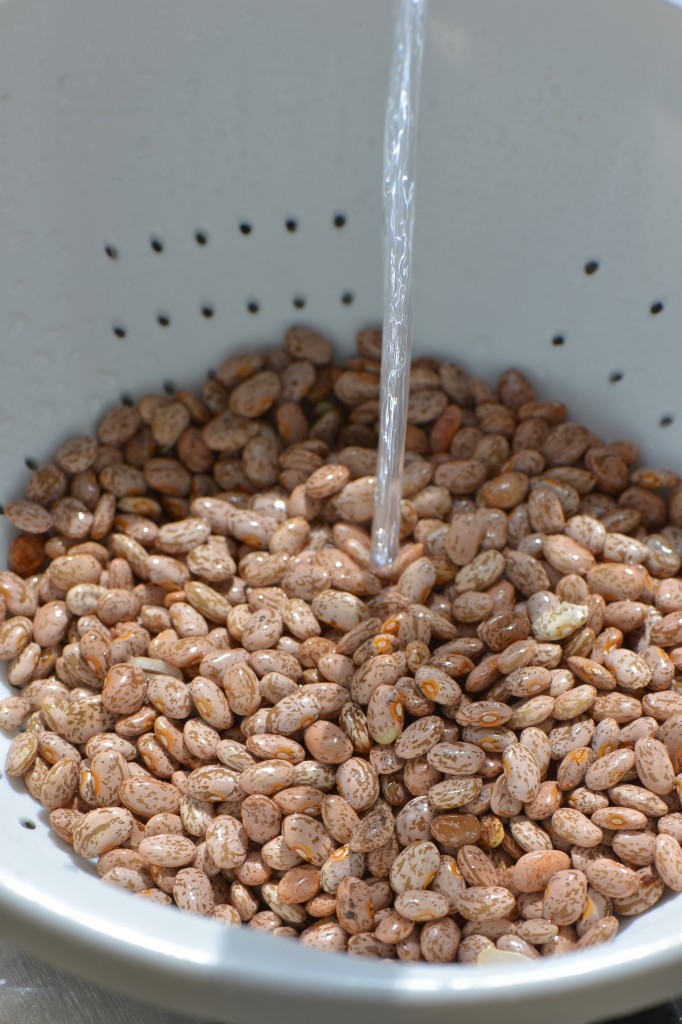 Add the beans and two quarts of water to a large pot.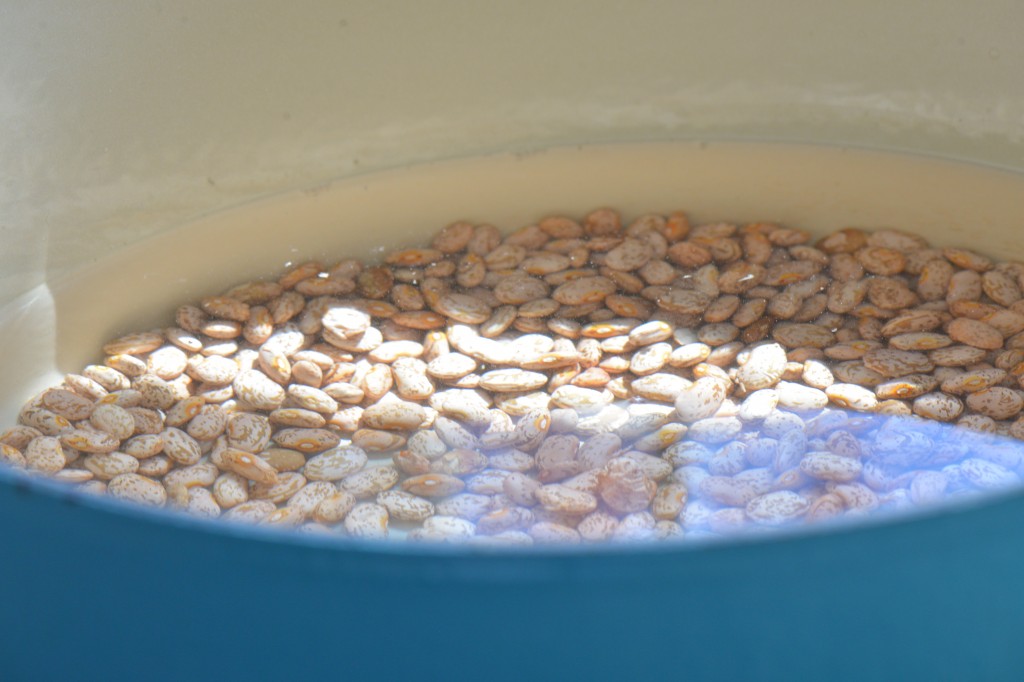 Add one cut up onion and two tablespoons of vegetable oil. Bring to a boil, then poor the beans into a large crock-pot.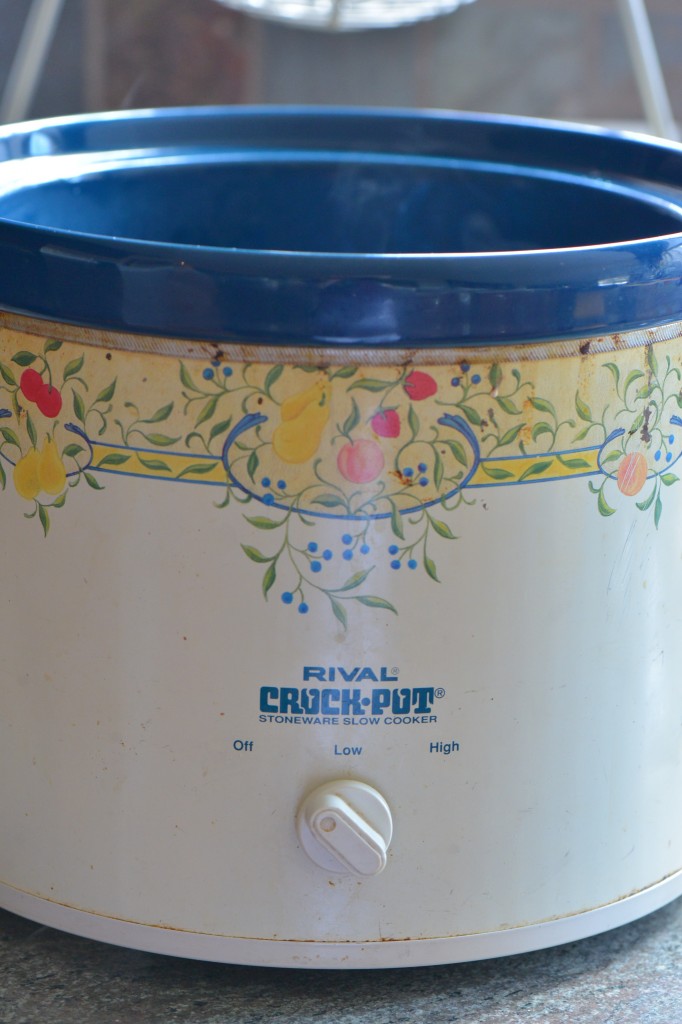 Cook on high for 6 hours, until the beans are very soft.
Once the beans are done, add about a tablespoon or so of salt. At this point you can smash them and just have smashed beans, or you can fry them up in a bit of garlic and bacon grease and have heaven here on earth. (If you need, you can refrigerate the beans after they have cooked in the crock-pot and save the frying and smashing for day two.)
To fry them, add two tablespoons of vegetable oil or bacon drippings to a large pot over medium heat. Add three garlic cloves that have been pressed and stir the garlic constantly for about one minute, until it is fragrant, but before it gets brown.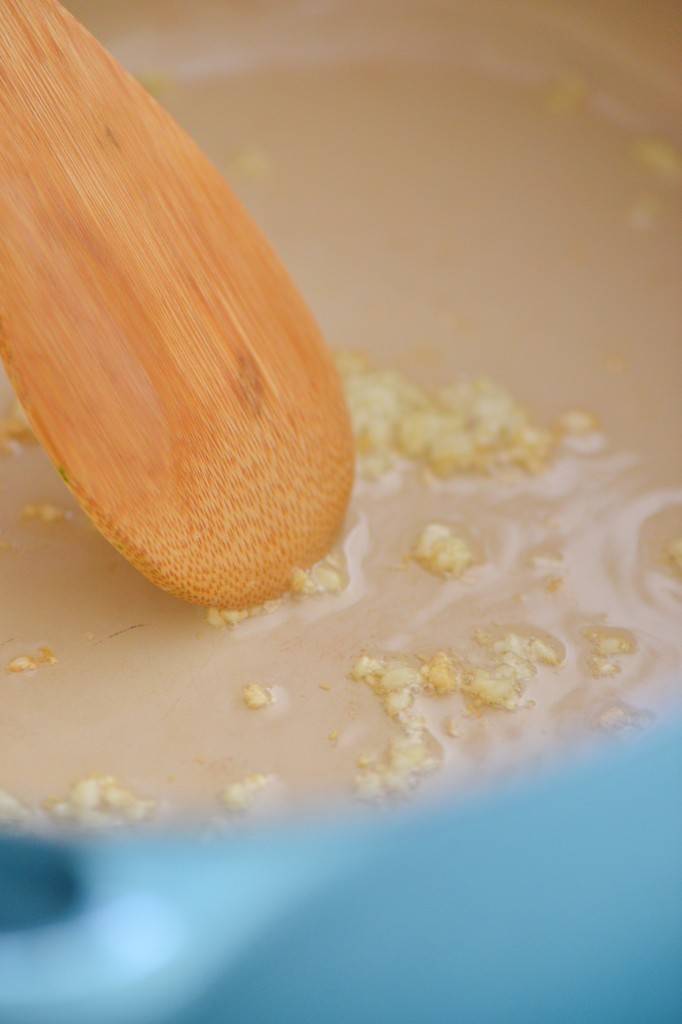 Add the beans and enough liquid so that the beans are just barely covered. Bring to a simmer and start to smash them with a potato masher. Simmer for about five minutes and continue to smash until you have reached the desired consistency. I like mine a bit chunky.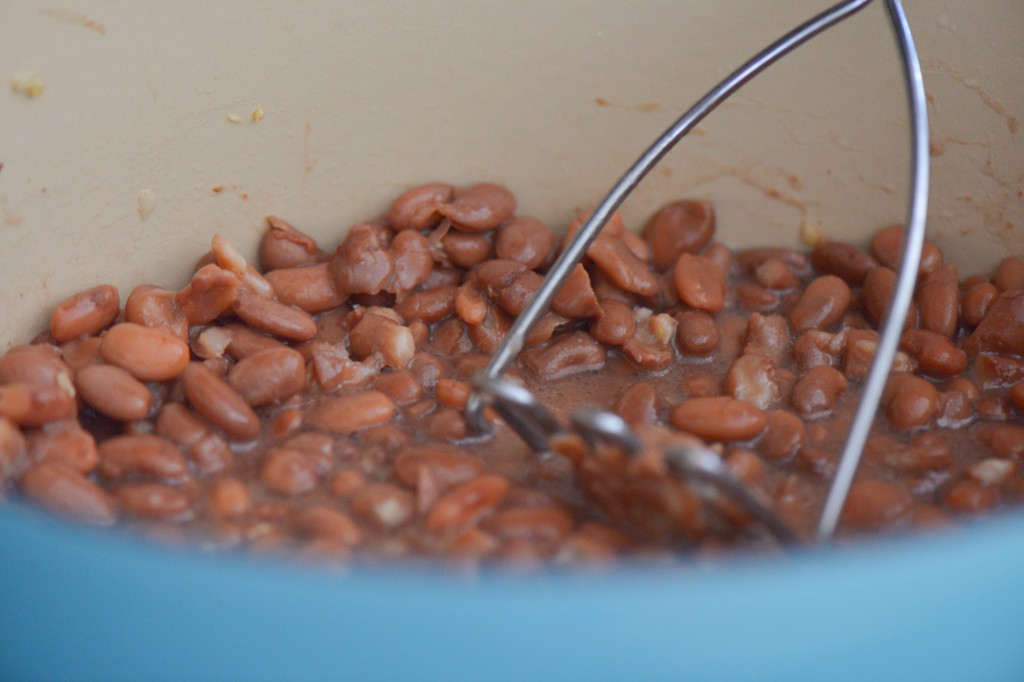 Remove from the heat and enjoy.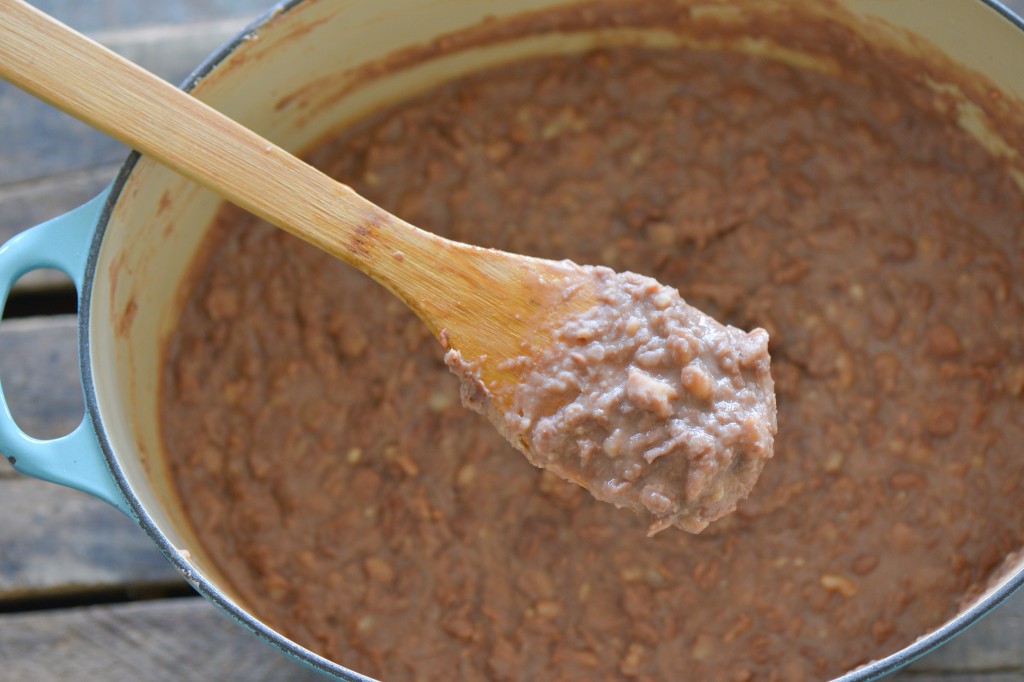 Beans can look kind of pretty.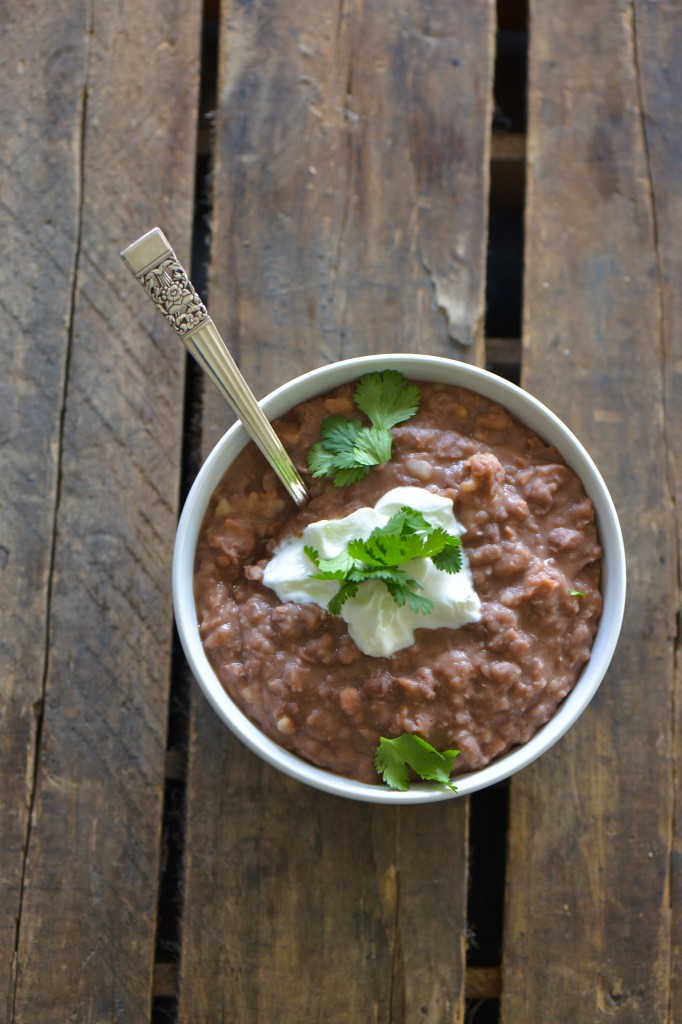 Slow Cooker Refried Beans
The crock-pot is the perfect way to cook these beans to creamy perfection.
Author:
Kristen via Rick Bayless
Ingredients
How to make the beans:
1 pound dry pinto beans
2 tablespoons vegetable oil
1 medium onion, cut into large segments
salt
To fry you will need:
2 tablespoons bacon drippings or vegetable oil
3 garlic cloves, peeled and finely chopped
Instructions
First you need to check and make sure there's no dirt or little rocks in the beans. Rinse the beans in a colander and then dump into a large pot. Add two quarts of water, the onion and two tablespoons vegetable oil. Bring the water to a boil. Transfer the beans and water into your slow cooker and cook on high for 6 hours. When the beans are tender, stir in 1½ tablespoons salt.
In a large pan, heat the oil or bacon drippings over medium heat. Add the garlic and stir until the garlic is fragrant, about one minute. Add the beans and enough water to cover the beans. Bring to a simmer and start to smash the beans with a potato masher. Continue to smash and stir for 5-10 minutes until the beans are the consistency of soft mashed potatoes. Don't over cook or the beans will get dried out. Salt to taste.
Recipe adapted from Rick Bayless'
Everyday Mexican
cookbook. 
Related posts: