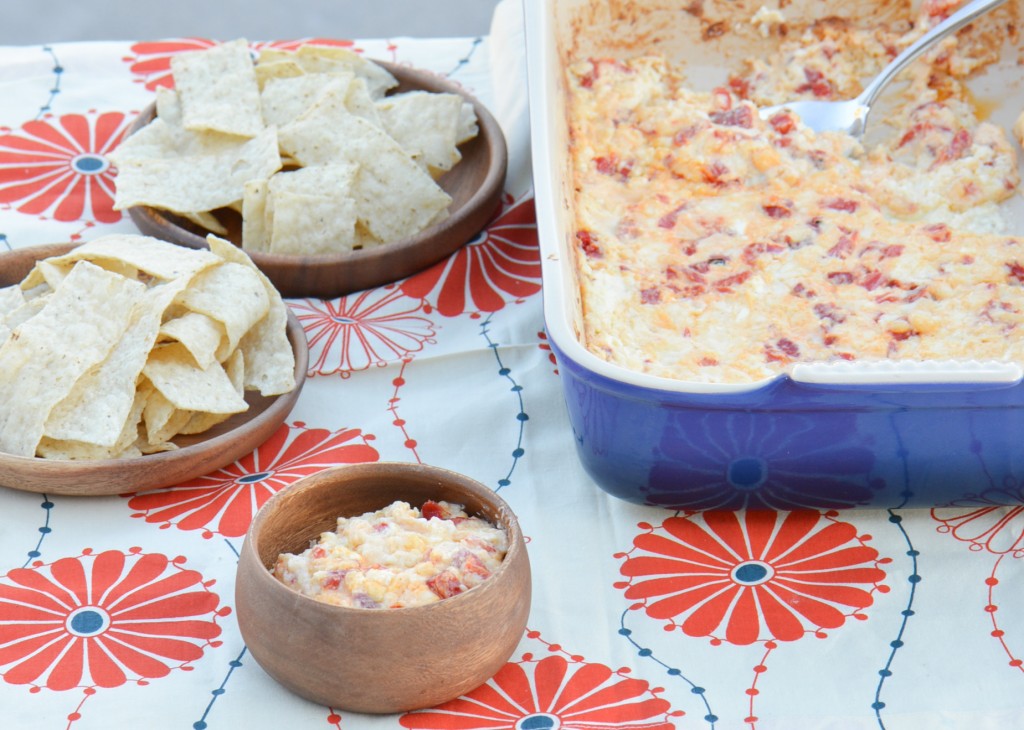 I was going to title this, "The best artichoke dip you have ever eaten." But, I thought that name might be a bit misleading since the reason that this is the best artichoke dip you have ever eaten is because the artichokes are replaced by roasted red peppers. I think the flavor of the pepper does a better job standing up to a hot creamy dip than the artichoke. I have had this recipe in my cooking repertoire for over ten years. We were invited to a popular white elephant gift exchange in our California neighborhood and we wanted to be invited again. I scoured the Internet trying to find an appetizer that would get us back.  We received lots of compliments that night and scored an invite the next year. Since that time, this dip has turned into, "What we always bring when we are invited to watch a college football game at your house." Our favorite team, the BYU Cougars, have a long road schedule ahead of them. This means that we will have lots of this creamy goodness in the month to come.
I have tried some substitutions over the years because I have forgotten different ingredients at the grocery store.  The dip tastes the best with monterey jack cheese. Both cheddar and Mozzarella make the dip too greasy. I think the dip works great with low-fat cream cheese and pretty good with low-fat Mayo. (I don't do non-fat, it scares me.) Sometimes I forget the onion, but it does taste better with it.  You want to make sure to get the water out of the peppers or the dip is less flavorful. You can find roasted red peppers in the olive section and sometimes with the fancy Italian food.
Roasted Red Pepper Dip
Dip for your next game day.
Author:
Culinary Mamas via All recipes
Ingredients
1 12-oz can roasted red peppers, drained
¾ pound Monterey Jack cheese
1 8 -oz block of cream cheese, room temperature
1 cup mayonnaise
1 tablespoon minced onion
1 clove of garlic minced
2 tablespoons dijon mustard
Instructions
Preheat oven to 350 degrees.
Take the drained peppers and squeeze any excess water out between two paper towels. Chop the peppers roughly. In a medium bowl stir all the ingredients until well combined.
Spread the dip in a 9X13 pan and bake for 30 minutes. I like it best when the top gets a nice golden brown. Sometimes this takes my oven 40 minutes. Serve with tortilla chips.
Recipe from all recipes.
Related posts: