So, let's say for a minute that instead of pie this year you are going to serve cookies for your Thanksgiving dessert. If you were going to do that, if it would not ignite rebellion or at a minimum disappointment the family to give up pie, then these are the cookies that you should serve. These cookies are a pretty little holiday package that wrap all the best of the flavors of Thanksgiving with a hint of Christmas orange. They are chewy, they  have the right combination of spices, they pass the delicious-when-dunked-in-milk test and the second-day-sitting-on-the-counter-still-soft-test. My sister-in-law brought a platter of ginger cookies with this orange and white chocolate combination to a recent family party. I was inspired to go home an recreate that recipe using a favorite ginger cookie recipe as my base and it turned out so yummy I just had to share.
If you insist on being traditional and you are not going to replace pie with cookies, then you should consider giving these cookies as neighbor gifts in December, or bring these cookies to the neighborhood cookie exchange, or give Santa Claus something extra special on his Christmas Eve plate. I promise you just have to make them. I am a chocolate chip cookie girl at heart and these live up to my cookie expectations even without dark chocolate.
Just a few suggestions: the dark brown sugar is important for day two cookies. I have made these cookies with light brown sugar and they still are good, but not as soft and chewy on day two. I've made these cookies with both granulated sugar and coarse sugar and found the granulated sugar much better. The problem with the coarse sugar was there was too much of a texture difference between the rocky sugar and the soft, chewy cookie. I've made these gluten-free with the addition of 1/2 teaspoon of xantham gum and I replaced the wheat flour with gluten-free flour one-for-one in the recipe. The gluten-free cookies turned out great. I still believe in the magic of Mama's gluten-free almond flour
 for gluten-free baked goods. (That is an affiliate link.)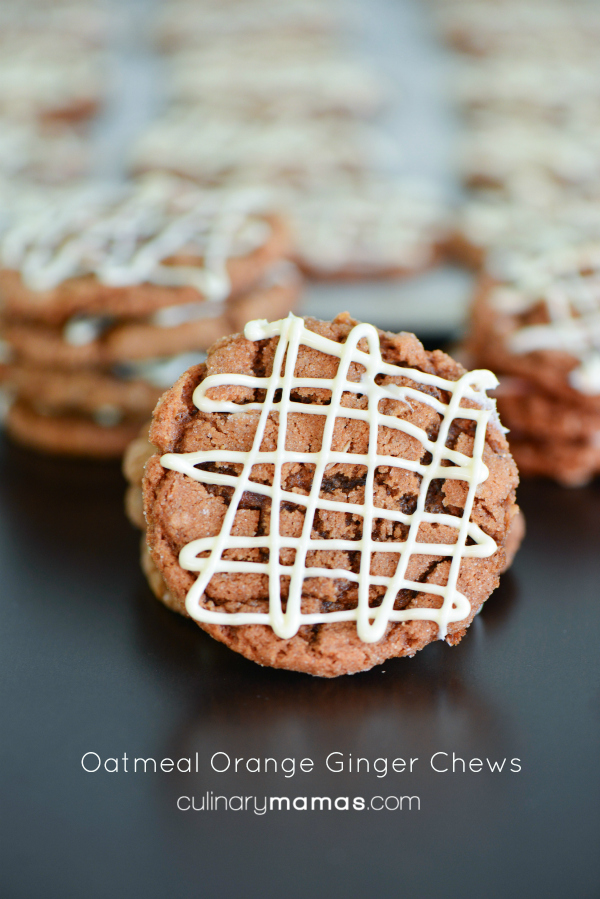 Oatmeal Orange Ginger Cookie
Perfectly soft and chewy, make sure to use dark brown sugar and to not over bake. These are delicious with the orange and white chocolate and also very good without.These turned out great gluten-free. Just replace the wheat flour with gluten-free flour and be sure to add ½ teaspoon of xantham gum.
Author:
Kristen via Ambitious Kitchen
Ingredients
1½ cups all-purpose flour
¾ cup rolled oats
1 teaspoon baking soda
¼ teaspoon salt
1 teaspoon cinnamon
1½ teaspoons ground ginger
1 teaspoon all spice
1 teaspoon nutmeg
¾ cup butter (12 tablespoons)
1 cup packed dark brown sugar
¼ cup molasses
1 large egg
2 teaspoons vanilla extract
1 generous tablespoon orange zest
granulated sugar, for rolling (about ½ cup)
white chocolate for drizzling, about 8 ounces
Instructions
In a large bowl combine the dry ingredients: the flour, rolled oats, baking soda, salt, cinnamon, ginger, all spice and nutmeg.
In a small saucepan brown your butter. (This sounds a bit scary, but it is really easy. The key is to keep an eye on the butter as it browns because it goes from not brown to burnt quickly, if you just keep stirring and don't start doing your dishes, you are going to be just fine.) Heat the butter over medium heat. As soon as the butter has melted completely, start whisking the butter. It will take a three to five minutes for the butter to brown. The butter will start foaming, then a few minutes later it will start to brown on the bottom and you will start whisking little brown flecks around the butter. The butter will soon all be brown and give off a nutty aroma. At this point, pour the butter from the pan into a small dish so that the butter will cool without continuing to cook.
When the butter has cooled, stir in the dark brown sugar and molasses. Stir in the egg. When the egg is incorporated, stir in the vanilla extract and the generous tablespoon of orange zest. Cover the bowl with plastic wrap and let the cookies rest for at least fifteen minutes in the fridge, I prefer to leave them overnight.
When you are ready to make the cookies, preheat the oven to 350 degrees. Roll about a tablespoon of dough in the granulated sugar. Repeat for the remaining cookies. (I like to keep the portion of the dough that I am not going to make into cookies in the freezer so the cookies are fresh and warm when I eat them.) Cook for 10 minutes at 350 degrees. You do not want to over bake these cookies.
Once the cookies are cool, drizzle with white chocolate. I find it easiest to melt the chocolate, pour it in a small Zip-lock bag and then cut off a very small corner of the bag and squeeze the white chocolate from the bag over the cookies.
Recipe from the ambitious kitchen.
Related posts: