As newlyweds I told my husband never to waste money on flowers, just to buy me a box of chocolate when he wanted to woo me. My thinking was that flowers just died, but a box of chocolates would make me happy for at least a week. On our first anniversary he dipped strawberries, bananas and orange slices in chocolate and he continued to follow my advice for five years.  On our fifth anniversary, he broke my rule and taught me that flowers also have power to romance. Cory was working in San Francisco on Friday, so the plan was for me to take BART and meet him in the city for a dinner date and to spend the night at a swanky hotel in the city. After the hour long train ride, I walked up the stairs from the subway to the street corner of 1st and Market. As my eyes adjusted to the light, I glanced across the street and there my husband was, leaning against the cement wall of a building, checking his phone and holding a bouquet of gerber daisies. My heart did a little dance at those white flowers, I couldn't help but smile and I decided on that fifth wedding anniversary that I had grown wiser and that flowers would have a more treasured spot in our love story.
While flowers make my heart flutter and I do sometimes like them better than chocolate, the way to my husband's heart is with a decent meal and sumptuous dessert. This molten chocolate lava cake is as divine as chocolate desserts can be. The best part is the batter and chocolate sauce can be made a day ahead of time. So, if you want a stress-free Valentine's Day dessert, make the batter the day before. You just have to cook the batter on Valentine's day and heat up the sauce. The recipe makes six mini-cakes, but I can usually only eat half of one. When I am trying to decide on servings I usually figure that most adults will share these.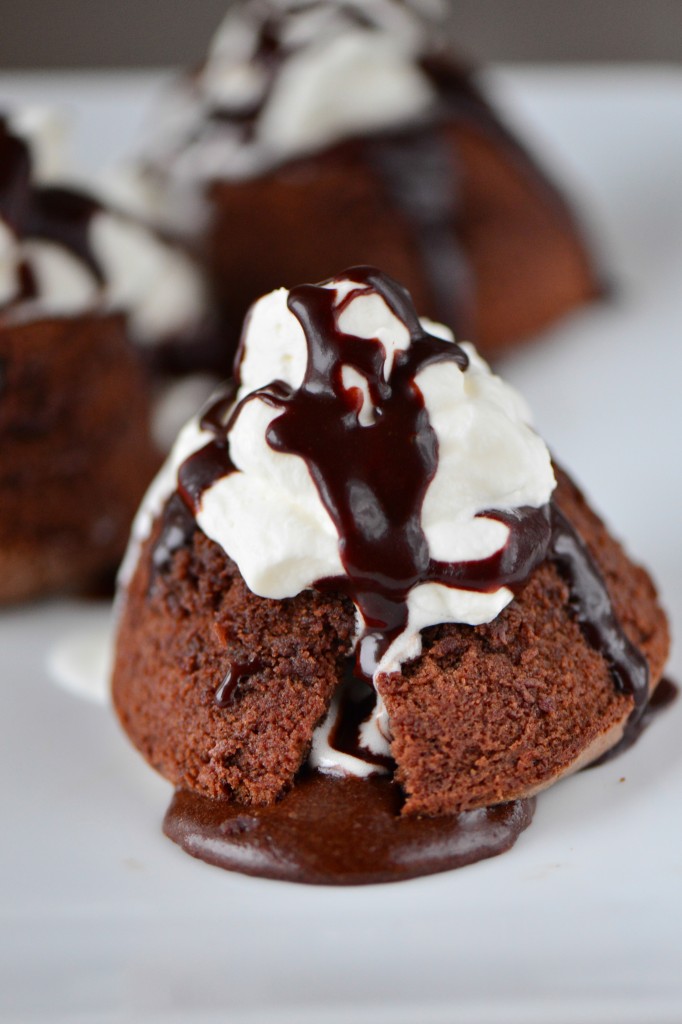 The other great thing about this recipe is that there is only 1/2 a cup of flour, so it is a perfect gluten-free dessert because subbing in gluten- free flour is so easy and doesn't change the taste much at all. I used Mama's Coconut Blend flour
 in this last batch and the cakes turned out beautifully.
A few words of advice: You need to make these in little 3/4 cup pyrex cups that you can buy for less than $1 at your grocery store, or you can use soufflé dishes or custard cups. Butter each generously so the cakes come out clean. When you check to make sure the cakes are done, the inch that runs around closest to the outside of the cake should be totally cooked with no batter on your tester toothpick. The inside of the cake should be gooey and wet. That is how it erupts into the lava sauce on your plate.
Use the best quality chocolate that you can find. Ghiradelli has a great chocolate bar in the baking section of the grocery store. That is usually what I use. If you live close to Trader Joe's, they carry Valrhona chocolate there.
If you don't have a double boiler, just put a large metal bowl over a medium sized saucepan. Fill the saucepan about half-way up with water and then put the chocolate in the bowl on top of the pan. The metal bowl should rest on top of the pan, not sink inside of it. Here is a picture of my makeshift double boiler: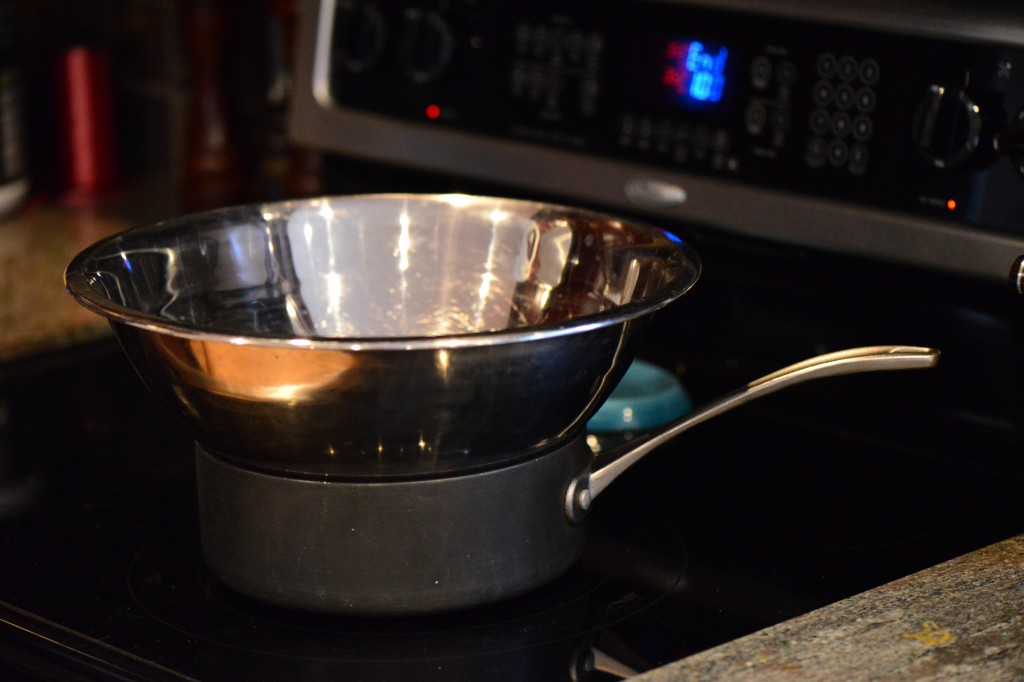 This is going to score you some major points in the kitchen.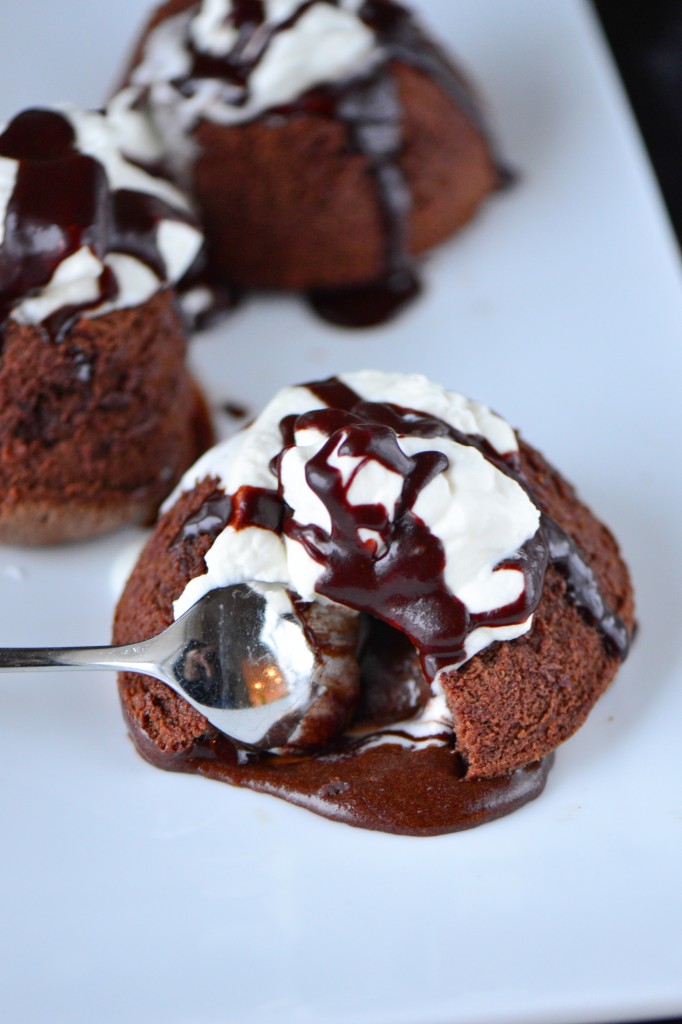 Molten Lava Cake
Sumptuous dessert, but easy to make because there are only a handful of ingredients. You can make the sauce and batter the day before for a stress free entertaining dish.
Author:
Kristen of Culinary Mamas via Gale Gand
Ingredients
Sauce:
4½ ounces bittersweet (not unsweetened) or semisweet chocolate, chopped
2 ounces unsweetened chocolate, chopped
⅓ cup hot water
¼ cup light corn syrup
Cakes:
5 ounces bittersweet (not unsweetened) or semisweet chocolate, chopped
10 tablespoons (1/14 sticks) unsalted butter
3 large eggs
3 large egg yokes
1½ cups powdered sugar
½ cup all purpose flour (can substitute gluten free all purpose flour)
Instructions
To make the sauce: Stir both chocolates in top of a double boiler over barely simmering water until melted.
Add ⅓ cup hot water and corn syrup; whisk until smooth. Remove from over the water. Cool slightly. (Can be made 2 days ahead; covered and chill. Before serving rewarm in a saucepan over low heat stirring constantly.)
To make the cakes: Melt the butter and chocolate in the top of a double boiler over barely simmering water, stirring occasionally. When the butter and chocolate have melted, remove from the heat and let it cool slightly.
While the chocolate is cooling, whisk the eggs and egg yokes together in a medium sized bowl. Add the powdered sugar and stir until the sugar is incorporated. Add the chocolate mixture and stir. Add the flour and stir until the flour is incorporated.
At this point you can bake the cakes, or leave the batter in the fridge for up to one day.
When you are ready to bake, butter six ¾ cup pyrex dishes, soufflé dishes or custard cups and pour in the batter.
Bake at 425 degrees for 10-15 minutes, or until the cake is runny in the middle and cooked on the outside.
Serve with sweetened whipped cream and chocolate sauce.
Recipe from Gale Gand, a pastry chef at Tru and Brasseire T in Chicago.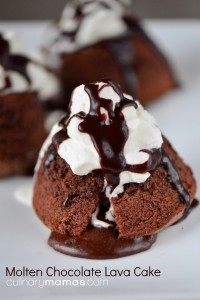 Related posts: