It is pouring rain here, there is thunder and lightning, the wind has started to blow for hours without ceasing, and still I am going to insist that there are two more days of summer until the Autumnal Equinox. This recipe is the ideal way to say goodbye to the supreme season, it is the culmination of all that is right in the food world. It takes corn and with just a few ingredients creates nirvana with your taste buds.
This corn is the corn you want to get fancy over, when you want to impress someone or you've had your full of corn on the cob with butter, salt and pepper. We ate our first Mexican Street Corn at Cafe Habana in New York city. It was our morning snack. It was delicious and at one point I said something like, "I wish we could make this at home." My older, wiser brother pointed out that there really weren't that many ingredients, that we could probably figure out a recipe for it. Turns out he was right. The best part, my kids love this stuff.
First step is grilling the corn. I used to soak the corn in a cooler full of water and then grill it. I then decided to just shuck the corn, cover it in olive oil and throw it on the grill. Turns out it tastes just as good and I saved myself a step. Someone has to stand at the grill and watch these, probably shouldn't be the person in your house that insists she is a great at multi-tasking. That is why at our house my husband, Cory, is in charge. You want to heat your grill to high and then grill the corn for about ten minutes, turning it every few minutes. The cobs should look like the picture when you turn.
The griller should also possess great hand-eye coordination, which is why, again, I don't qualify for the job. Cory caught that cob as it was falling off of the grill with just the tongs.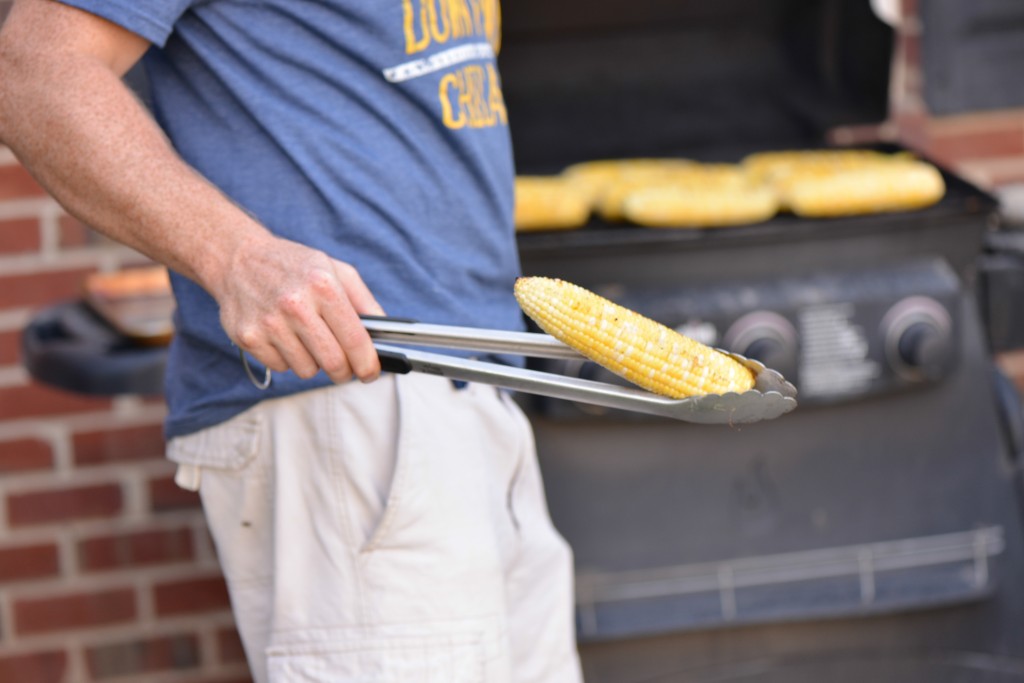 After the corn is grilled, it is up to your guests to assemble. You first slather on the sour cream and mayo mixture, then roll in the corn in a bunch of chile powder and a hint of cayenne for those who like spice. You then roll the cob in Cotija cheese. I can find Cojita cheese next to the uncooked tortillas just in my neighborhood grocery store. (It is similar to feta, so you can use feta if you must, but it is worth asking someone at the grocery store to help you find it.) You finish off with a squeeze of fresh lime and at this point will have to lick your fingers or wash your hands.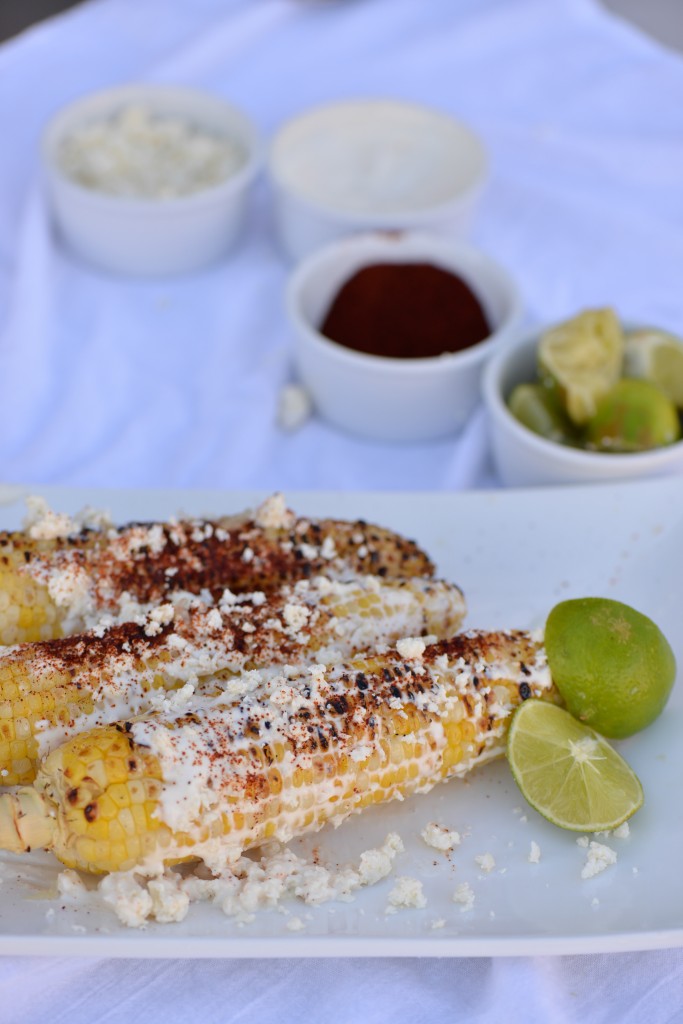 Mexican Street Corn
Just a few simple ingredients create a fantastic flavor profile. Most grocery stores carry the Cotija cheese, but you can substitute feta if you must.
Ingredients
8 ears of corn, husked
¼ cup olive oil
⅓ cup mayonnaise
⅓ cup sour cream
2 teaspoons chile powder
½ teaspoon cayenne
1 cup Cotija cheese, crumbled
2 limes, cut into quarters
Instructions
In a small bowl, combine the mayonnaise and sour cream. In a second small bowl, combine the chile powder and cayenne. If you are serving little people, you might want to keep the cayenne separate from the chile powder and let people be in control of the spiciness of the corn.
Slather the corn cobs with olive oil. Grill over high heat for ten minutes, turning the cobs as the corn browns.
When the corn is still hot, but cool enough to handle, spread on a generous tablespoon of the mayonnaise and sour cream mixture. Get a plate out and hold the corn over the plate while you add the toppings. You now sprinkle and roll the corn to try and keep as much topping on the corn as possible. Sprinkle the chile powder on the cob, be liberal in your application. For those who like spice, sprinkle on the cayenne. Sprinkle on the cotija cheese and then squeeze on the lime juice from the lime quarter. There will be a lot of toppings that have fallen to the plate. Take your corn and roll it around in all of the good stuff.
Related posts: