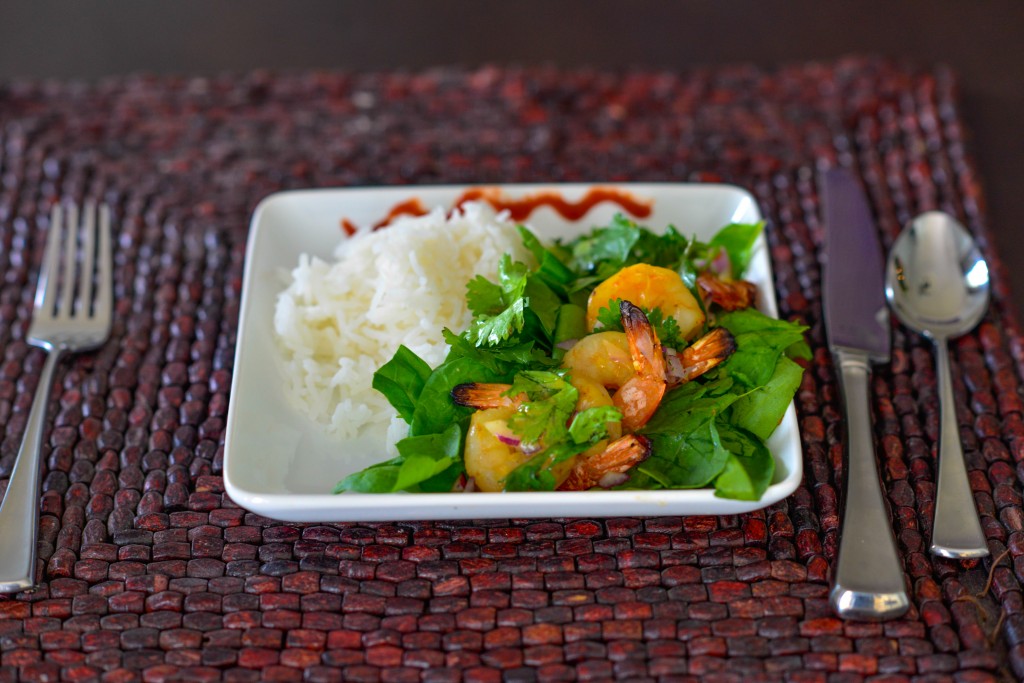 We have had my brother from New York over for the week. This means I've been trying hard to impress with the cooking and he spent time dirtying my kitchen to create a Sunday Momofuku feast with pork lettuce wraps, roasted brussel sprouts and miso corn. I was looking over the pictures of our week of plenty and decided that while making jokes in the kitchen about pork butt is so fun and the salty, sugary meat melt in your mouth delicious, what I want when I look at food blogs is what I can make for dinner, tonight, that doesn't take two people two hours plus in the kitchen.  So, I chose this simple Bobby Flay recipe that only takes about thirty total minutes in the kitchen for one person, with simple, fresh ingredients including spinach.  I like spinach better on my plate than in my smoothie and this delicious dressing can get kids to eat the super food too. (I will definitely be posting some of our Sunday feast too, because I know how much Camille loves brussel sprouts. She's the first one who made me eat what she likes to call, "little cabbages.")
You make the dressing base first then split it in half. You use half of the dressing to marinate the shrimp and the other half as the base in the vinaigrette.  I was feeling the weight of my grocery bill this week and couldn't handle the extra $6 for large shrimp, so I got the smaller shrimp and just skewered them. I doubled this recipe for four adults and four shrimp eating kids and it came out just right. This is the perfect make a statement while entertaining but with minimal effort in the kitchen meal.

Grilled Ginger Cilantro Shrimp
Fresh, simple and delicious shrimp and super food recipe.
Author:
Kristen via Bobby Flay of Food Network
Ingredients
Base:
¼ cup soy sauce (use gluten-free if you are making this for your favorite Celiac)
2 limes, juiced
2 teaspoons honey
2-inch piece fresh ginger, finely grated
4 cloves garlic, finely chopped
¼ cup canola oil, plus more for brushing
Soy Sauce Grilled Shrimp:
12 ounces large (21-24) shrimp, peeled, tail-on, and deveined
½ recipe base
Kosher salt and freshly ground black pepper
Spinach Salad:
¼ cup rice vinegar
2 tablespoons soy sauce
2 tablespoons canola oil
1 tablespoon toasted sesame oil
2 green onions, thinly sliced
¼ cup chopped fresh cilantro leaves
8 ounces baby spinach
½ cup chopped salted peanuts
Instructions
Whisk the soy sauce, lime juice, honey, ginger, garlic and canola oil in a medium bowl until combined. Transfer half to a food processor or blender, blend until smooth, and set aside.
Add the shrimp to the marinade in the bowl and toss to coat. Cover and refrigerate for about 15 minutes.
Make the salad dressing, while the shrimp is marinating. Stir together the rice vinegar, soy sauce, canola and sesame oils. Pour into the food processor or blender and pulse for a few seconds until combined.
Remove the shrimp from the marinade, brush with canola oil or other neutral oil and skewer the shrimp. Grill for 2 to 3 minutes per side, until the shrimp goes from transparent to white and remove immediately when done. Overcooked shrimp can get squeaky fast.
To assemble the salad layer the spinach on a plate, then the shrimp, pour on the dressing and then garnish with the chopped cilantro and scallions.
Related posts: