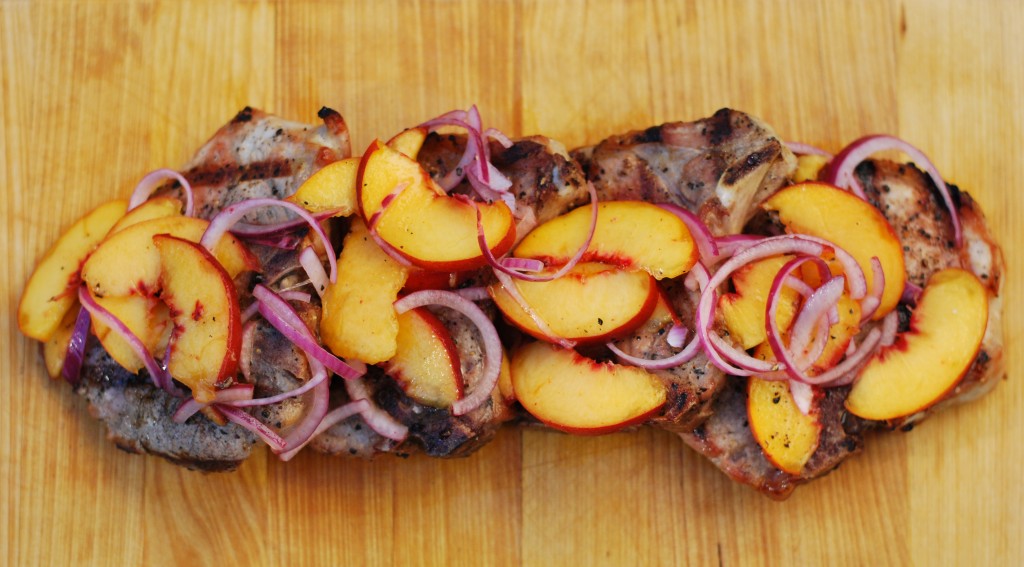 These grilled pork chops with peach and red-onion relish are super easy to make. Pork and fruit always go together well. This peach and red-onion relish is both sweet and savory and a burst of flavor.  Grilled meat topped with fruit – what could be more summery?  Ok, I've been a bit obsessed with all things Summer and that's probably why I was over zealous with buying peaches last week. The whole crate ripened faster than expected. Yes, I could probably freeze what we couldn't eat, but instead we had them for breakfast, lunch and dinner.
This recipe comes from the Everyday Food magazine. You know, the little recipe magazine that everyone loves, but was discontinued – sniff! I rarely found a recipe I didn't love in that magazine. It was there for me at the start of my marriage when I learned to cook for two. It was there to guide me beyond the ramen and Ragu. They seemed to have started a blog instead (I don't know who would want to start one of those – geesh), but I miss having a magazine to look forward to in the mail. I'm sad the tangible magazine is gone; however, I still frequent those little rainbow books on my shelf and discover new fast and easy recipes.
I hope you try this recipe while the peaches are in season. It's fast enough for a weeknight dinner but flavorful enough to wow some guests.
1/4 small red onion, very thinly sliced
2 ripe peaches (4 1/2 ounces each), quartered and very thinly sliced
1 tablespoon honey
1 tablespoon fresh lemon juice
1/8 teaspoon cayenne pepper
Coarse salt and ground pepper
4 bone-in pork chops (10 to 12 ounces each)
Step 1:
In a small bowl of ice water, soak onion for 10 minutes; drain, blot dry, and return to bowl. Add peaches, honey, lemon juice, and cayenne; season with salt and pepper. Let stand 15 minutes. If storing, cover and refrigerate up to 1 day.
Step 2:
Heat grill to medium-high; lightly oil grates. Season pork chops with salt and pepper. Grill, turning once, until cooked through, 10 to 12 minutes. Top with peach relish and serve.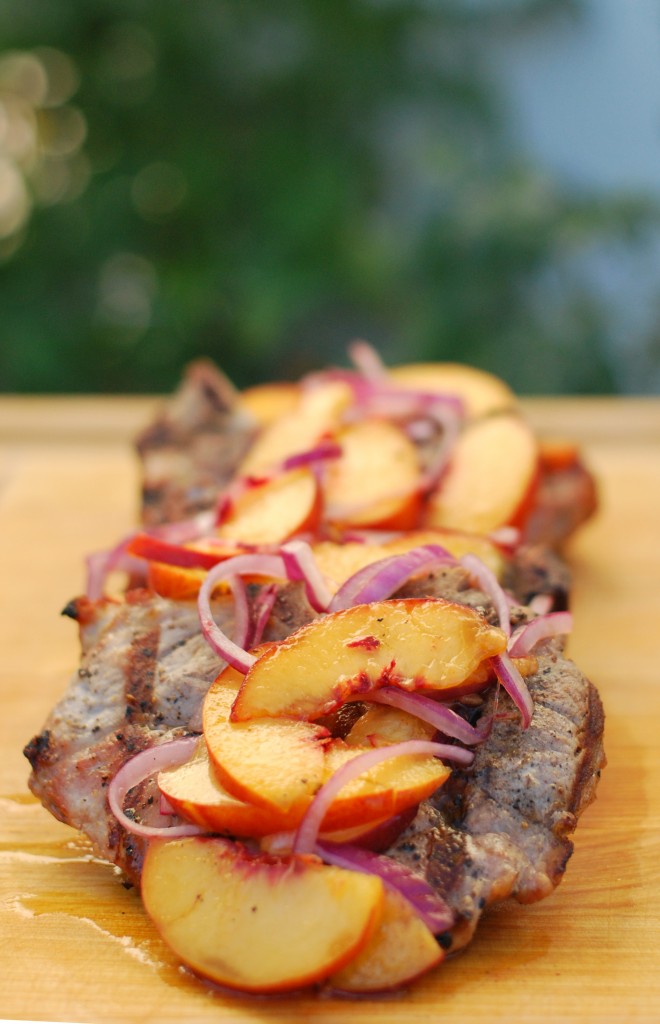 Related posts: