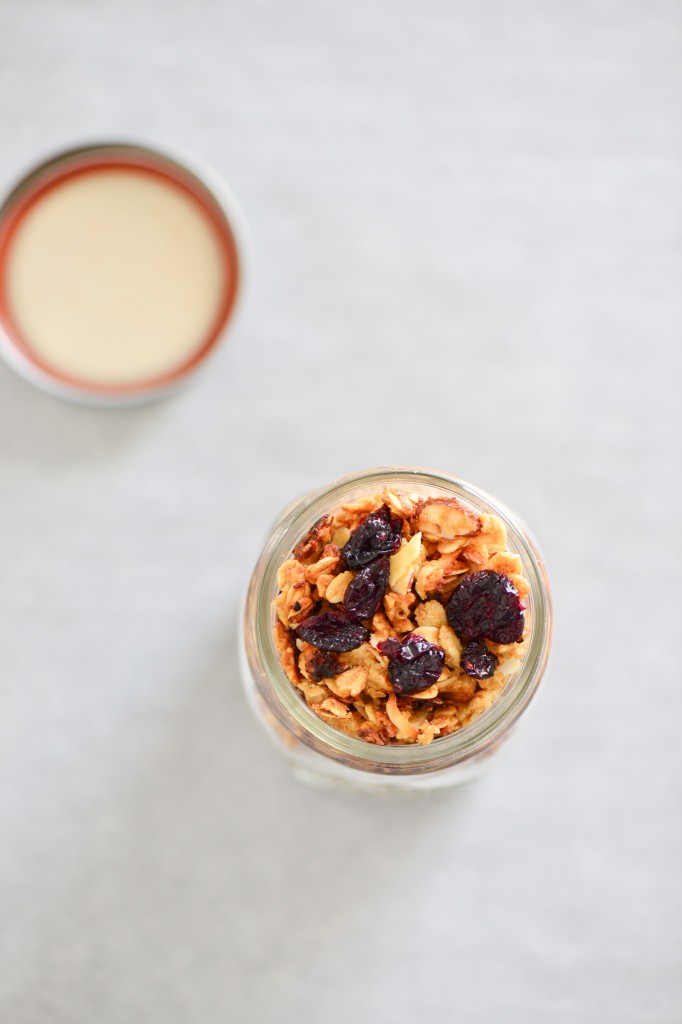 I keep food storage at my house so that I can feed my family if there is some kind of natural disaster. This will be great when there is an emergency and my family is prepared for it, but the problem right now is that the food storage is going bad waiting around for the emergency to happen. The right thing to do is use the food storage in our normal diet but we can only handle so many dried apples and I'm not going to put powdered milk on my Honey Nut Cheerios until I am threatened with starvation. The problem is powdered milk does not have the longest shelf life, so I really like recipes that use powdered milk  and help me use up this item in my food storage before it sours. One great thing to make with powdered milk is homemade bread, but I have a love/hate relationship with bread making so my bread making is highly sporadic depending on the year and my determination to be just like Martha.
Enter this top notch recipe for granola. I love this granola for three reasons: I get to use powdered milk when I make it, I started making it in college with my health conscious running friends so it brings back memories of ponytails and running shoes and the last and best reason is that it tastes delicious. It is a triple win.  I love granola for breakfast with strawberry yogurt and bananas, and granola for an evening snack mixed with cinnamon chips as a deconstructed oatmeal cookie. When I was young and nervous about fat calories and how it would effect the time it took me to run a mile, I replaced the oil with applesauce. If you do this, it will take a little bit longer to cook and the granola will be softer, but you may jog just a bit faster.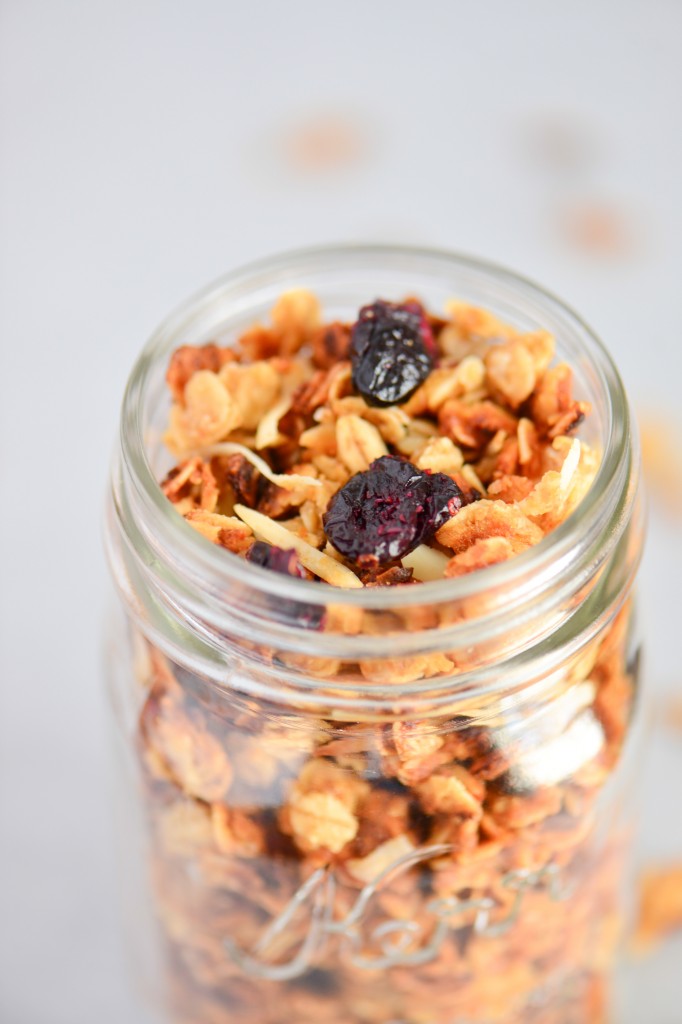 5 cups oats
1 cup wheat germ (simply leave this out if you're going for gluten free granola)
1 cup dry milk
1 cup almonds
1 cup raisins
1 cup coconut
3/4 cup vegetable oil or applesauce
1/2 cup honey
1 1/2 cups brown sugar
3/4 cup water
Granola recipes are all so easy. Mix the dry. Mix the wet. Stir together. Spread evenly onto a baking sheet covered in parchment paper. Bake on low (275) for a long time.  Add the raisins once the granola has cooled. If you want this to be gluten-free, you need to use Gluten Free Oats
 and DON'T add the wheat germ.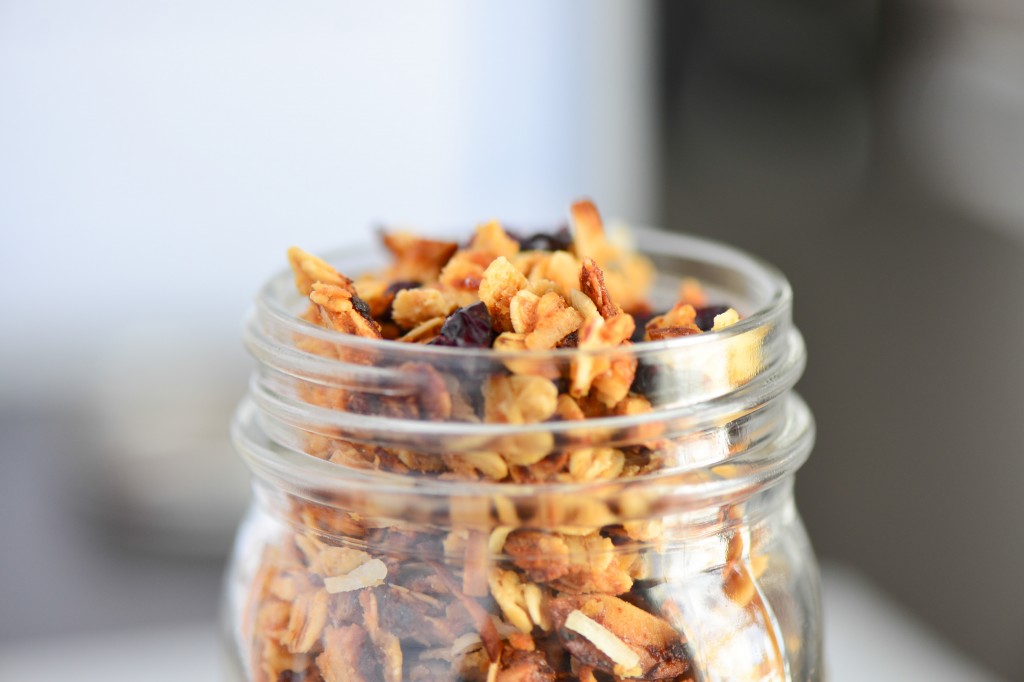 Granola (with Powdered Milk to use up your Food Storage)
Start to use up your powdered milk with this food storage granola. Or, just make granola because it is delicious and easy and good with cinnamon chips for dessert. This works perfect gluten free taking out the wheat germ and using gluten free oats.
Ingredients
5 cups regular oats, (Gluten-free if you want this gluten-free)
1 cup wheat germ
1 cup dry milk
1 cup almonds
1 cup raisins
1 cup coconut
¾ cup vegetable oil or applesauce
½ cup honey
1½ cups brown sugar
¾ cup water
Instructions
Mix the oats, wheat germ, dry milk, almonds, and coconut together in a large bowl.
In another medium sized bowl, mix the oil, honey, brown sugar and water.
Stir the wet ingredients into the dry ingredients.
Dump the granola onto a parchment lined baking sheet. Spread evenly. Bake at 275 degrees for 45-60 minutes or until the granola is golden brown.
Remove from the oven and let cool. Once cool, stir in the raisins.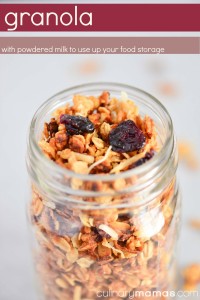 Related posts: