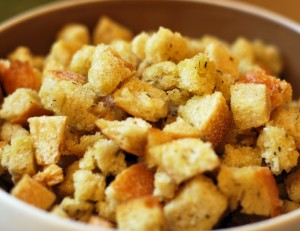 In my quest to cut out processed foods and lower the food budget, I've found making my own croutons is hands down a better way to top a salad. I can find a day old baguette or Italian load for about $1.75. It makes five times as much as what comes in the bags for about $2.99. Plus they are low sodium!
1/4 cup olive oil
2 garlic cloves, minced
1/4 tsp salt
1/8 tsp fresh ground pepper
2 tsp fresh herbs, like rosemary, thyme, or dill
or  1/2 tsp dried herbs
5 cups cubed bread
Whisk together olive oil, garlic, salt, pepper and herbs in a large bowl. Add bread cubes and toss until they are coated. Spread them out on a foil lined baking sheet. Bake at 350 degrees for 25-30 mins. Stir or toss half way through baking time.
Store the croutons in a airtight container for about a week. But, to be honest I eat them like crackers and they're gone before a weeks up if I don't use them on salads.
Tonight we topped steak salads with them. Two nights ago we had New York strip steaks and grilled veggies for dinner. I made sure there was enough to use on these salads. We love steak salad with blue cheese and a red wine vinaigrette!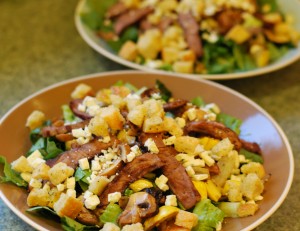 Related posts: