Some traditions are worth sharing. This is one of them. We all talk about Christmas traditions, but my absolute favorite big family tradition that I was inducted into by becoming an Edwards, is Edwards' Eerie Edibles. It's every Halloween — or more accurately, every Halloween season since doing this on Halloween night would be a difficult feat to pull off in the midst of costuming. Cory's parents started it more than twenty five years ago when they wanted to do something special for their kids on Halloween. They would hang up sheets over the kitchen doorway so the kids couldn't see them making the meal. Sometimes it was breakfast and other times they did it as dinner. After preparing the meal, Mom and Dad would walk out to the living room (careful to keep the sheet in place so as to not reveal the creepy eats) where a room full of excited kids awaited. There Cory's dad would present the menu. He does his best to act the part of a formal server and reads each item on the menu with adjectives that would make Iron Chefs jealous.  Then, after guesses were made as to what the items might be and orders were taken, the family would gather around the dinner table and partake of a Halloween feast. I love this tradition because of its simplicity. I think the fun to work ratio is very high.  Food preparation is simple. We don't do a lot of complex food styling, unless you count sticking a sliced almond on a carrot to make an orange finger with a tan fingernail. The fun is in the naming of the dishes; normal food is served with hair-raising names. I love the feast best when we gather as a large family, but when we were living out of state we had our own little family version too. We just had less food and even simpler preparation.  Cory's siblings have all kept up with this tradition out of state, in state, little or big gatherings.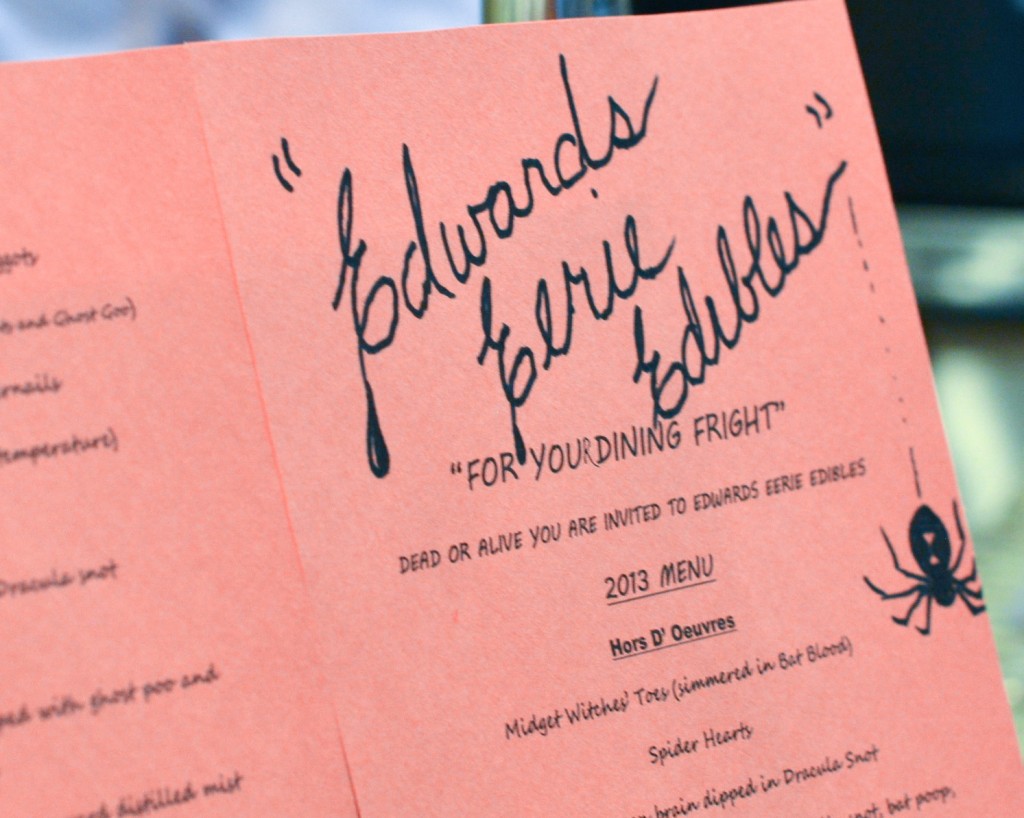 My kids love gathering around Grandpa and watching him create the menu. Grandpa Edwards is an artist so part of the fun is seeing what pictures he will draw. The menu can be simple if drawing isn't your thing. I can't draw a pumpkin to save me, so when I have to make the menu for my own little family I use a computer, convince Cory to use any of his artist talent that he inherited from his father, or better yet have the kids help make make it.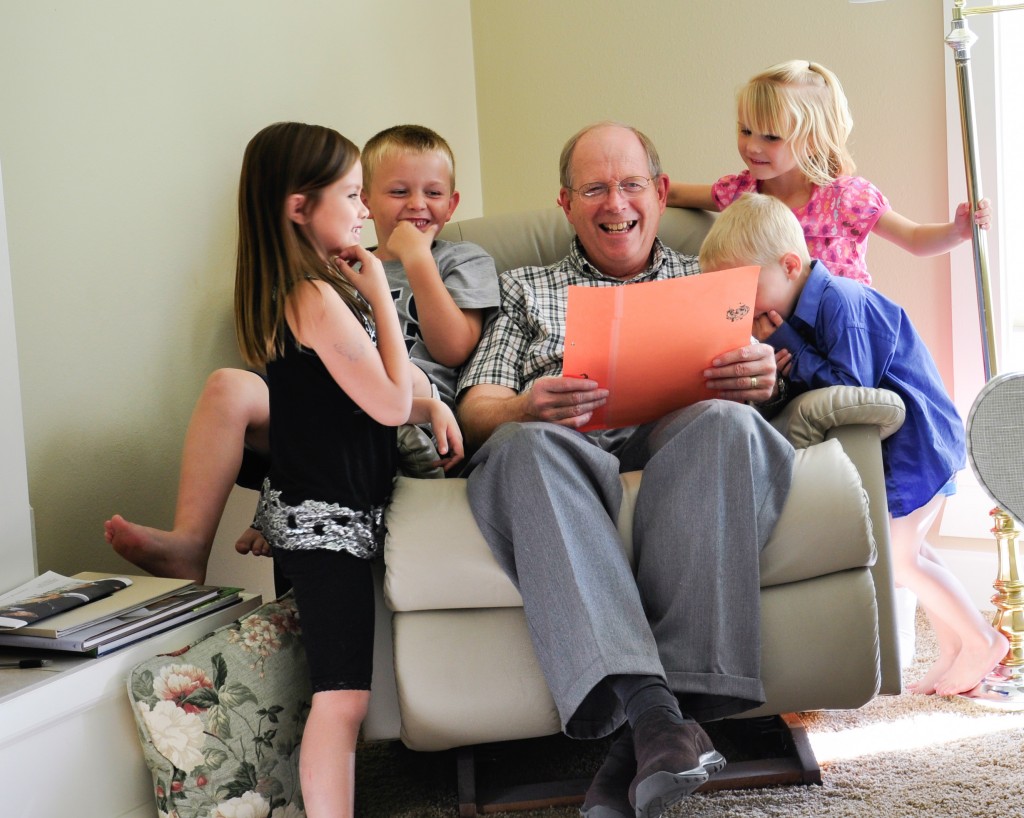 I've included a few different years here to showcase some of the family's best creations. I loved this cauliflower brain my mother in law made a couple of years back. It was so disgusting looking and surprisingly delicious. And simple!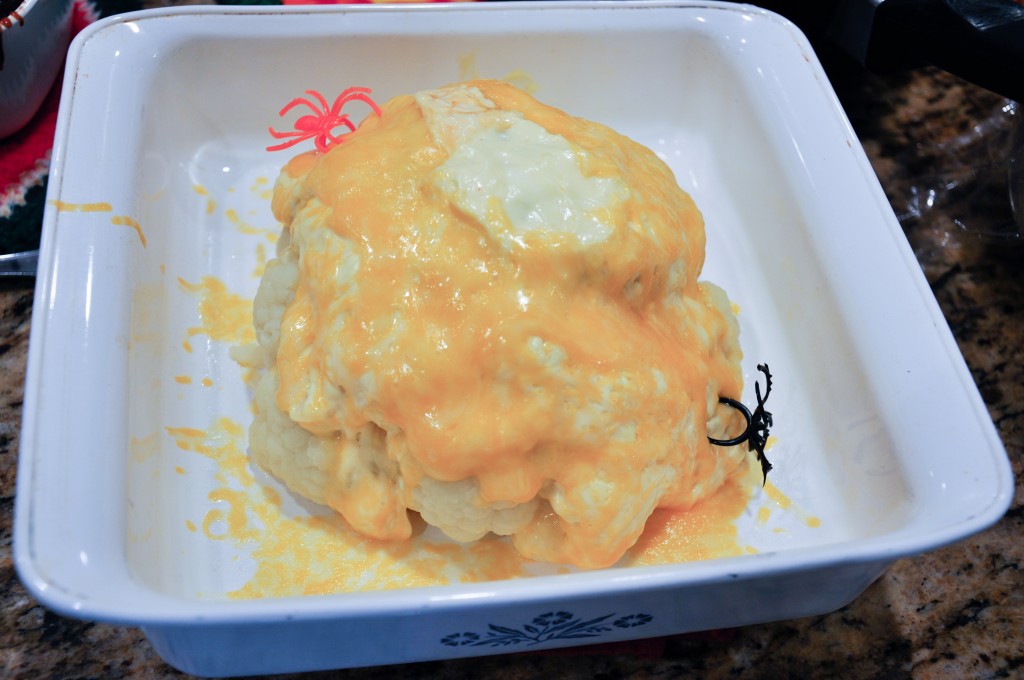 My in-laws made these stuffed shell monsters that are easy to create, kid friendly and fun to decorate. There are green olives for eyes, red peppers cut as fangs, cheese and ham for tongues. The inside is just a simple hamburger meat sauce.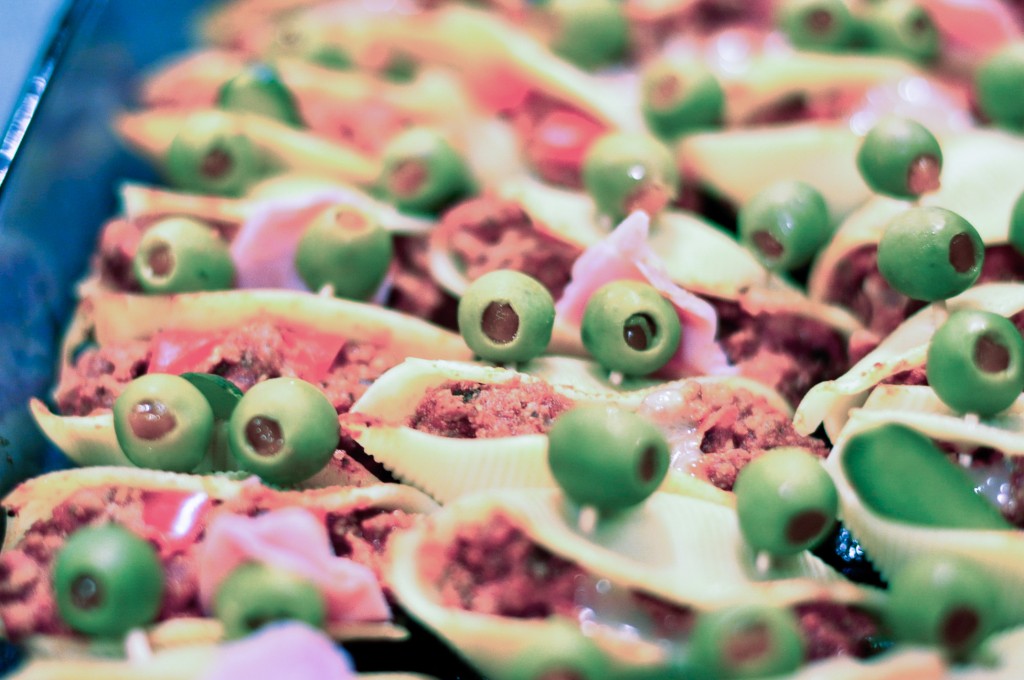 This year's menu.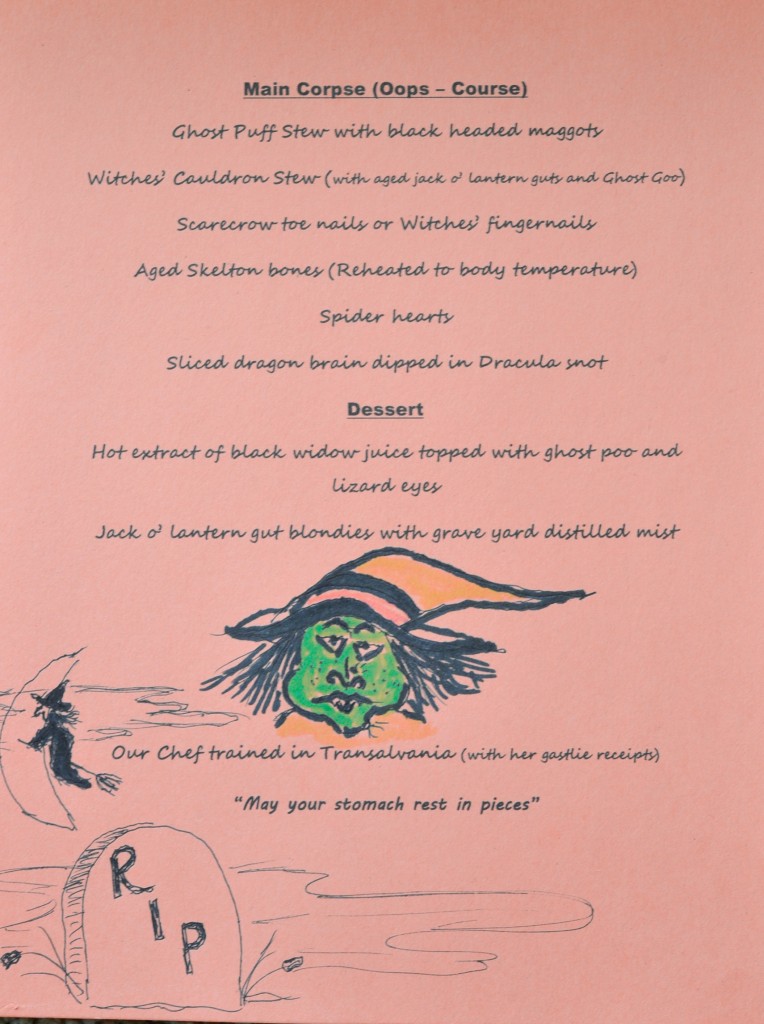 I think my brother and sister-in-law should win best name this year for these, "severed goblin fingers soaked for two years in vampire saliva and fermented troll carcass." Ha! Ha!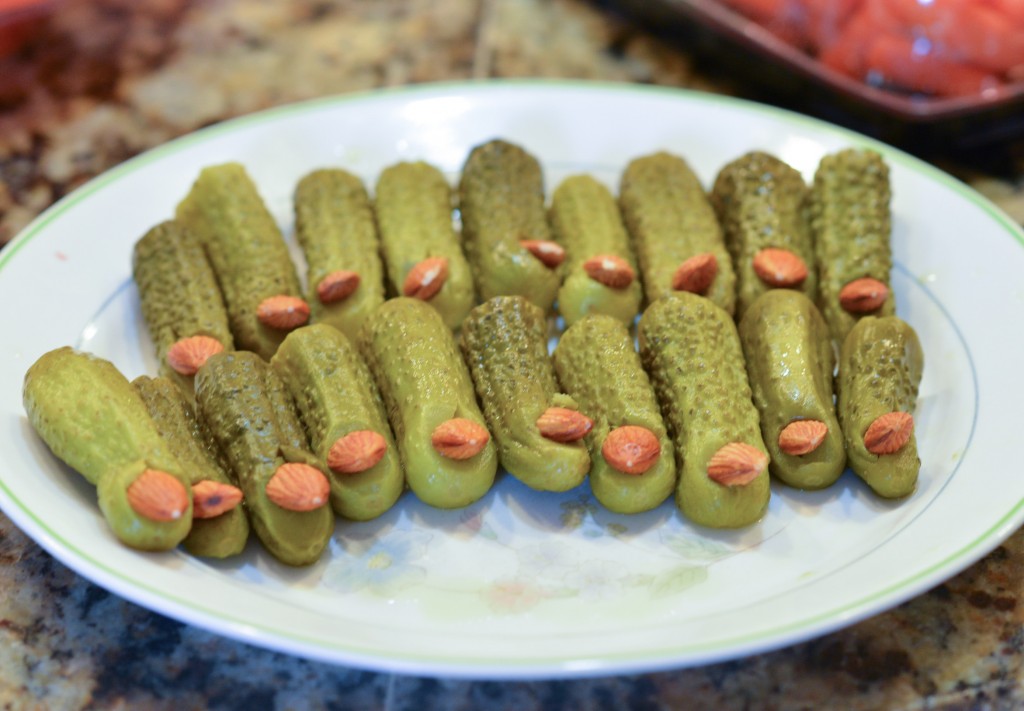 We brought dragon brains to dip in vampire snot. I'll share the recipe for the vampire snot at the end. It's great for apples too!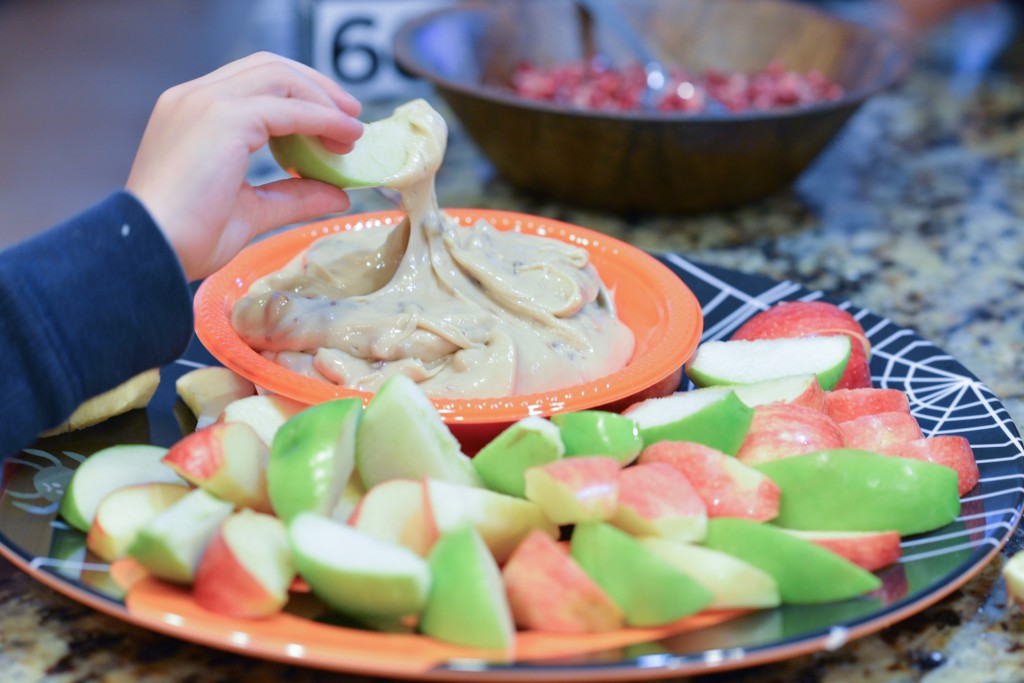 Little smokies and BBQ sauce AKA "midget witches toes simmered in bat blood." My father in law gets better and better with naming every year.
The best part of dinner was Grandma's breadsticks. She is currently eating gluten-free, so we thought it very charitable that she would make these for the rest of us.
The hot extract of black widow juice was a knock-off of the Starbucks pumpkin spice hot chocolate. It was delicious. It was very close to what you get at Starbucks.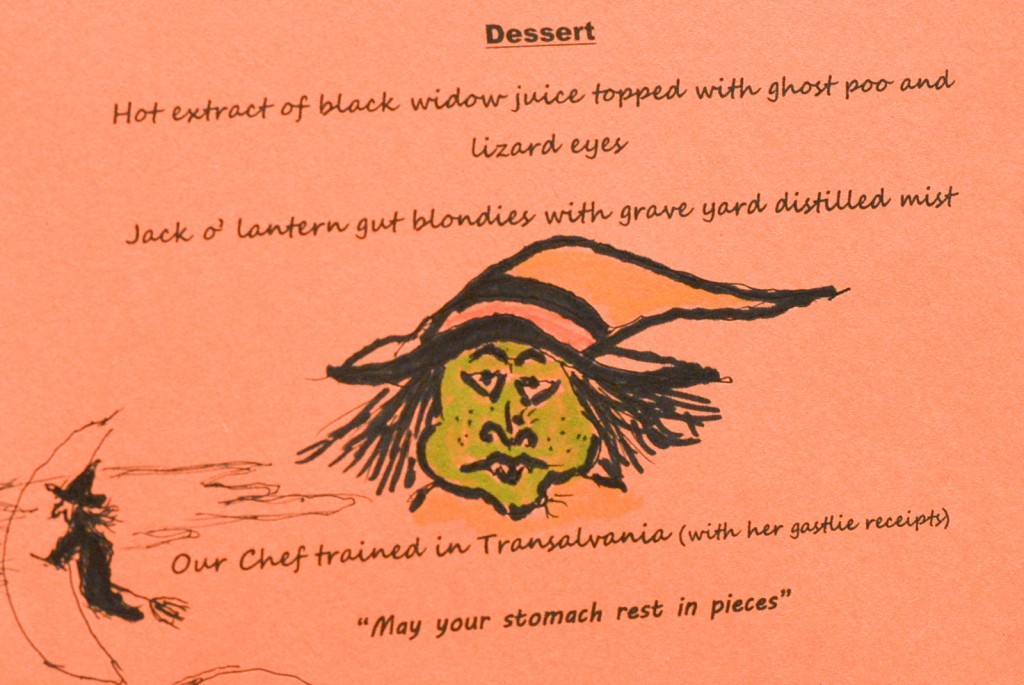 Just before dinner I couldn't find my rather rambunctious, rough and tumble two year old anywhere. We had been making dinner, he was just with his cousins running wild, then a few minutes later I had that, "I haven't seen my baby for a few minutes" feeling. I checked the basement, I looked outside, I opened doors to bedrooms. I ran back to the kitchen and the other moms saw the worry on my face. They started running too, and then, just as Angela made it to the hallway, my baby opened the pantry door and smiled. He had pulled up the step-stool to the treat drawer and was helping himself to the chocolate chips. Life is good in big family gatherings.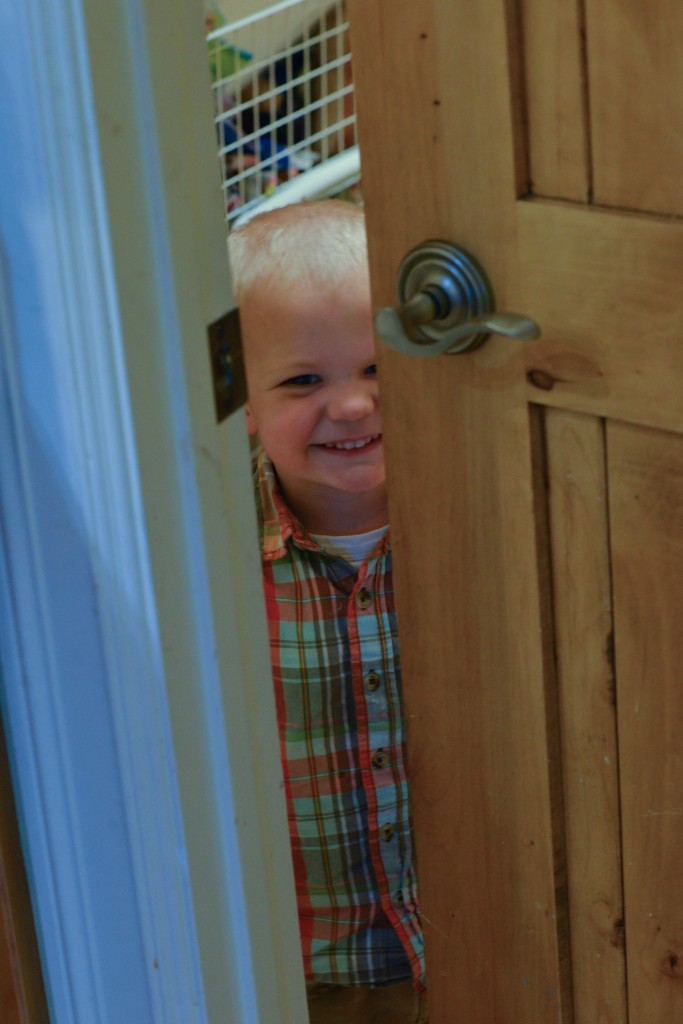 I feel like I owe you a recipe at the end of such a long post. Here it is. Just a few ingredients and you have a fun, festive, delicious dip for family and friends. I cut back on the sugar from the original recipe. If you want it sweeter, you can add a bit more.

Apple Dip
Perfect for an October big family gathering or after school snack.
Author:
Kristen via Angela R.
Ingredients
1 8 ounce block cream cheese brought to room temperature, I used the ⅓ less fat version and liked the results
¾ cup brown sugar
3 tablespoons white sugar
1 teaspoon vanilla
⅓ - ½ 8 ounce bag of Heath toffee bits
Instructions
Using a hand mixer or a standing mixer, beat the cream cheese until smooth. Add the sugars and beat until the sugar is fully incorporated. Add the vanilla and beat until it is incorporated. Add the toffee bits and beat on low or stir until the toffee is evenly distributed. Serve with apples. One recipe used up eight small apples for us. I doubled the recipe for a group of 18 adults and kids. I had some left over for kid's snacks the next day.
Related posts: