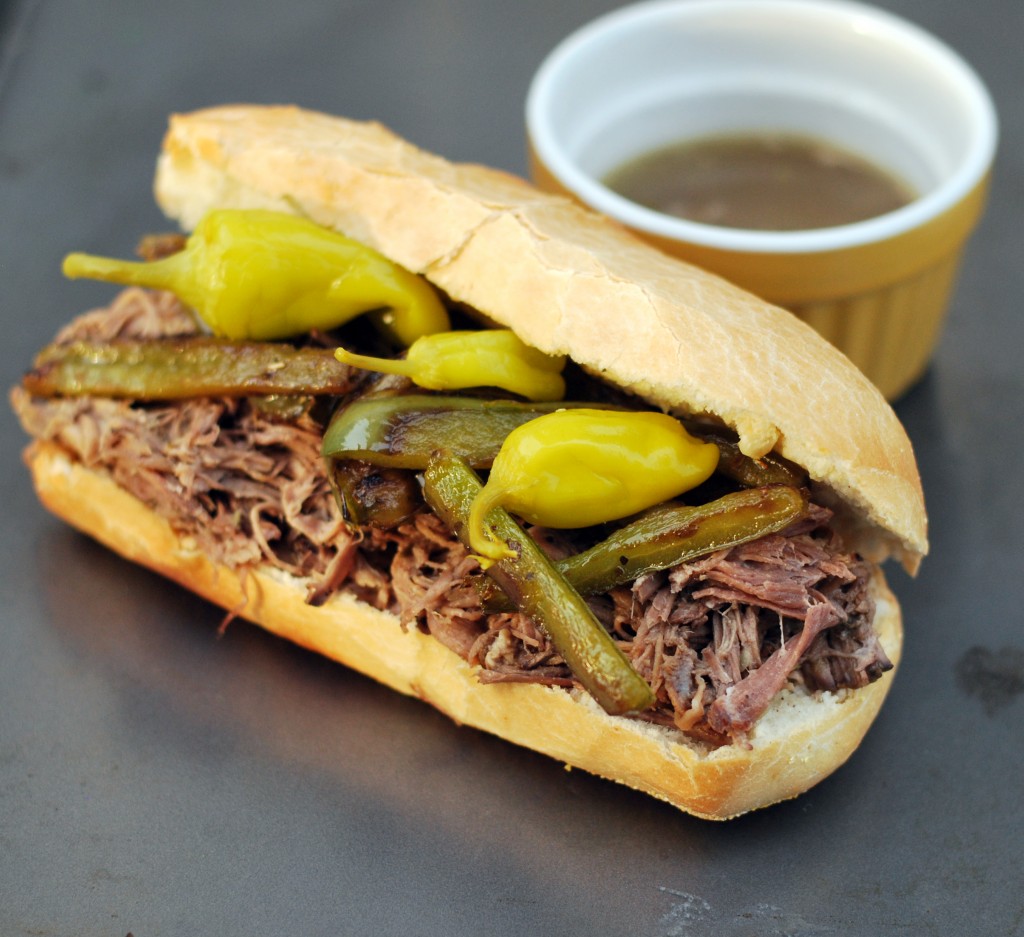 My childhood was filled with many big Polish family parties where Italian beef sandwiches were served. Why was my Polish family so committed to Italian beef? Best way to serve a large group! The history of the sandwich is that it was a traditional wedding food. Its an inexpensive cut of meat that can be sliced really thinly and therefore an easy way to feed many. We didn't have it at weddings, but rather every birthday & graduation party. To say the least it has a bit of nostalgia for me.
Chicago has awesome Italian food. Seattle….um…not so much.  Seattle has some great food, but nothing compares to what I'm use to and crave. In between family parties you'd go to Johnnies Beef in Elmwood Park. Kristen and I crave these sandwiches when we go back to visit our families. It's one of the must-do stops for me when I'm home in Chicago area. I am so glad my mother-in-law shared this crock-pot italian beef recipe with me because in between those visits I make this to suppress my cravings. It's pulled beef, meaning you shred it up, verse a shaved beef. But who has a meat slicer in their house? OK, I have to admit I want one but I've run out of kitchen appliance room.
The toppings for this sandwich are almost as important as the meat's flavor. There are several ways to top your beef sandwich. Sweet and/or spicy peppers – juicy or dry. Hot is traditionally gairdinera; however, since this recipe uses pepperoncinies to flavor it, I usually use them to make my sandwich spicy. To make it juicy you can dunk your bread in the au jus, ladle it on top, or serve it with a cup or au jus.
Don't have a need to serve a crowd? Well this meat and au jus freezes very well. Just put the serving amount in freezer containers and use it on those nights you don't have time to even cook in the crock-pot.
1 3-4 1/2 lb chuck roast, trimmed well of fat
12 ounces of beer or 1 1/2 cups beef broth
1 envelope of dry Italian salad dressing mix
2 teaspoons oregano
1/2t teaspoons garlic granuales
½ teaspoon thyme
½ teaspoon red pepper flakes
12oz jar Pepperoncini peppers with liquid
Hard Italian rolls or French bread whatever you choose or can find in your store
Pour beer or broth into crock pot. Drain liquid from pepperoncini into crock pot. Stir in salad dressing, oregano, garlic, thyme and mix until well blended. Place half the peppers in the liquid, add the roast and then the remaining peppers on top. Cook on high for 6 hours or low for 8 – 10 hours. The larger the cut of meat the longer it will take.
Remove cooked beef and shred with 2 forks. It should be very tender and shred with little to no effort. Return to crockpot and serve on rolls with sweet and/or spicy peppers and Au Jus on side.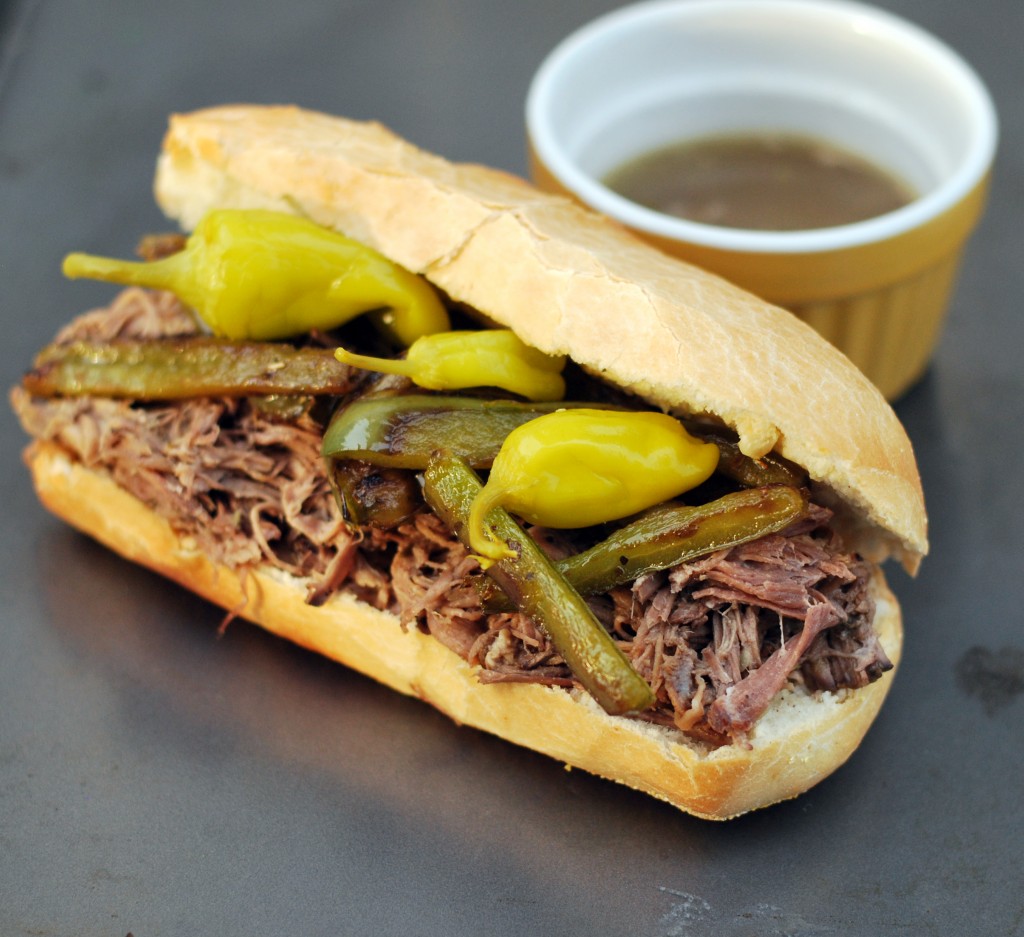 Sweet Peppers
1 tablespoon olive oil
2 bell peppers, sliced into long sticks
1/2 teaspoon oregano flakes
pinch of salt
couple grinds of pepper
Heat the olive oil up in a pan add peppers, oregano, salt and pepper. Saute about 7 minutes or until the peppers are soft and starting to brown nicely.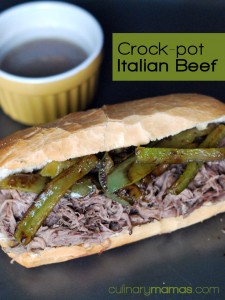 Related posts: