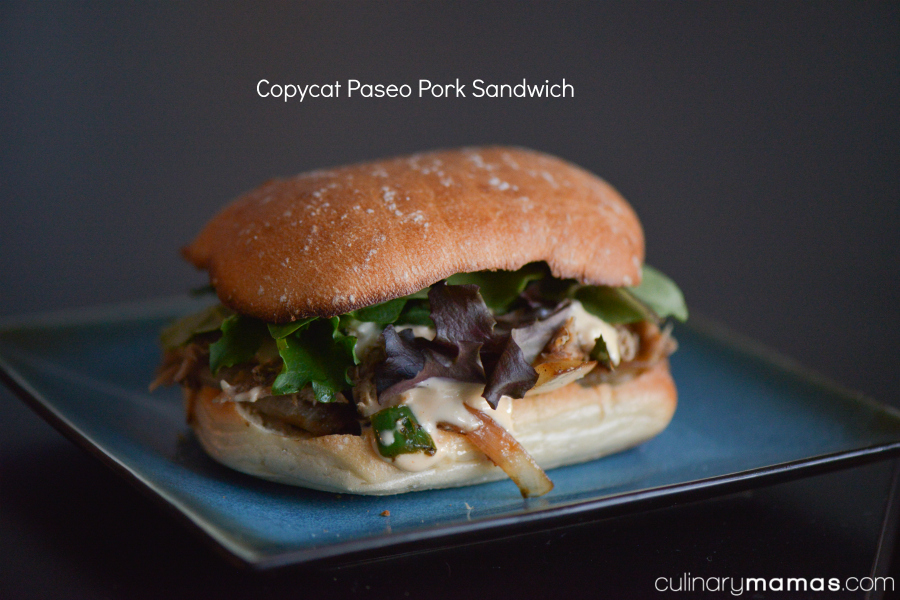 If you've eaten Paseo's Cuban pork sandwich, you saw the title of this post and decided to buy all necessary ingredients immediately. You know sandwich nirvana is found in a small shop in Seattle and it's about to be your dinner.
This is no ordinary sandwich. I know, because I have had one. We knew we had to stop by Paseo after hearing wildly positive reviews about the Seattle establishment from friends including Camille and the online community. UrbanSpoon ranked Paseo as Seattle's number one restaurant and Esquire included Paseo on its best sandwiches in America list.
We stood in what seemed not-too-long of a line on a Wednesday afternoon, but our grumblings became vocal to each other as our wait increased from 2o to 30 minutes, I took kids to the park and we sat and waited for what seemed like an eternity until the sandwich people arrived with the sandwiches one hour from the start of our wait in line. The one resounding comment was, "there is no way any sandwich is worth waiting for one hour." But, after one bite, this was no ordinary "any" sandwich. This was a healthy portion of salty, sweet and spicy pork, what seemed like a full onion worth of caramelized onions, mild peppers, and a piece of romaine lettuce on top of crusty bread slathered in garlic mayonnaise.  Taking a bite required all your teeth and you had to pull the sandwich away while biting down to get the sandwich back on your plate so you could use one of the 15 napkins required to eat this masterpiece. After a few bites our comments were, "If there is a sandwich worth waiting an hour for, this would be it," and after further reflection decided as a group, "that we would be back, no matter the wait."
As soon as we came home to Utah, we started to research recipes and ideas on how to recreate the masterpiece in our own kitchen. I love what we came up with. It's not perfect, but it's darn close and superbly delicious. Camille gets to eat these on a much more regular basis, so she has to test this out to tell me how close we came to the real deal. All I know is that this recipe right here is for one heck of a sandwich. I used this recipe from Use Real Butter and this recipe from the Attainable Gourmet as inspiration.
I simpled down the pork preparation so that I could spend more time on my mayonnaise. I made the mayo completely from scratch, which you don't have to do, but it's real fun to watch the mayo all come together in a blender. Best Food (Hellman's) mayo also works great, but blending up your own mayonnaise is simpler than you'd think and it tastes AMAZING on this sandwich or any other sandwich you'd like to improve. When I took pictures of this sandwich, I didn't know that I had a great bread source just down the street from my house, so I used Costco's torta bread. The torta bread is delicious and the best I could come up with in a pinch, but the better option is a crusty french baguette with a soft but fleshy interior. (Is fleshy an OK way to even refer to bread? I don't know, but that is what you are looking for.) You want about four inches of baguette per person. When I made the sandwich with baguettes, I used four baguettes to feed 12 hungry adults.
This is the perfect sandwich for feeding football fans or hungry family members. When I made this just for my family, I used this recipe for my pork and had pork with mango salsa day one, then made these sandwiches day two with the leftover pork. It was the best use of leftovers ever.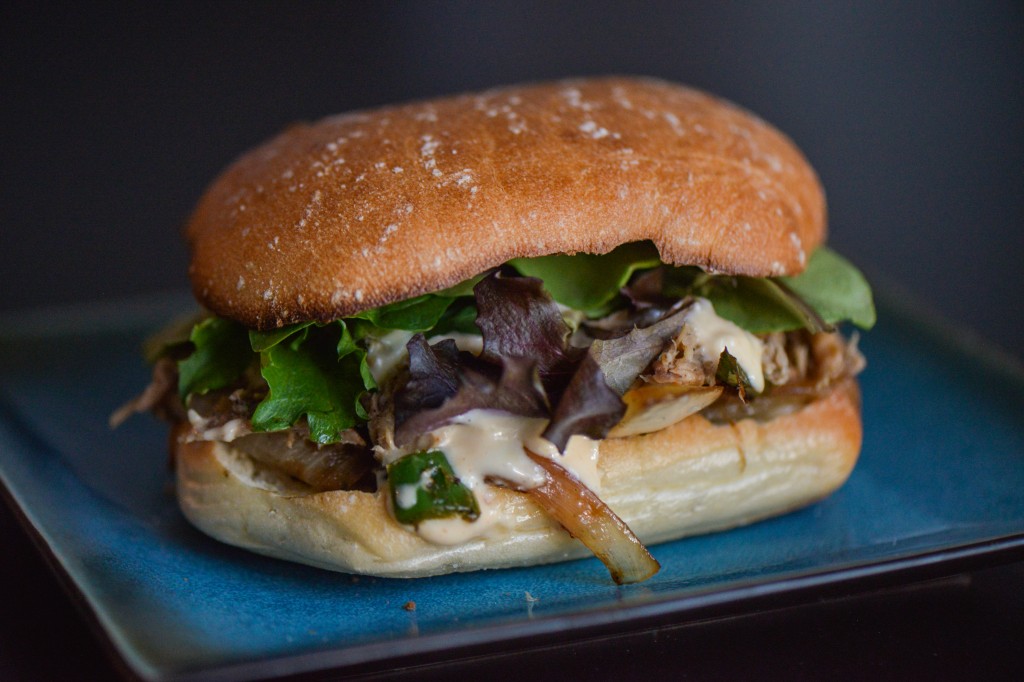 To make the sandwich for 12 hungry adults you will need:
4 French baguettes
pulled pork from a 6 pound pork shoulder
4 caramelized onions
2 + cups garlic mayonnaise
olive oil
cilantro
pickled jalapeños
12 romaine lettuce leafs
It seems like a lot of work, but it's not too bad if you can pace yourself. Here are the pacing instructions, with more of the specifics below. Start the pork in the crock pot in the morning. About 45 minutes before serving time, start caramelizing the onions and roasting the garlic for the garlic mayonnaise. While the onions caramelize over low heat, make the mayo in your blender. Keep stirring the onions, and wash your lettuce leafs and chop the cilantro. Keep stirring the onions and shred the pork. Keep stirring the onions and cut the baguettes into 4 inch portions, cut the portions in half lengthwise. Slather each half with a bit of the garlic mayonnaise. Put the bread under the broiler until the mayo bubbles and just starts to brown. Your onions should be nice and caramelized. Layer your sandwich with lots of mayo. If you don't have any pickled jalapeños, use a few drops of Sriracha for spice.
For the Pork Roast
Six pounds pork shoulder roast
8 cloves of garlic, minced
1 teaspoon oregano
2 limes, juiced
2 cup orange juice
1 tablespoon olive oil
To make the pork: In a lightly greased skillet, sear the meat on medium-high until all sides are nicely browned. Place the pork in your crock pot and cover with the lime and orange juice, garlic, oregano and olive oil. Cook on low for 8-10 hours or until the meat falls apart when you start to shred it. If the meat isn't falling apart, it needs to cook longer. Once the pork is done, shred it with forks and return it to the juice in the pot and let it stay warm on the low setting.
Caramelized onions:
2 tablespoons butter
2 tablespoons olive oil
4 large onions, peeled and cut into strips
Divide the butter and olive oil in half between two two large skillets.  Melt the butter and olive oil over medium-low heat. Add the onions and stir until covered with the grease in the pan. Continue to stir every five minutes or so until the onions are deep golden brown. The process should take a good 30-40 minutes. I like to make the mayonnaise and toast the bread while the onions are caramelizing.
To make the mayonnaise:
2 egg yolks, room temperature
1 whole egg, room temperature
1 tablespoon freshly-squeezed lemon juice, plus more if needed
1 teaspoon Dijon-style mustard
1/2 teaspoon salt
Big pinch freshly-ground white pepper
Up to 2 cups vegetable oil or a mixture of olive oil  and vegetable oil (The mayo will taste too much like olive oil if you only use olive oil. )
This recipe uses raw eggs, so make sure you are using the freshest you can find and that you are aware of some of the dangers of eating raw eggs. I am willing to take the risk, but some may not be.
Put the egg yolks, whole egg, lemon juice, mustard, salt and pepper in the work bowl of a blender and blend until creamy. With the blender running continuously, very slowly start adding the oil. Just start with small drops at first. When the sauce has started to thicken, you can start adding the oil in a thin stream. Keep the blender running, but check every twenty seconds or so that the oil is being absorbed. Continue to add the oil until the mayonnaise is thick. If you want it thicker, add more oil. If you want it thinner, add less. If the mayonnaise is too thick, you can add a bit of lemon juice to thin. This will make about 2 cups of mayonnaise.
Use 2 cups of above mayonnaise or store-bought substitute to make this garlic mayonnaise:
2 bulbs garlic
olive oil for drizzling
2 teaspoons olive oil
1 lime, juiced
Cut the top off of the garlic bulb. Place on top of a piece of foil and drizzle the top with olive oil, until the cloves are all covered lightly with oil. Wrap the bulb up in the foil then place in a small dish. Bake at 300º until soft. When the garlic is cool enough to handle, squeeze the cloves out of the bulb and mash into a paste. Blend in the blender with the mayonnaise, olive oil and lime juice.
Now you are finally ready to layer the sandwich!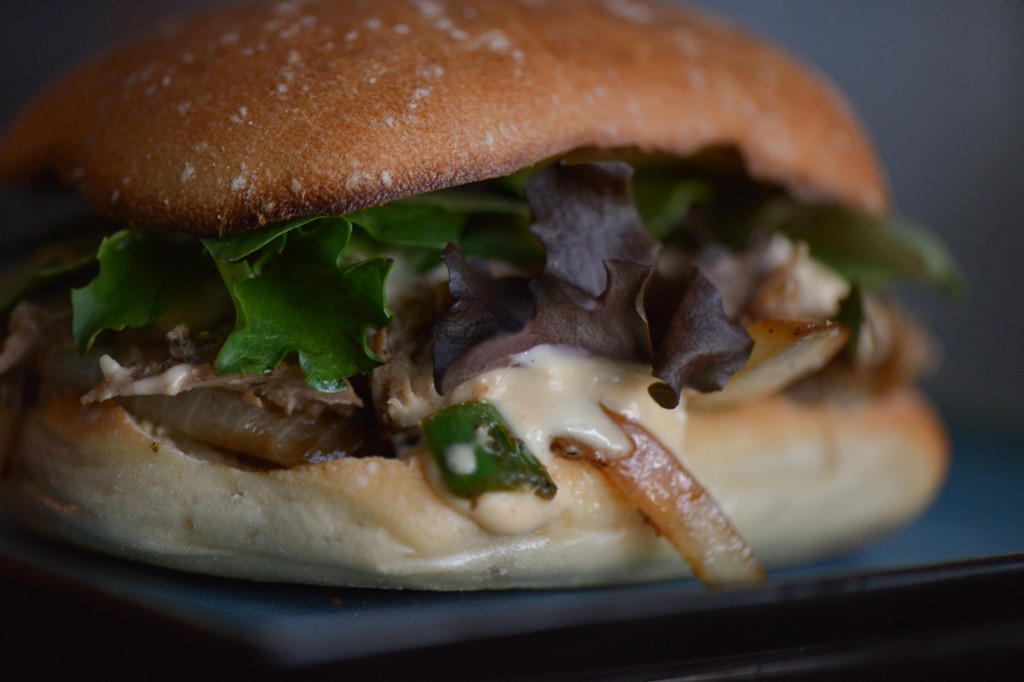 Slather the mayonnaise generously on each slice of bread. Place bread mayo-side up on a cookie sheet. Broil in the broiler for two minutes or until the mayo starts to bubble. Remove from the oven and layer with the pork, onions, lettuce, cilantro, jalapeño and whatever extra mayo you have. Step it up a notch with a bit of Sriracha. 



Related posts: