Here is an easy, throw it together recipe for December. I love those little balls of grain known as couscous, they are soft and delicious. Couscous is the equivalent of white bread when compared to the super-food quinoa, but it is delicious and fast to cook. Couscous is not gluten-free so I like to eat it when Cory is on his business trips. This recipe calls for cooked chicken. I like to use the chicken from the chicken-tikka masala recipe. I double the chicken and marinade when I make the tikka-masala, then I put half in the sauce and keep half out of the sauce so I can use it in future recipes. When the chicken has cooled, I cut it into thin strips and store it in the freezer. Then I can use the chicken when I am making this yummy salad or other recipes that call for cooked chicken breast.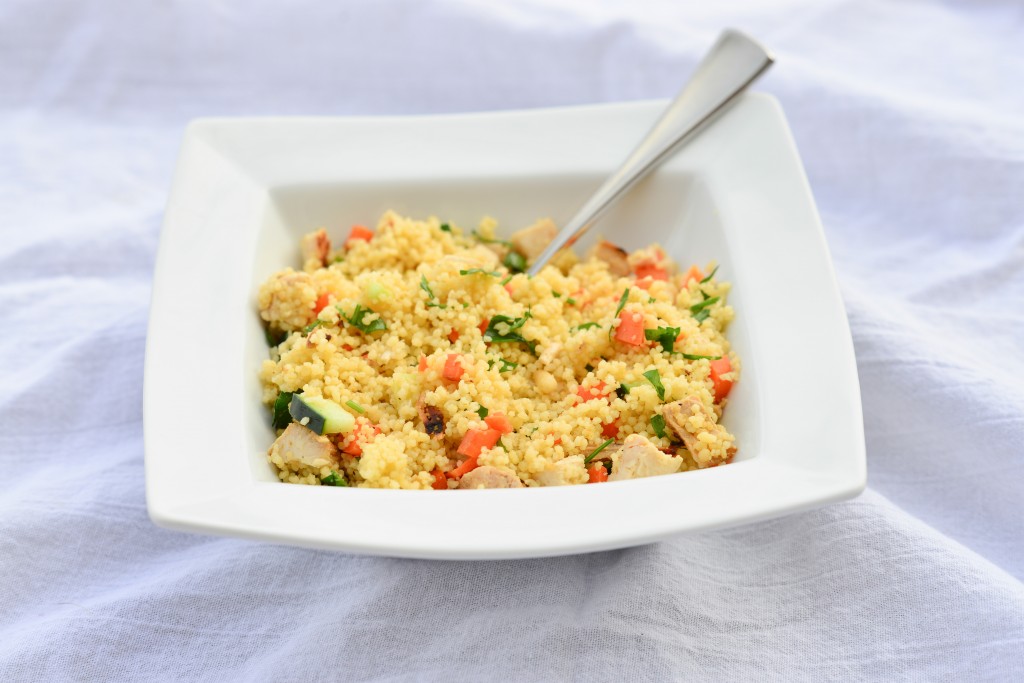 Chicken with Couscous
Simple, fresh and delicious. A great way to use some left over chicken.
Author:
Kristen via My Recipes
Ingredients
1¼ cups chicken broth
1 (5.7-ounce) box uncooked couscous
1½ cups cubed cooked chicken (about 6 ounces)
½ cup thinly sliced green onions
½ cup diced radishes (about 3 large)
½ cup chopped seeded peeled cucumber
¼ cup chopped fresh flat-leaf parsley
2 tablespoons pine nuts, toasted
Dressing:
¼ cup white wine vinegar
1½ tablespoons extra virgin olive oil
1 teaspoon ground cumin
½ teaspoon salt
⅛ teaspoon freshly ground black pepper
1 garlic clove, minced
Instructions
Make the couscous. Bring the broth to a boil in a medium saucepan, gradually stir in the couscous. Remove from the heat, cover and let stand for five minutes. Full with couscous with a fork and spoon it into a large bowl. When the coucous is room temperature, add the chicken, onion, radishes, cucumber, parsley and pine nuts.
Make the dressing: In a small bowl or container with a lid, combine the vinegar with the cumin, salt, pepper and garlic. Add the olive oil and stir until the dressing is combined, or if you have a container, shake and shake until the dressing is combined.
(To toast pine nuts, put the pine nuts in a small saucepan over medium heat, stir for a few minutes until the nuts are golden brown.
Recipe
from
my recipes
.
Related posts: