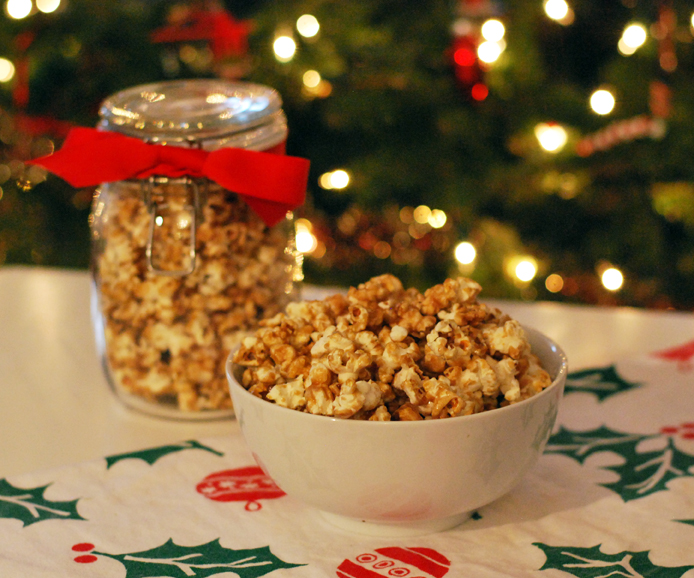 This year instead of kid created Christmas cookies I gave my neighbors caramel popcorn in a hopefully useful jar. I think secretly I made this for them so that I could eat 1/3 of this recipe myself. I received this recipe from a book club member after enjoying it more than the book.  It's an easy sweet snack and a hit for a party – perhaps a holiday party you might be attending this weekend.
3 tablespoons vegetable or canola oil
3/4 cup popcorn kernels (equals = about 15-17 cups of popcorn)
1 stick of butter
1 cup brown sugar
1/4 cup of white Karo syrup
1/2 teaspoon baking soda
1/4 teaspoon vanilla
Preheat oven to 200 degrees. To pop the popcorn use a large pot with a lid. Cover the entire bottom of the pot with a thick coat of oil and add 1 kernel. Heat the pot up on medium until it pops. Add the remaining kernels and cover the pot. Shake the pot about every 30 seconds, until the popping slows down to every 5 or so seconds. Remove from the heat  right away. Line a turkey roasting pan (disposable or not) with foil. Measure out about 15-17 cups of popcorn.
Bring butter, brown sugar, and Karo syrup to a rolling boil. Remove from heat and stir in baking soda and vanilla. Pour over popcorn and mix thoroughly. Bake for 45 minutes, stirring every 15 minutes. After removing it from the oven, continue to stir the popcorn so it won't stick together.
Related posts: