A Valentine's Day Breakfast


Sometimes a rut is a great place to be. That is where I am right now when it comes to making breakfast for visitors.  I think about maybe trying something different from my favorite recipe, but I just can't help making this baked french toast because it is so delicious. I was first introduced to this recipe when my cousin Emily of Favorite Family Recipes made it for my family over five years ago for an early Saturday morning get together. Since everyone always loves it when I make it for them, and my kids start doing cartwheels in the living room when they find out we are eating it for breakfast, this recipe is my current go-to when visitors bless us with their presence. I've made other baked french toasts and breakfast bread dishes, but the whole pieces of bread and cream cheese set this pan of french toast apart.
Camille, my fellow Culinary Mama, traveled all the way from Seattle to try this recipe this past weekend and she decided it was good enough to fly out for and be included on the blog. She may have also been out in Salt Lake learning how to be a better blogger with me, but the offer of french toast for breakfast is what finally convinced her to come hang out.
If you want a happy family this Valentines day, or if you are looking to impress your crush, this french toast is the way to do it.
I've made this a lot, so some notes: This recipe uses sugar and sugar likes to sit at the bottom of your pan. Make sure your oven rack is in the top half of your oven. Check the bottom of the bread as it cooks and make sure it is getting nice and brown, not nice and burnt. Sugar likes to stick, so butter that pan like you mean it. Use butter, don't spray non-stick chemicals all over your pan, unless you just love seeing pans soak on your counter for days.
I make the recipe below for the five people in my family that can eat gluten. I use a smaller 8X8 pan for my husband and quarter the recipe for him. I use 6 pieces of his teeny tiny gluten-free bread, to make three cream cheese sandwiches. For those of you who hate math, that means I am using 2 eggs, 1/2 cup milk, 2 tablespoons sugar, a pinch of salt, a 1/4 teaspoon of cinnamon and 1 tablespoon of melted butter.
For the heart-shaped version, we baked the sandwiches as whole sandwiches and then cut the hearts out after the bread was baked. This way, we didn't waste any of the bread because the kids could eat the crusts too.

Baked French Toast
Ingredients
French Toast:
1 loaf french bread, cut into ½ inch slices.
12 ounces cream cheese, whipped or regular
8 eggs
2 cup milk
½ cup sugar
½ teaspoon salt
1 teaspoon cinnamon
¼ cup butter, melted
Topping:
1 pt whipping cream
¼ cup sugar
1 16 ounce package of fresh strawberries, sliced
Instructions
For the french toast: Preheat oven to 350 degrees. Butter two 9X13 glass baking pans.
Spread a thin layer of cream cheese between two slices of bread, a little less than the peanut butter thickness on a sandwich, and place sandwiched slices in the buttered pan.
In a medium bowl, crack in the eggs and whip with a whisk. Add the milk, sugar, salt and cinnamon. Stir until the mixture is uniform.
Pour half the egg mixture over the bread in the first pan and then repeat with the remaining egg mixture and bread in the second pan. Let it sit for five minutes. Turn the bread over and let sit for another five minutes. Play around with the bread and make sure it is covered with the egg mixture and soaking it in.
Bake at 350 degrees for 30-40 minutes or until the bread is golden brown and puffy. Check the french toast after twenty minutes to make sure the bottom of the bread is not browning too quickly. If it is, adjust your oven rack accordingly. When the french toast is ready, remove from the oven and let it sit for about five minutes before serving.
Serve with whipped cream and strawberries.
For the topping: Add the cream to the metal bowl of a stand mixer with the whisk attachment. Whip on medium-high speed until billowy peaks form. Add the powdered sugar and stir until the sugar is incorporated.
Top with strawberries mixed with sugar and the whipped topping.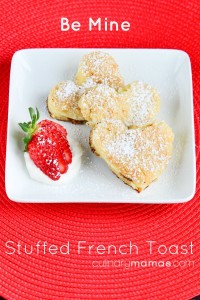 Related posts: