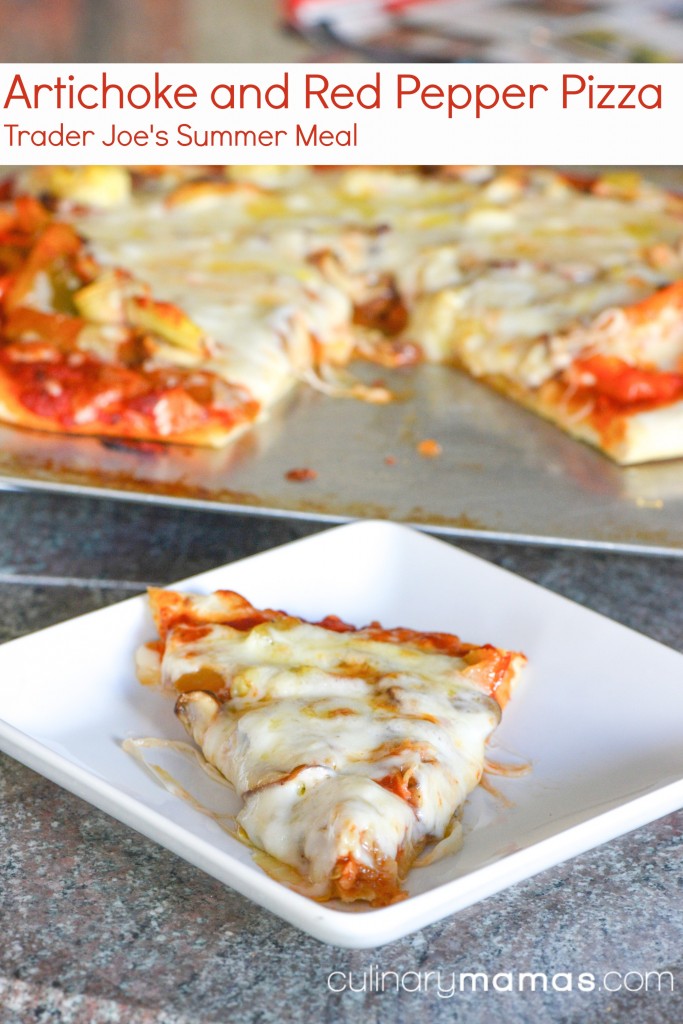 So, summer is coming and summer is great for swimming, putting on sunscreen, watching clouds, and chasing kids at the park, but it is hard on dinner plans. I want dinners in the summer to be simple, delicious, and flavorful, but I don't want cooking in the kitchen to take away from time with my kids. This is where Trader Joe's comes in, the heaven-sent grocery store full of lots of ingredients to create semi-homemade meals that won't take up our entire summer. This recipe is perfect because you can throw it together in minutes and if you had, let's say a twelve year old boy, that you know needs some tutoring in the kitchen, this would be a great meal for him to learn how to cook for the rest of the family.
(Trader Joe's does not have gluten free pizza crust, so if you want this gluten free it would be a lot more work. I did notice today that Pillsbury has a GF pizza crust in the refrigerator section. Has anyone tried this, is it any good? Right now this meal is a go too for our family when my GF husband is out of town. But, if that pizza crust was any good, we could start eating this as an entire family. I plan on trying it out and letting you know.)
Some tips with pizza. First, get the whole milk mozzarella. I ate homemade pizza once at Camille's house and made it for myself for years wondering why mine didn't taste as good as Camille's mothers. Then, one day I noticed the not skimmed down mozzarella and knew I had found the answer. Part-skim mozzarella gets a little slimy and watery, whole milk mozzarella stays stringy, creamy, delicious. It is hard to find at a regular grocery store, it's like the whole world is against us making quality pizza and lasagna, but recently I found it at Wal-Mart!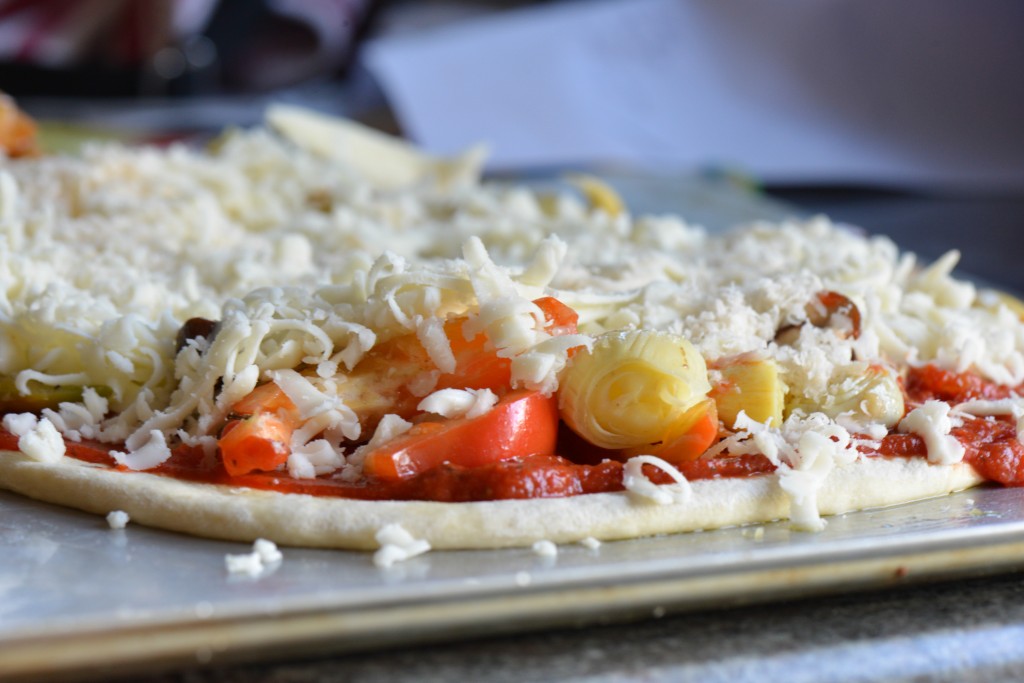 If you want your pizza to look pretty, like it just came out of a restaurant, drizzle just a tablespoon or so of olive oil over the top before putting it in the oven. Trust me.
I love pineapple on pizza. I put it on almost all my pizza. Does this discount the rest of my tips?
I love this pizza because you cook up the assortment of vegetables first. I made it first with a bunch of runner friends at a girls reunion and hunted down the recipe a couple of years later because it was one of those I just kept thinking about. It's simple. It works. Try it. (You can use other brands of pizza dough and sauce, but Trader Joe's is the best and I am so thankful that Trader Joe's decided to move into Salt Lake and I am hoping it comes even closer to my home soon.)
For each pizza, you will need: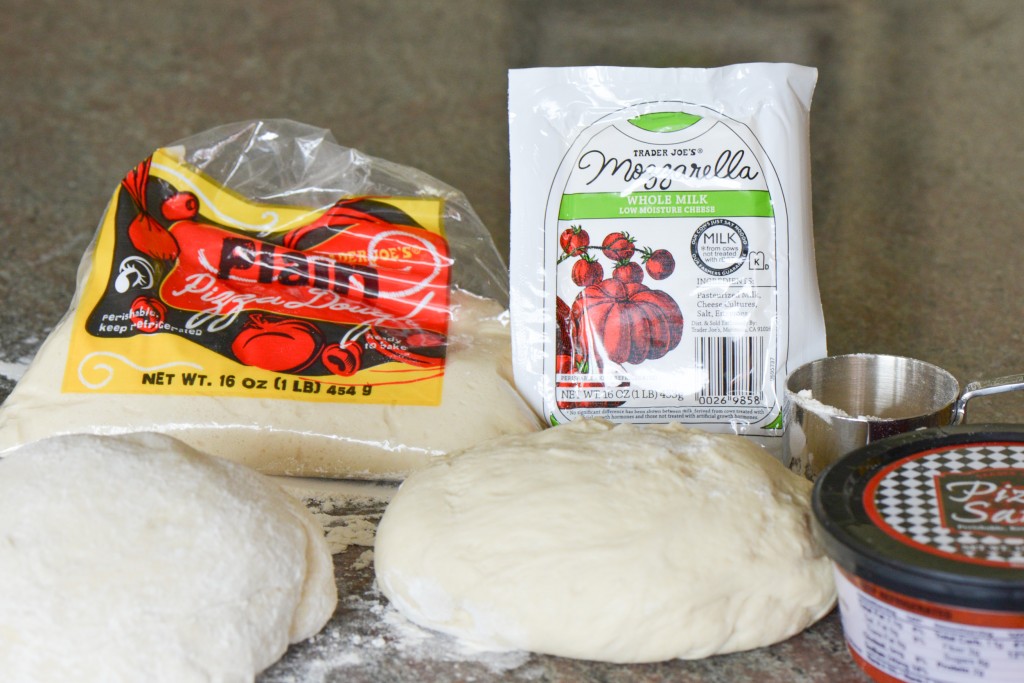 1 package of Trader Joe's refrigerated pizza dough
3 tablespoons of flour
1/2 of the container of Trader Joe's pizza sauce
3 tablespoon olive oil
1 cup julienne-cut red bell pepper
1 teaspoon dried basil
1 teaspoon dried oregano
5 garlic cloves, minced
1 (14-ounce) can artichoke hearts, drained and coarsely chopped
1 cup mushrooms, diced
8 ounces shredded whole milk mozzarella cheese
Cracked pepper (optional)
Heat oven to 425 degrees. Situate your rack as close to the top burner as you can.
If using Trader Joe's pizza dough, let the dough rest for 30 minutes at room temperature before shaping it.
While the dough is resting, heat up a fry-pan with one tablespoon olive oil to medium-high. Add the red peppers, mushrooms, basil and oregano. Cook until the peppers start to get darker red, about one minute, add the garlic and continue to stir until fragrant, about 30 seconds. Add the drained artichoke hearts and cook until heated through, about two more minutes.When it is done heating, take the fry-pan off the heat and set aside.
Prepare a clean work surface and lightly dust the surface with the flour. Dust the dough and your fingers with the flour so you can shape the dough. Pull and push into the dough to try and get a circular shape.
Take about a tablespoon of olive oil and rub it over the surface of a baking sheet.  Place the dough onto the baking sheet.
Top with about half of the pizza sauce from the container. Sprinkle about half of the cheese over the sauce. Pour the artichoke/red pepper mixture over the red sauce, then layer with the remaining mozzarella cheese. Sprinkle about a tablespoon or two of olive oil over the cheese.
Cook at 425 degrees for 10-15 minutes, until the cheese is melted, and the bottom of the crust is golden-brown. Let the pizza rest for a couple of minutes before slicing with a pizza cutter.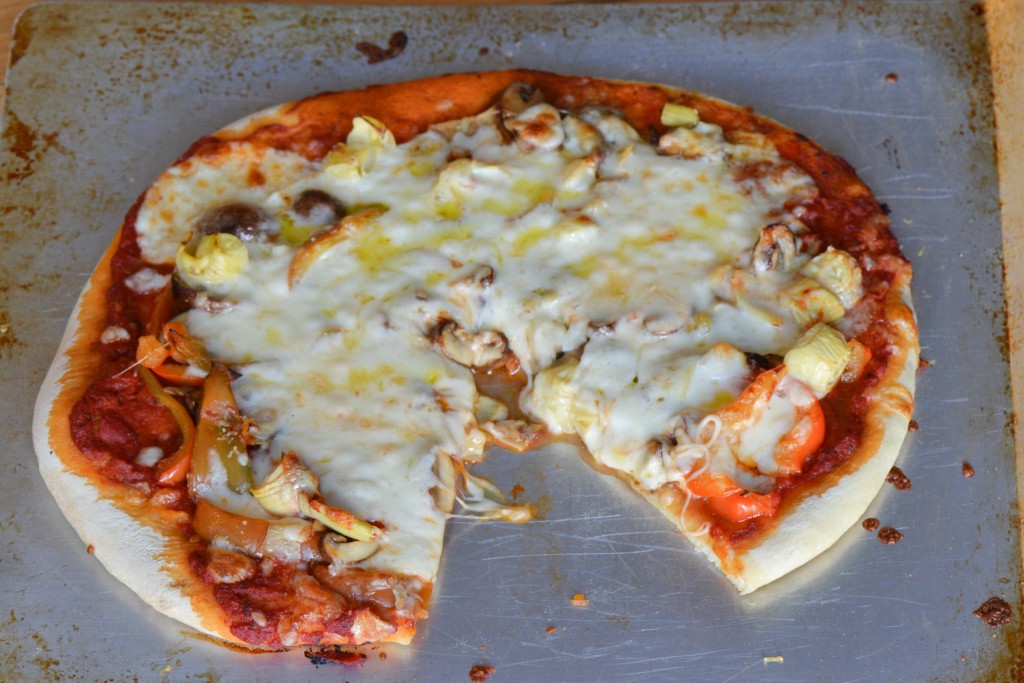 Related posts: