Quick, take this test true/false test to see if these shrimp tacos are the right meal for you tonight:
a) I think shrimp is delicious.
b) Tacos are such a great weeknight fuss-free meal.
c) Cilantro + avocado + lime is a perfect marriage of flavors.
d) I like it when I don't have to spend more than 30 minutes prepping and cooking dinner.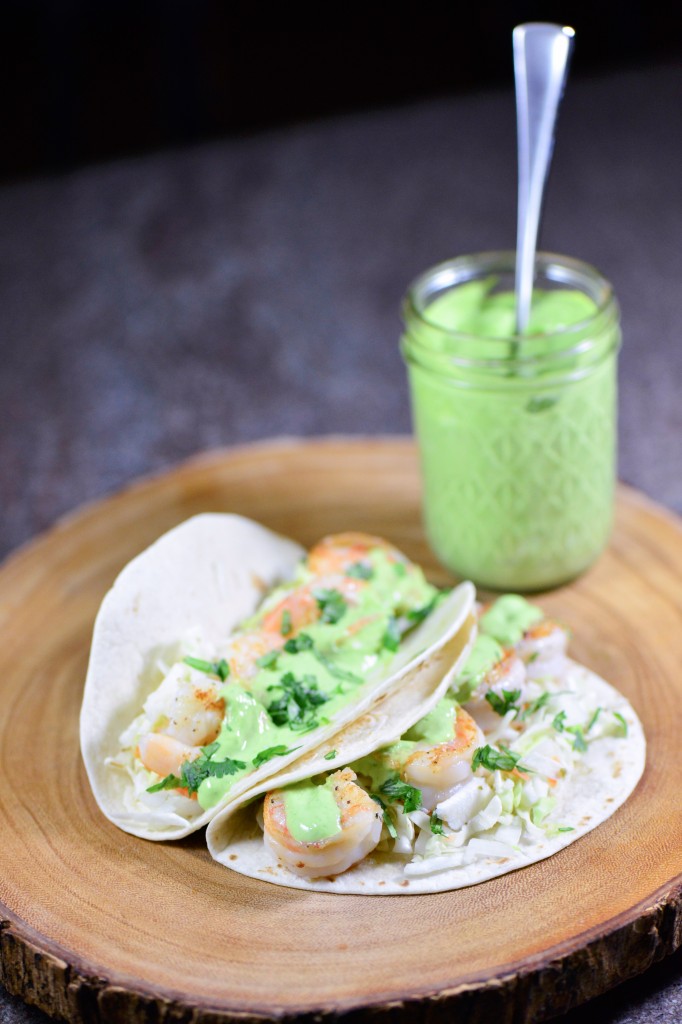 If you said true to at least three out of the four above statements, then you should make these for dinner today or tomorrow, or at least on Saturday night for a few friends.
I made these for Camille a few years back and she made them for a few friends and they keep asking her when they are going to make their appearance on the blog. Because, they are simple and delicious, especially for those of us who love shrimp.
Shrimp Tacos with Cilantro-Lime-Avocado Sauce
Simple, pleasant blend of flavors.
Author:
Kristen of Culinary Mamas
Ingredients
Coleslaw:
4 cups shredded green cabbage, I like to get the shredded cabbage package at the supermarket when I am pressed for time
3 tablespoons lime juice
1½ tablespoons dried oregano
one medium white onion, chopped
salt to taste
Cilantro dressing:
½ cup mayonnaise, light works fine
one avocado
½ cup cilantro
3 tablespoons lime juice
⅛ teaspoon cayenne pepper
Shrimp:
2 pounds shrimp
salt and pepper to taste
one tablespoon vegetable oil
12 corn or flour tortillas, soft- taco size
cotija or queso añejo cheese
Instructions
In a large bowl make the coleslaw. Combine the shredded green cabbage, lime juice, oregano and chopped onion.
Next, make the cilantro dressing. Combine the mayonnaise, avocado, cilantro, lime juice and cayenne pepper. Blend until smooth.
Get your shrimp ready to cook. Peel if they need to be peeled, thaw if they need to thaw, and pat dry.
Heat up two fry-pans to medium-high on the stove and start multi-tasking. (If you don't want to multi-task, cook the tortillas first, keep them warm and then cook the shrimp.)
In the first pan start heating up your corn or flour tortillas. I believe in corn and use corn since the hubby eats gluten-free, but many prefer flour. Just heat the tortilla for about fifteen seconds, until the tortilla puffs up a bit, then flip and cook for another fifteen seconds. You don't need any oil. Repeat with the remaining tortillas and keep the tortillas warm in foil.
In the other fry-pan, cook your shrimp. Heat up the vegetable oil. Fill the pan with one layer of shrimp. Cook until the bottom side is pink. Flip all the shrimp at once and continue cooking until the shrimp are curled and pink. The total cooking times should be less than three-four minutes. Wipe out the pan with a paper towel and repeat with remaining shrimp.
To assemble: layer the shrimp, coleslaw, and dressing. Top with cotija or queso añejo cheese.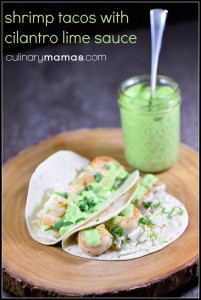 Related posts: