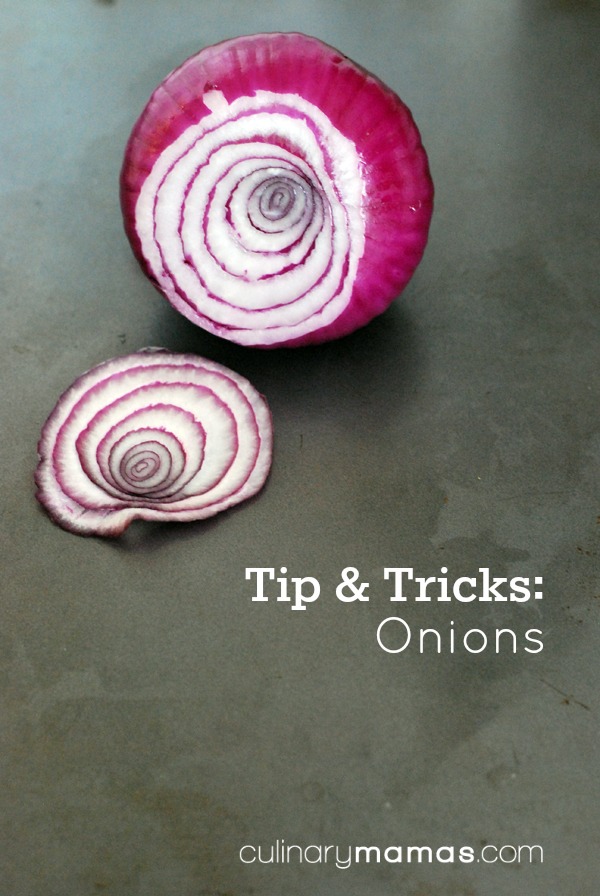 Onions, we love them and hate them. Cooked they are the base flavor for some of the best recipes, but raw they're strong and make us cry. Here's some tips & tricks to working with onions so, well you don't have to cry about them anymore.
Fewer Tears:
A gas stove & a sharp knife is best.
What is the science behind these techniques? As Alton Brown explains on Good Eats Moments

Eating Raw Onions:
Want to eat onions uncooked, say in a salad? Simply choose one of the following ways to lessen the sharp taste.
Soak onions in an ice bath for 10+ minutes.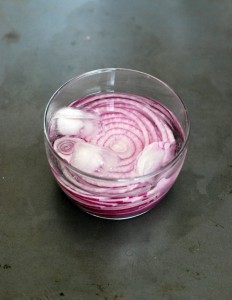 Want more flavor for your salad or a sandwich? Try soaking them in red wine vinegar. I love vinegar so I don't mind them in straight vinegar. If you'd like it a bit milder try
Pickled Red Onions
1/2 cup red wine vinegar
1/2 cup water
2 tablespoons sugar
1/2 teaspoon salt
1 bay leaf
1 large red onion, sliced thinly.
Fill a jar with sliced onion. Boil vinegar, water, sugar, salt and bay leaf until sugar is dissolved.
Pour the mixture over the onions and let cool completely. Refrigerate until ready to use.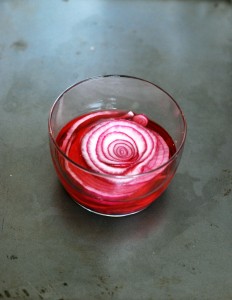 Onion Storage:
Store onions in a dry dark cool place. Not in the fridge. It will stink it up and start them sprouting extra fast. Never store your onions with potatoes. While both need cool dark storage, the two vegetables release gases that spoil each other.
If you store cut onions, make sure they're sealed in a glass jar container. Glass does not retain the odor when you're done and a jar can seal the odor in tightly. This prevent that fridge aroma – you know what I'm talking about.