Our good friend, Ana, had us over for dinner for her daughter's birthday last winter. We would have said "yes" because we consider her daughter one of our own, but she had us jumping in the car and driving to her house when she announced she was deep frying tacos. We were reminded that we made the right choice with every greasy, cheesy, salty bite. These tacos were a crowd pleaser;  my kids announced they wanted the tacos for their birthday and my husband ate five.
We lived up to our daughter's birthday wish and ate them this weekend because she reached a decade, so it seemed appropriate. Making these tacos require a bit of love. You have to be willing to slave over a hot stove and not mind cleaning up grease off your floor and counter, but the hot pockets of melting cheese and grease on your fingers all make it worth it. We made these for a crowd, 16 people to be exact and kept them warm in a 250 degree oven. Ana is a true hostess and she just keeps cooking so each taco is screaming hot when it lands on your plate and you have to hold it carefully while you stuff in the cheese.
Since it is summer time and I was cooking for so many people, I grilled the chicken, then cut it into pieces. You also can cut the raw chicken, then fry the chicken up over the stove if that is more weather appropriate.
For 8 people:
For the taco filling:
1 1/2 pounds chicken breast
1 1/2 pounds chicken thighs
3 tablespoons of your favorite Mexican seasoning, or taco seasoning recipe like this
1/4 cup vegetable oil
To fry:
24 corn tortillas
1 cup vegetable oil for frying
To garnish:
Guacamole
cheddar cheese
shredded lettuce
queso añejo cheese
salsa
Tapatîo sauce
Prepare the chicken. Lay the thighs and breasts on two large cookie sheets. Season with the taco seasoning. Drizzle two tablespoons of the oil over the chicken, rub the chicken to spread the oil evenly, then flip and drizzle the remaining two tablespoons over the chicken. Use additional oil if needed so your chicken won't stick to the grate. Grill over medium heat for 15-20 minutes, turning once, until the chicken registers 165 degrees on an instant read thermometer. Remove the chicken from the grill and cut the chicken into bite sized pieces.
To fry: Heat a large fry-pan over medium heat and add enough oil so that the pan is evenly covered in about 1/2 inch of oil. Line two large cookie sheets with a few layers of paper towels so you have a place for the cooked tacos.
Put a few tablespoons of chicken into each corn tortilla.
Place the corn tortilla in the pan, then use spatula to fold the tortilla in half, or hold the taco in half with a pair of tongs and place in the pan. I like the place and fold method, others like the tong method better.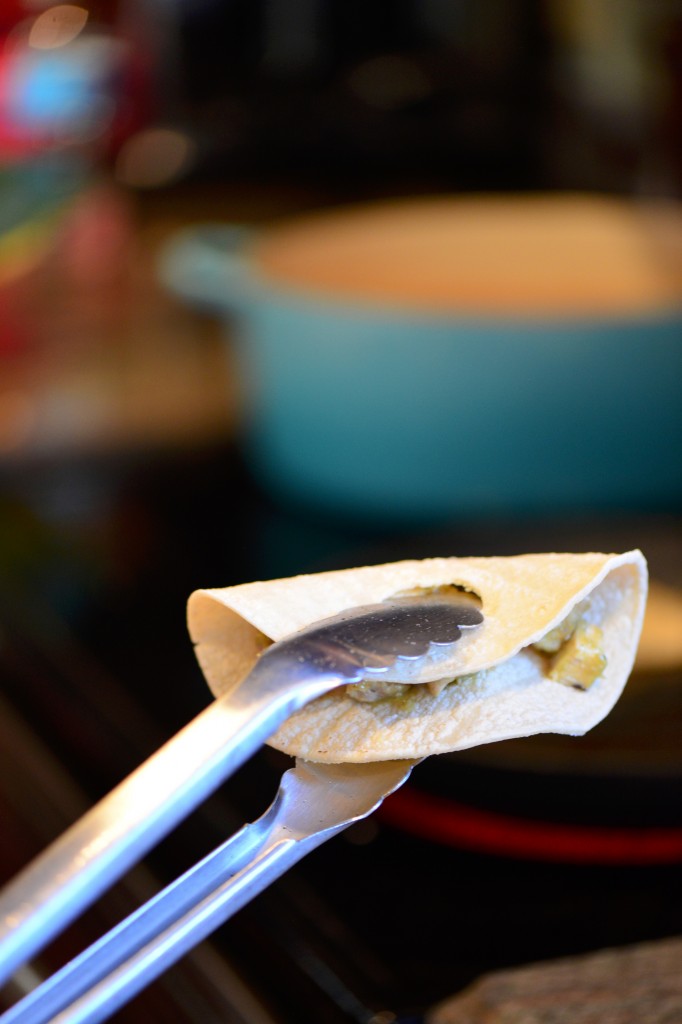 Press on the tortilla for a couple of seconds, until it hold shut on its own. I alternate between both tongs and spatula to accomplish this. Fry for about 2 minutes per side until golden brown. (If it is taking a lot longer or shorter than a couple of minutes, turn your heat up or down accordingly.)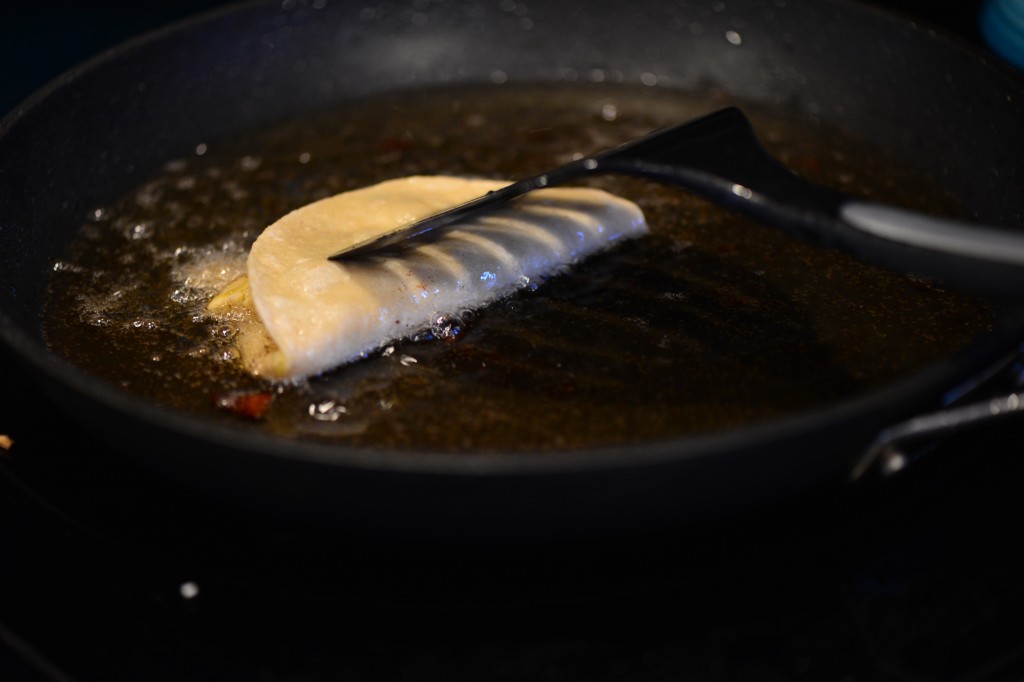 To make this process easier, I had a bunch of kids place tortillas with a spoonful of chicken on my counter lined up, ready to fry.
Pull the taco out with your tongs and hold it sideways over a bowl to let the extra oil out. You may need to add oil between batches. Wait until the oil is hot before cooking the next batch.
Once you have filled up one cookie sheet full of cooked tacos, keep it warm in the oven at 250 degrees while you work on the other tacos.
Or, if you want to be the hostess of the year, have everyone sit and start bringing tacos to them one by one. Fill the tacos with the cheese first so it melts, then the rest of the toppings.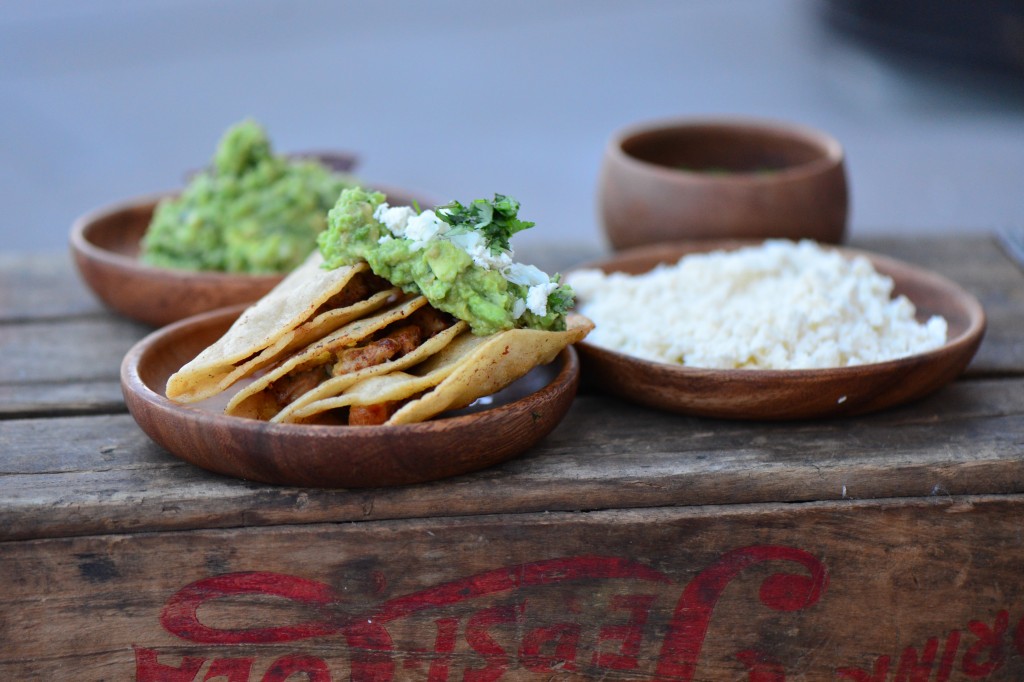 Related posts: