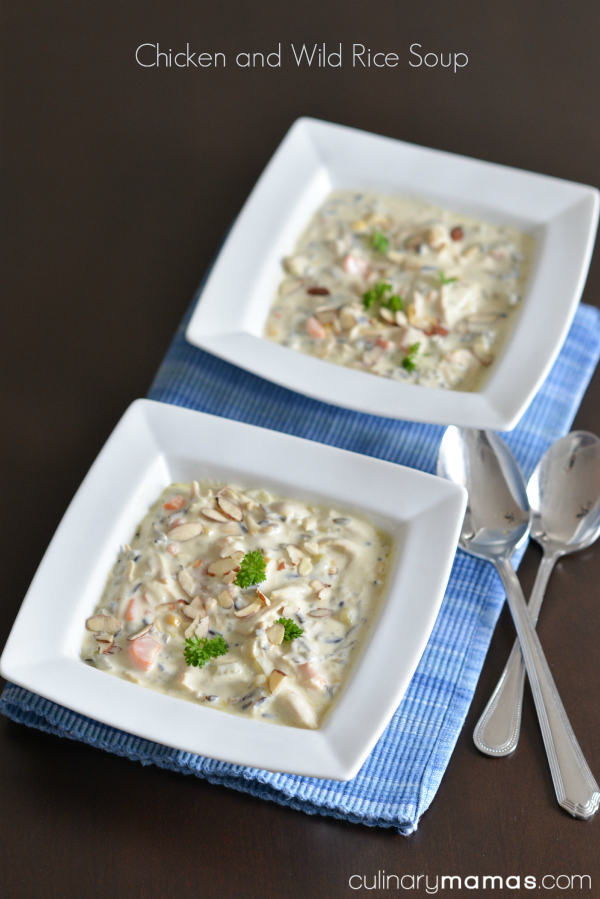 We are soup all week long here at Culinary Mamas. That's because this is the season for soup making. I think the equation is something like: mad rush of holidays + it's cold + lighter foods are better when I'm eating Christmas cookies every night = soup for dinner.
My kid's favorite soup is the Mulligatawny that I shared a couple of weeks ago, but this chicken and wild rice soup is mine. The nutty wild rice with the mustard and curry flavored stock is a match made in comfort food heaven.  I like the wild rice in the soup, but truthfully I like a wild rice blend even better. You have to plan ahead with this recipe because you need both cooked rice and cooked chicken. The wild rice will take at least 30 minutes in a rice cooker.
½ cup butter
1 medium yellow onion, finely chopped
1 cup frozen corn
½ cup chopped celery
½ cup chopped carrots
½ pound fresh mushrooms, chopped
1 1/2 teaspoons curry powder
1 1/2 teaspoons mustard powder
1/4 cup + 2 tablespoons corn starch
6 cups chicken broth
1 pound cooked and diced chicken
2 cups cooked wild rice (or wild rice blend)
1 teaspoon salt
½ teaspoon black pepper
1 cup slivered almonds
2 cups nonfat half-and-half
If you have it: a few splashes of cream and a handful of chopped parsley
Bring a large pot to medium heat. Add the butter and let it melt. Add the onion, corn, celery and carrots and stir occasionally until the vegetables are soft, about 5 minutes.
While the vegetables are softening, stir together the cornstarch with 1/3 cup of water. Add the mushrooms, curry powder and mustard powder and stir until the mushrooms are covered in butter and softened, about 1 minute.
Add the chicken broth and heat until it comes to a simmer. Stir in the corn starch and water mixture and continue to stir until the soup is thickened. Turn the heat down to low. Add the chicken, wild rice, nonfat half and half, salt and black pepper.
Simmer over low heat for one hour. Ladle into bowls and serve with the slivered almonds and parsley. Add a splash of cream to each bowl.
Recipe adapted from Mel's Kitchen Cafe

Chicken and Wild Rice Soup
Author:
Kristen via Mel's Kitchen Cafe
Ingredients
½ cup butter
1 medium yellow onion, finely chopped
1 cup frozen corn
½ cup chopped celery
½ cup chopped carrots
½ pound fresh mushrooms, chopped
1½ teaspoons curry powder
1½ teaspoons mustard powder
¼ cup + 2 tablespoons corn starch
6 cups chicken broth
1 pound cooked and diced chicken
2 cups cooked wild rice (or wild rice blend)
1 teaspoon salt
½ teaspoon black pepper
1 cup slivered almonds
2 cups nonfat half-and-half
If you have it, a few splashes of cream and a handful of chopped parsley
Instructions
Bring a large pot to medium heat. Add the butter and let it melt. Add the onion, corn, celery and carrots and stir occasionally until the vegetables are soft, about 5 minutes.
While the vegetables are softening, stir together the cornstarch with ⅓ cup of water. Add the mushrooms, curry powder and mustard powder and stir until the mushrooms are covered in butter and softened, about 1 minute.
Add the chicken broth and heat until it comes to a simmer. Stir in the corn starch and water mixture and continue to stir until the soup is thickened. Turn the heat down to low. Add the chicken, wild rice, nonfat half and half, salt and black pepper.
Simmer over low heat for one hour. Ladle into bowls and serve with the slivered almonds and parsley. Add a splash of cream to each bowl.
Recipe adapted from Mel's Kitchen Cafe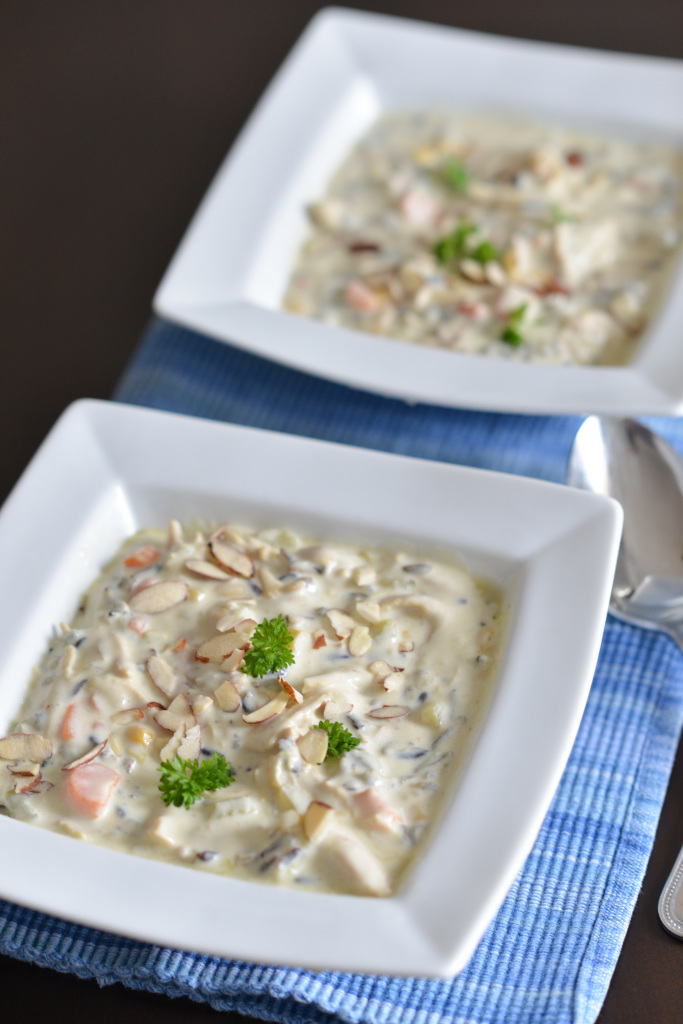 Related posts: