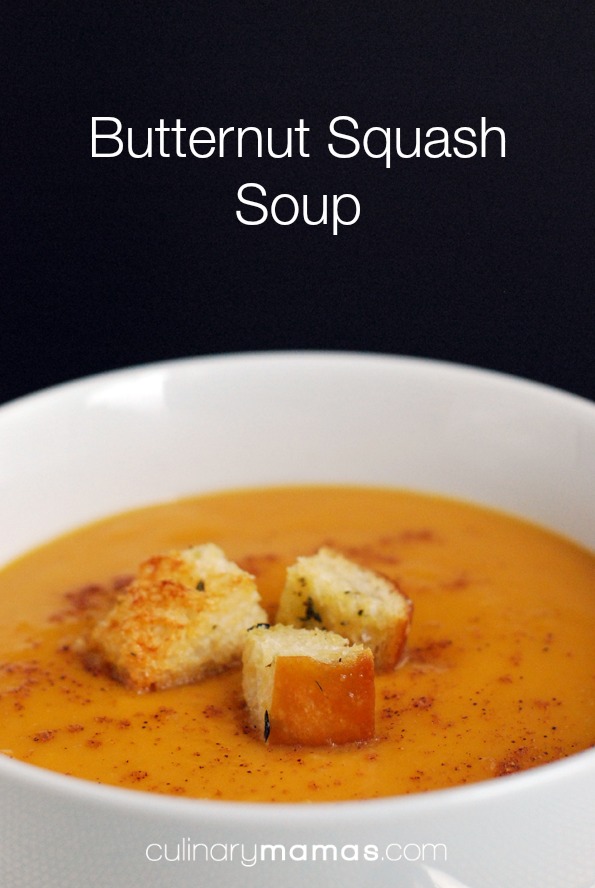 Finally its fall and I can make soup ALL the time! About once a week in the fall, winter and spring I like to make a pot of soup. My family has its favorites, vegetable, tomato, split pea, and this Butternut Squash Soup. It's a creamy soup that's perfect for a cozy autumn day. This soup is just sweet enough that any kid will down it. My 5-year-old repeatedly said "Mom, I don't like squash soup", while eating 2 bowls full – that kid can't fool me. I was pleased both kids loved it because butternut squash is packed full of great vitamins, antioxidants, nutrients and fiber.
How to Buy: You might notice many squashes and pumpkins hitting the store shelves right now. Knowing how to pick out a perfect one will enhance the flavor of your recipe. Look for a butternut squash that feels heavy for its size. It should have an unblemished matte, not glossy skin. Squashes have an extremely long shelf. If you store them in a cool dark place, they can last for up to 3 months. So buy many and plan to make this recipe numerous times before Christmas!
How to Peel & Cut: Butternut squash is very dense and peeling one can be a hard task. The trick is to wash it, then microwave the squash for 3 -4 minutes depending on its size. The fruit loosens up from the peel and the task is a lot easier. Use your sharpest largest knife to cut the cubes. I've seen recommendations for cutting by using a rubber mallet to beat the knife through the squash. However, I feel that microwaving the squash also makes cutting it easier.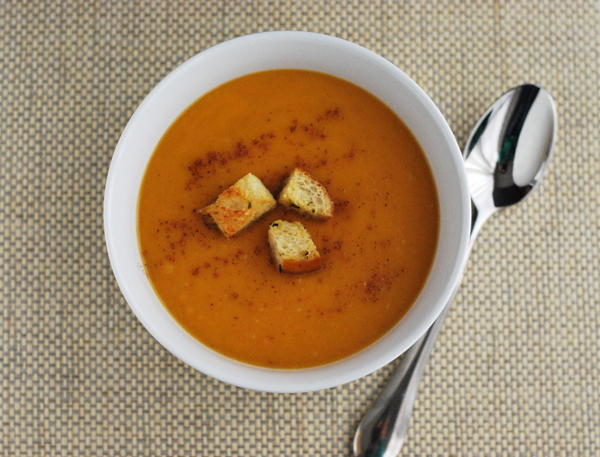 2 tablespoons unsalted butter
1 onion, chopped finely (tip & trick to cutting an onion)
3 pounds butternut squash, peeled, seeded, and cut into 1 1/2 inch chunks
5 cups low-sodium chicken broth
2 sprigs fresh thyme
pinch of nutmeg
1/2 cup heavy cream
salt and pepper
1. Melt the butter in a large Dutch oven over medium heat. Add the onion and cook until softened, about 5 minutes. Stir in squash, broth, thyme and nutmeg. Bring it to a simmer, cover an cook until the squash is tender, 20 to 25 minutes.
2. Remove the thyme sprigs and puree the soup in batches in a blender or food processor until smooth.
3. Return the pureed soup to the pot. Stir in the cream. Bring to a brief simmer, then remove from heat. If the soup seems too thick, thin it out with additional broth or water. Season with salt and pepper  before serving. Sprinkle individual servings with herbed croutons and more nutmeg, if desired.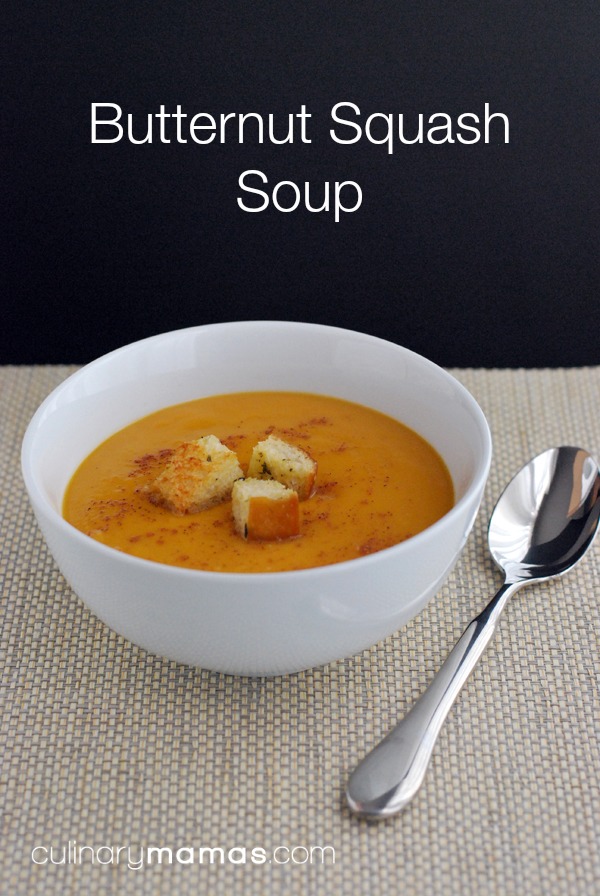 Adapted from The America's Test Kitchen Family Cookbook
Related posts: