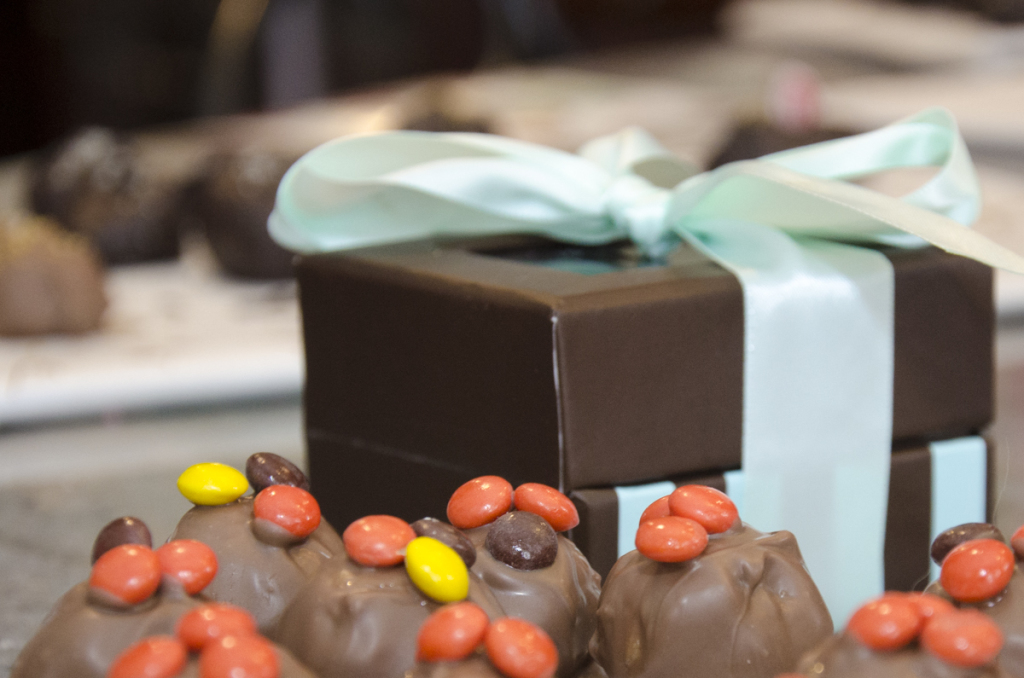 I heard about a chocolate party on Saturday and immediately I knew I wanted to attend. Sure, some people party with loud music or dancing, some people pretend that Tupperwear is a party, but for me chocolate is where partying is at.  My cousin Echo over at Favorite Family Recipes invited me with the promise that the chocolates we would make were some of the best that she had ever tasted. I learned a few things about making chocolate that I can't wait to use at Christmas truffle making time, but what impressed me most was just how much fun we had together in the kitchen. Most of us were strangers going into the party, but at the end we sounded like we'd been friends since the 6th grade with all the laughing, story-telling and tears falling. Time in the kitchen making quality food brings people together.
Here are my five take home tips from these experts over at Charmeur Chocolates:
Tip #1: When making fondant for the centers of the chocolate, you should not stir in the sugar that crystalizes on the side of the pot. The temptation is to scrape the side of the pan with a spoon to get the sugar crystals back into the fondant. But, that sugar won't dissolve like it should, so don't do it.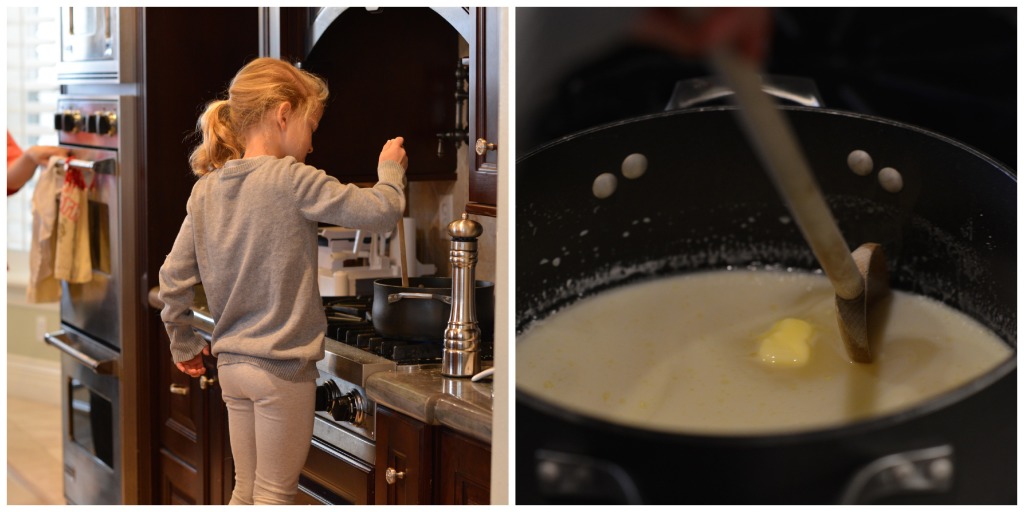 Tip #2: . Watch the candy thermometer for a general idea of when to start testing the fondant, but don't depend on it. Start testing the fondant before the thermometer registers 240º.  If you wait for the thermometer to register at 240º, then test the fondant to see if it is at softball stage, it might be too late and the fondant will turn into a crumbly mess.
Tip #3: When dipping chocolates, the room should be cold. We had the windows wide open on an unusually cold fall Saturday and so were all in sweaters as we dipped.
Tip #4: It's better to dip with your hands than to dip with a tool. Andrea, the chocolate expert swears that it is faster, and you get more chocolate.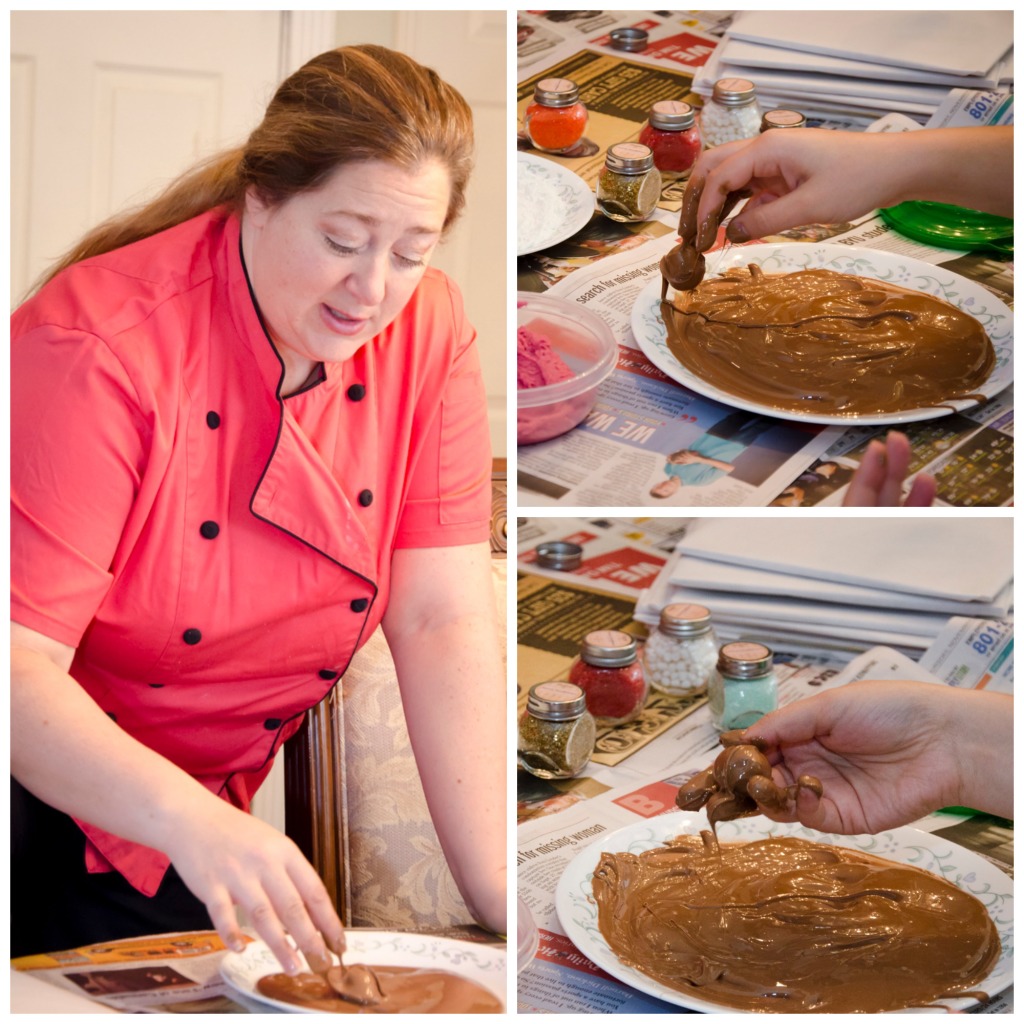 Tip #5: It is so much more fun to dip with friends (or strangers who become your friends). I usually make my truffles on my own or just with my kids, but it was so fun to be there with a group of ladies telling stories and life experiences.  It seemed like the lone male, Forrest, from Clark's Condensed was having a good time, so I'm going to use my Charmeur kit to throw a Charmeur chocolate making couples party for Valentine's Day. My eight year old daughter came along too and she had a blast playing in the kitchen. I can definitely see this working with a group of young boys or girls with a few extra adults on hand.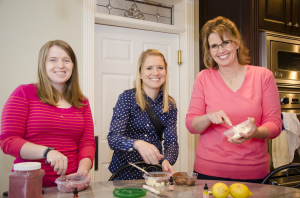 The great thing about the women behind Charmeur is that they want to share their passion for chocolate and time together in the kitchen with everyone. They have instructional videos and creative recipes (my favorite is the cinnamon bear chocolate) on their website.  You can purchase their chocolate making kit that comes with their patented fondant stirring tool and cute packaging materials, so that you can make delicious chocolates on your own. My favorite part of the package is that they include these wonderful flavored oils that really intensify the flavor of the chocolate.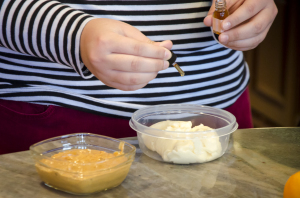 You feel professional stirring the chocolate with their fancy tool. I love how it magically all comes together at the end.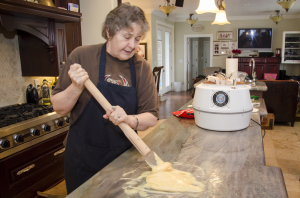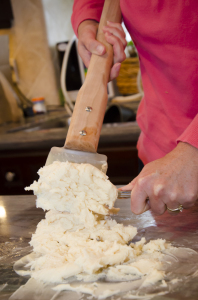 I feel like so many of us rush through the Christmas season; making chocolates is a way to spend that precious time with family and friends and you get a bonus treat at the end of the day. I think the best parties should involve chocolate and now it's OK if our grandmas didn't teach us how to make them; Charmeur has us covered.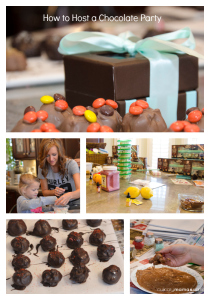 Related posts: